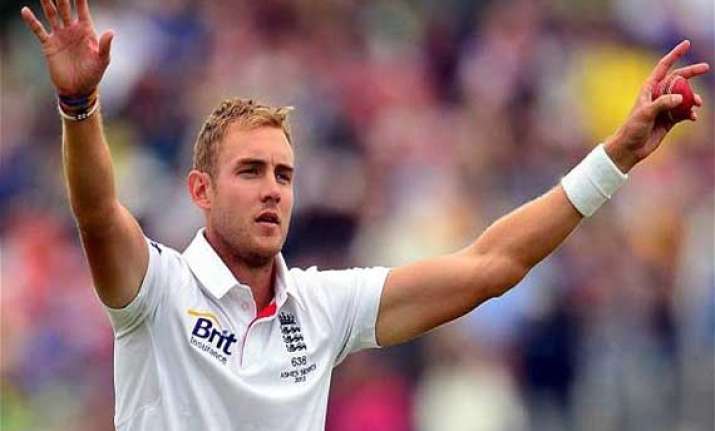 Nottingham: England all-rounder Stuart Broad said his team's fantastic record at Trent Bridge will see them go into the first Test with an advantage over India when the five-match series starts here on Wednesday.
"Out of the last seven Tests here, I think we have won five so we have a good record. James Anderson's record here is brilliant and Ian Bell has got some 500 runs here in the last four innings or something. This gives us confidence," said Broad in a pre-match press conference.
"Only Gautam Gambhir, MS Dhoni and Ishant Sharma have played Test cricket in England before so that is an advantage we have over India," he added.
Broad, who is currently the Twenty20 captain of England, also cautioned the hosts of complacency.
"But we also have a lot of players who haven't played at this ground, so we have to show our experience with the lengths we bowl here, getting the batsmen to drive and show how the slips can be in the game.
"So a lot of communication about that is going on in the changing room. Having watched the Indians in South Africa and New Zealand, their batsmen really adjusted well to conditions there, so I think it will be a very interesting series to watch," said the Nottingham-born player.
England's major issues heading into the series pertain to skipper Alastair Cook's poor batting form, which has also impacted his leadership skills especially after Sri Lanka won their first-ever Test series here. But Broad is confident that their star batsman will come good in this series.
"Cook is our best run-getter, our highest century-marker. But he hasn't got one hundred in nearly a year now so he will be desperate to score some runs. We know he is a quality player and when he gets in, he goes big. Whether it's here, or at Lord's or at The Oval, some time in this series he will get in and I don't think he will get a hundred then, but a daddy hundred as he calls them," said the all-ro