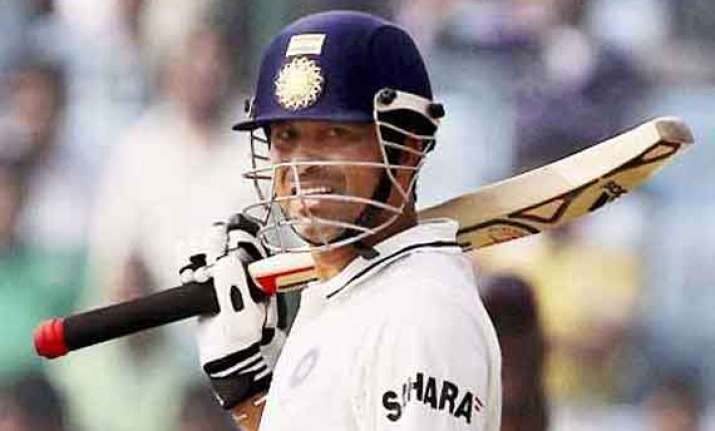 Kolkata: One hundred and ninety-nine kg of rose petals will be showered from the skies, while 199 bunches of balloons will be floating in the air to greet batting great Sachin Tendulkar at the Eden Gardens, as he plays the 199th and penultimate Test match of his career at the iconic ground Nov 6-10.
As part of grand celebrations drawn up by the local hosts Cricket Association of Bengal to give a befitting farewell to the player, all spectators in the galleries will be handed out Tendulkar masks and placards at the start of play on Day One and Day Two of the Test match respectively.
"The master batsman will be greeted by the expected full house of 65,000 wearing his mask on Day One. The next day, the spectators will wave placards with slogans eulogising the cricketer," CAB treasurer Biswarup Dey told IANS.
Tendulkar, who has already retired from One-Day Internationals and Twenty20 Internationals, will hang up his bat from all forms of the game after the next match (Nov 14-18) - the 200th of his glittering career - of the two-Test series against the West Indies.
"On Day three, 199 bunches of balloons will be released from the Eden Gardens. The balloons will have Tendulkar's photos and slogans as also quotations eulogising the Mumbaikar," said Dey.
A book on Tendulkar containing write-ups from eminent persons will be released day four.
"A helicopter will spray rose petals from the skies on day five. We have rented a private helicopter for this," said he.
A photo exhibition capturing Tendulkar's various moods on and off the ground, freeze frames of some of his sublime shots and great moments of his career will be organised at a suitable venue close to the ground around the match days so that his fans who failed to get tickets for the Test can soak in the celebrations.
The match tickets are now a collector's item, with Tendulkar's pictures and autographs printed on them.
Each day's ticket includes a different picture.
While Day One tickets carry the picture of a boyish Tendulkar when he had just started making the connoisseurs of the game sit up and take notice. Day Two tickets show him raising his bat after reaching a cricketing milestone. Frames of Tendulkar playing delightful strokes feature on the tickets for the next three days.