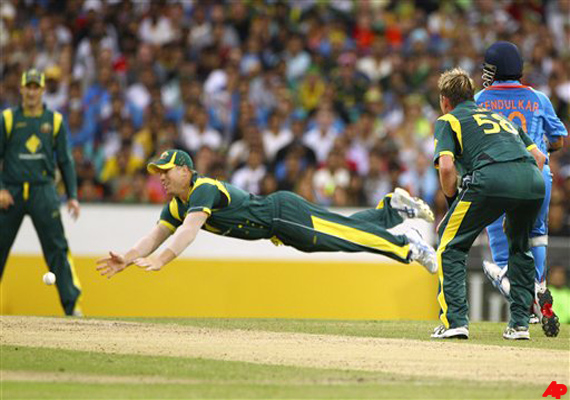 Sydney, Feb 26: A major controversy erupted in the tri-series match between India and Australia at the SCG, with Sachin Tendulkar being dismissed in a debatable run out and visiting captain Mehendra Singh Dhoni lashing out at pacer Brett Lee for standing on the way of the batsman.

The action unfolded after the final delivery of the seventh over bowled by Lee in India's run at the venue of the infamous '2008 monkeygate scandal'.

Gautam Gambhir called for a single to which Tendulkar responded only to be run out by David Warner. Lee was seen standing in Tendulkar's way after running across the pitch while the Indian was sprinting towards the crease.

Tendulkar threw his arms up in frustration when the ball hit the stumps, making it clear that he wasn't happy with Lee blocking his way but umpires Simon Taufel (at square leg) and Billy Bowden ruled against the batsman after some deliberation.

Dhoni at the post-match press conference was unsparing on Lee, saying the Australian pacer had no business to stand on way of Tendulkar.

"I don't think that you can justify that Lee was going towards the point fielder. I don't think he had real business to go over there and to decide to stand just in front of Tendulkar. That means he (Tendulkar) will have to take a longer way across. That is my reading of that particular run out," Dhoni said.

"Tendulkar was disappointed that he was given out despite the bowler (Lee) standing on his way," he added.

Dhoni also took exception to the fact that Simon Taufel took the decision to rule Tendulkar out though the other on-field umpire Billy Bowden was nearer to the actual incident.

"It was unjustified for Tendulkar because he had to take an extra yard to run. I think Billy (Bowden) should have said something because he was in a better position to see where exactly the bowler was and where he stopped. It was really difficult for Simon Taufel to take a call because he would not know which angle the batsman was running and where Lee actually stopped," Dhoni said.

Another controversial incident in the match was the turning down of 'obstructing the field' appeal against David Hussey and Dhoni maintained that umpire Billy Bowden erred in not declaring the Australian batsman out after the Indians appealed.

"I think David was really lucky not being given out. He (David) thought he was protecting his face but his hand was too far ahead. I don't know why he was not given out. We were at receiving end of both umpires," said Dhoni.

"In soccer if your hand was popping out, you would be given a penalty irrespective of what has happened. That's plain and simple. If you look at that incident, David was out," he added.

The incident happened in the 24th over of the Australian innings when they were at a precarious 119 for four with wicketkeeper-batsman Matthew Wade taking off for a single off R Ashwin's final delivery.

Non-striker David Hussey answered his partner's call but as he was completing the run, the Australian put his right hand out to stop the ball from hitting him.

Dhoni appealed for an obstructing the field dismissal which is allowed under the ICC rules.

Bowden and Taufel referred the matter to third umpire Simon Fry, who decided in favour of the batsman by concluding that he was merely trying to avoid getting hit himself instead of saving the stumps.

Dhoni was not quite happy with the decision and was seen having a chat with Bowden about it for quite some while.