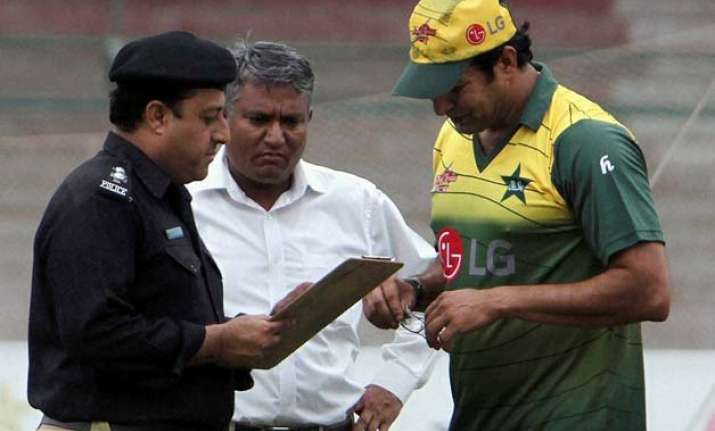 Karachi: Pakistani speedster Wasim Akram today survied an attack on his life when unknown assailants opened fire at his car . The incident took place near National stadium in Karachi. The former pacer, however, escaped unhurt.
 According to initial reports, two unidentified men first hit Akram's car. After the incident  Wasim Akram called the local police helpline and registered the complaint.
Akram said," Two unidentified armed men on a motorcycle opened fire at my vehicle"." I have noted down the vehicle's number and given it to the police," he added.
The pacer also denied receiving threats from any organisation or individual .Akram was on his way to the National Stadium, where he is conducting a training camp for fast bowlers.
Senior police officer Munir Sheikh said the incident took place when the left-arm fast bowler was on his way to coach a training camp at the city's National Stadium. "It is apparently an incident of road rage," he told reporters, adding that police were searching for the shooter.
Akram told a Pakistani news channel that the man rammed his vehicle into his car from behind and then opened fire before fleeing. He said he did not know who was behind the attack.
"I have no enmity with anyone," Akram said. "If he can do this to me, what will he do to the common man?"
Akram, 49, made his international debut in a one-day international against New Zealand in 1984 and was rated as one of the all-time great left-arm fast bowlers. He took 414 wickets in 104 test matches and another 502 wickets in 356 one-day internationals before retiring soon after the 2003 World Cup.
He also led Pakistan in 25 test matches, winning 12, losing eight and drawing five. He captained Pakistan in 109 one-day internationals with a record of 66 victories, 41 losses and two tied matches.
Akram was among the cricketers fined during an infamous match-fixing inquiry in 1999, when the Pakistan Cricket Board handed lifetime bans to Salim Malik and Ataur Rehman.
After retiring, Akram became a sports commentator and started coaching Pakistani bowlers.
( Agency Inputs)