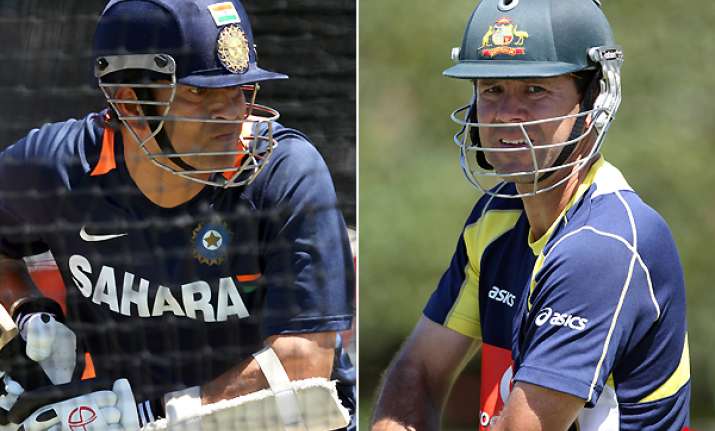 Sydney, Jan 2: The spotlight is firmly on Indian batting icon Sachin Tendulkar as he chases an elusive 100th international century but Australian captain Michael Clarke today said he won't be surprised if Ricky Ponting is the one walking away with a ton during the second Test starting here tomorrow.

"The way Punter is batting at the moment, he is not far away from a big one. One thing I know about him is if he gets to 100, he won't be stopping there so he's got a very good record at the SCG. I know he loves playing here, so it wouldn't surprise me if he walked out and made a 100 in this Test," wished Clarke ahead of the second Test.

Ponting has hit 39 centuries in his 159-Test career but a three-figure knock has eluded him for the past 17 Tests and 33 innings so far. His last hundred was against Pakistan at Bellerive Oval, Hobart two years ago.

Ponting has a brilliant record at the SCG where he has scored 1346 runs from 15 Tests at an average of 64.10 with five centuries.

The former Australian captain gave a hint of the things to come with two half centuries in very demanding batting conditions at the MCG last week.

Clarke, inevitably, wished Tendulkar to get his hundred after the series and not while the contest is on in the present series.

"I hope his 100 doesn't come until the next series because I'd love to watch it on television. But he's been such a great player and certainly deserves all the credit he's received," he said.

While acknowledging Tendulkar's mastery, Clarke believed the conditions at the SCG could test him out.

"I think there's going to be enough in the wicket.  There's a tinge of green there; it's a little bit tacky at the moment. I think it's going to be quite tough to bat on day one but the sunshine obviously helps."

"Tendulkar is great for cricket; he is a legend of this game and he's as good as I've seen in my time. Everybody that plays against him knows how good a player he is and you have to try and get him out early and if you don't, he's very destructive as we've seen over a long period of time," Clarke said.

Clarke, like everyone else, was praiseful of his young fast bowler James Pattinson but wanted everyone to remember the others were equally good.

"Patto is only just starting. He's a wonderful talent, don't get me wrong. I'd hate to see us put extra pressure on him.

"He's got a good crew around him as well. Let's not forget that. Patto's got the results over the last few Tests but without the way Peter Siddle has been bowling; Ryan Harris over the last couple of years; Ben Hilfenhaus the other day even Pat Cummins when he came in in South Africa, I think we're building a good crew of fast bowlers and they're all as vital as each other.

"I don't think there's one in my opinion who is above the rest. They've all got a lot of talent and we're going to need every single one of them to continue to perform for us to continue to go forward in Test cricket."

It appeared that off-spinner Nathan Lyon struggled for purchase in the opening Test, which Australia won by 122 runs, but he received a big thumbs up from his captain.

"This series is a tough challenge for Lyono because India are such good players of spin bowling, I thought he did a pretty good job without getting as many wickets as he would have liked in the last Test match in Melbuorne.

"I love the way he goes about his work, I think he's a big part of our team and I think he's been very successful doing things his way," he said.

"I don't expect any more from him this test match, if it spins great if it doesn't he'll still be able to do a job for us, so I'm confident that Lyono can certainly take a few wickets in this test match and he can continue to do a good job for us," he added.