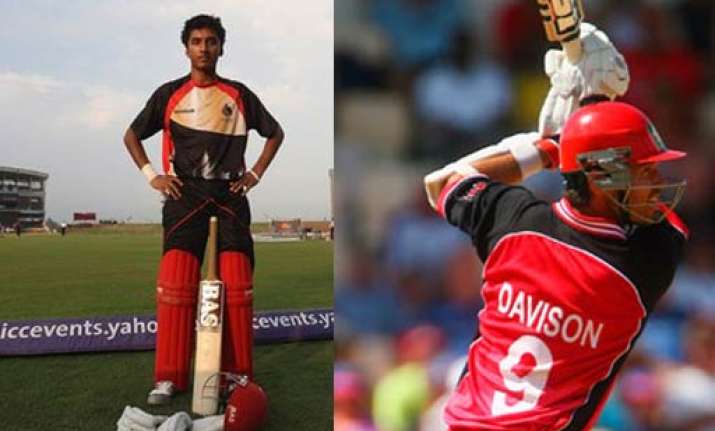 NAGPUR, India, Feb 27: The oldest player at this year's World Cup, Canada allrounder John Davison could have reason to feel his age when he is at the crease against Zimbabwe on Monday. Canada's need to shore up a weak batting lineup means the 40-year-old Davison may find himself playing alongside the tournament's youngest player, 16-year-old Nitish Kumar.
Kumar, who played his first one-day-international at just 15, could be drafted in for the Group A game in Nagpur to deal with Zimbabwe's three-pronged spin attack. "I was lucky enough when I first went to Canada 10 years ago to meet Nitish as a 6-year-old and I can tell you he was a very good cricketer by that stage," Davison said. "His old man used to play club cricket with us and he used to run up and bowl to him and this little 6-year-old was playing pull shots. It was pretty impressive. "When I first saw him, I thought, 'Jeez, it would be good to play with him."'
The Australian-born Davison already proved his worth to his adopted country with the tournament's quickest ever century in 2003. Kumar could get his chance to flourish just a year after his debut against Afghanistan."They might be opening tomorrow," captain Ashish Bagai said with a smile. "We'll settle on the team this evening but the top order's had a bit of a struggle so a bit of a shuffle is on the cards."
Bagai knows his team needs something special after a 210-run defeat by Sri Lanka in its opening match showed just how tough things will be against the test nations. "We knew at the start of the tournament that Zimbabwe and Kenya were going to be our best chances to win," Bagai said. "We've had two warmup games and the first match against Sri Lanka where the top order has really struggled. It's been tough for us and we've leaked too many wickets to recover from."   
Davison remains a key figure for Canada, somewhat compensating for his duck against title contender Sri Lanka with two wickets. With a 76-ball 113 against the West Indies in 2003 and 50 off 23 against New Zealand four years ago, Davison averages 34.11 in World Cup matches at a strike rate of 115.84. He represents Canada's best chance of posting a decent total.   
"There is some expectation for that to happen, but I've got to deal with that myself, try to assess the conditions every time I play and bat accordingly," Davison said. "Which is easier said than done." With a wealth of experience and confidence against the big sides, Davison wouldn't be distracted by having such a youngster at the other end. "The beauty about it is we don't affect the average age of the team," Davison said. "We cancel each other out." AP