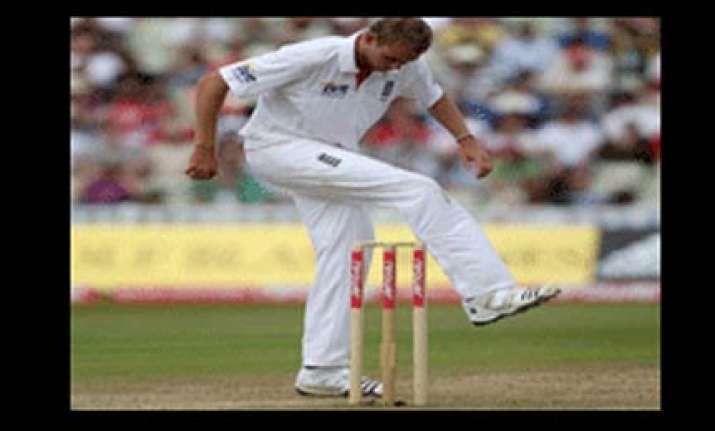 BIRMINGHAM: England's Stuart Broad has been fined 50 percent of his match fee for throwing the ball at Zulqarnain Haider during the ongoing second Test against Pakistan, the International Cricket Council (ICC) announced Monday.
Broad petulantly hurled the ball at Test debutant Zulqarnain, then on 22, at the end of the 63rd over on the third day at Edgbaston here on Sunday and hit Pakistan's wicketkeeper, who had not moved from his position, on the shoulder.
The 24-year-old Broad pleaded guilty to a disciplinary charge brought by the match umpires which relates to "throwing the ball at or near a player, umpire or official in an inappropriate/and or dangerous manner"
"The actions of Stuart Broad were unacceptable," Ranjan Madugalle, the match referee, said in an ICC statement issued Monday after imposing a fine on Broad in the region of 2,000-2,500 pounds (3,187-3,984 dollars).
"I understand the frustrations of a bowler in the heat of the moment but as an international sportsman one needs to control these emotions whatever may be the situation and always respect the opponent," the Sri Lankan added.
"Stuart, by pleading guilty, realised his mistake and I'm sure he will not repeat the same mistake again."
The incident took place shortly after Broad had appeal for caught behind against Zulqarnain, who went on to make an impressive 88, rejected by both South African umpire Marais Erasmus and the Decision Review System.
Both Erasmus and Australian colleague Steve Davis spoke to England captain Andrew Strauss after an incident which saw Broad only half-heartedly apologise to Zulqarnain with a brief wave of his hand.
Pakistan captain Salman Butt, speaking after stumps on Sunday and before Broad had been charged, said: "It's not good to see people throwing balls intentionally at others, and not even excusing properly."
Broad's action at Edgbaston was deemed to be a level two offence under the ICC code of conduct, with penalties ranging from 50 percent to 100 percent of a player's match fee and/or a suspension of two ODIs or one Test match.
Zulqarnain's knock was the cornerstone of Pakistan's 291 for nine that left them with a lead of 112 heading into Monday's fourth day after the tourists were dismissed for just 72 in their first innings.