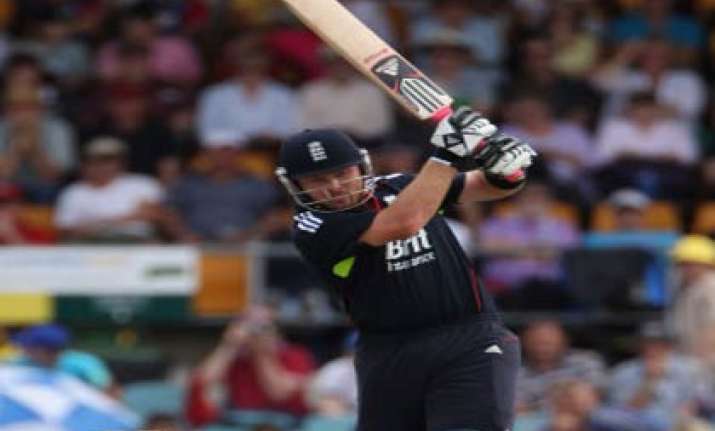 Mumbai, Feb 12 :  England, who finished bridesmaid in three out of the first five World Cups, would be keen to take inspiration from their title triumph in last year's World T20 championships and the more recent comprehensive Ashes victory over Australia when they plunge into action in the mega event.
After finishing runners-up in 1979 at home, 1987 and 1992, the country in which the limited-over format took splendid roots in the 1960s seemed to have lost their way in the 50-over game and were knocked out in the first round ofthe 1999 and 2003 editions.
But a conscientious decision to make improvements in the overs-limit formats paid dividends as England made the Super 8s in the West Indies in the 2007 World Cup and then surprised one and all by lifting the world crown in the shortest format of the game -- Twenty20 -- in the Caribbeans in 2010.
In the recent Ashes series also, the Englishmen completely dominated the proceedings, winning it 3-1 before injuries to key members and travel weariness had an affect on England and they ended up losing the seven-match ODI series against the arch-rivals 1-6, going into the World Cup.
However, Andrew Strauss-led England is now expected to do well to put the ODI setback against Australia firmly behind as they embark on another journey to grab cricket's showpiece for the first time ever.
England, seeded sixth, are bunched in Group B with tournament co-hosts India, South Africa, the West Indies,Bangladesh, Ireland and The Netherlands. They open their Cup campaign against the Dutch at Nagpur on February 22.
Its imperative if England want to put up a creditable show they would have to get a sound start from Strauss and Matt Prior and then get the middle-order batsmen led by Kevin Pietersen and Paul Collingwood to build upon.
Bowling is the major strength of this English side with the pace attack led by James Anderson appearing to be of good quality, even on the sub-continent wickets.
Last time England visited Indian shores, the new ball attack -- including Anderson and Stuart Broad -- was smashed around by the likes of Virender Sehwag, Gautam Gambhir and Yuvraj Singh, and it is expected that the lessons they must have learnt during the 2008-09 would be put into practice.
The presence of a top quality off spinner in Graeme Swann in the squad should enable England to have a good grip during the middle overs on spin-friendly tracks with support from other regular and part-time slow bowlers.
England is also a very good fielding side with swift-moving out-fielders and excellent catchers in the ring,which would be of considerable advantage.
England's World Cup 15: Andrew Strauss (capt), James Anderson, Ian Bell, Tim Bresnan, Stuart Broad, Paul Collingwood, Ravi Bopara, Kevin Pietersen, Matt Prior, Ajmal Shahzad, Graeme Swann, James Tredwell, Jonathan Trott, Luke Wright, Michael Yardy.
England's preliminary league matches: v The Netherland (Feb 22, Nagpur); v India (Feb 27, Bangalore); v Ireland (Mar 2, Bangalore); v South Africa (Mar 6, Chennai); v Bangladesh (Mar 11, Chittagong); v West Indies (Mar 17, Chennai). PTI