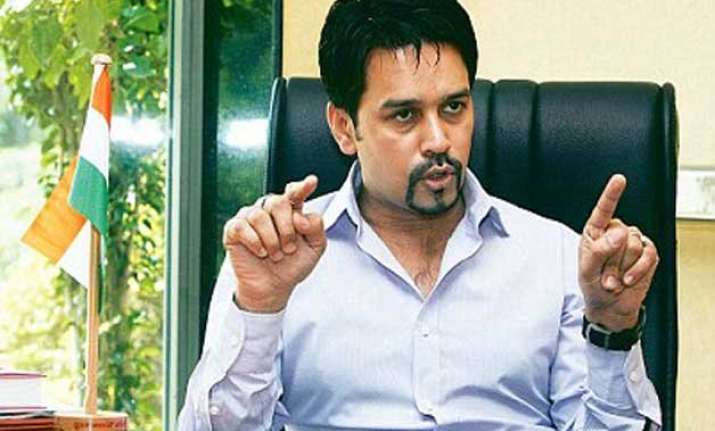 NEW DELHI:  Promising to clean up cricket, BCCI secretary Anurag Thakur on Monday hinted at initiating a probe against N Srinivasan in order to pave the way for his ouster from the ICC chairman's post.
The internal feud within the BCCI took an ugly turn last week with Thakur launching a stinging attack on Srinivasan, saying that he should actually share information on bookies with his own family members "whose involvement in betting has been proved".
Thakur believes that it is Srinivasan's actions, during his presidential term, that need to be probed.
"The SGM is an option and BCCI will probe all details. But we don't want to do any witch hunting. If there is proof against anyone action will be taken.
Srinivasan is BCCI's nominee in ICC till September and based on the proof, we will take the decision on him continuing or not then," Thakur said.
Thakur blamed Srinivasan for the public spat after the ICC letter accused the honorary secretary of bookie links.
The Himachal Pradesh Cricket Association (HPCA) president said that the ICC letter, linking him to an alleged bookie named Karan Gilhotra, was aimed at maligning his image.
"It's unfortunate the way the letter was written to malign the image. I think I have replied to that and the matter ends there.
It contains all the details and the reply was to the point," the BJP MP said.
"I wish he (Srinivasan) had shared the information with me because I was the joint secretary then. I wish he had shared it with others as well so that the members are aware that who is a suspected bookie.
"But unfortunately in the ICC letter it is written, suspected bookie 'unverified', rumours about the bookie 'unverified'. So I don't want to comment on the unverified part," he added.
On the reports of Srinivasan hiring spies on BCCI officials during his presidential term, Thakur said the "serious" allegation has to be inquired upon.
"I have seen that report in the media only. It was not discussed in the Working Committee meeting.
It is a very serious thing and I have written to the office bearers of the BCCI to guide us, tell us if any such agency has been hired.
Let the report come, so that we are aware. Because I am not aware of any such agency that was hired," he said.
On the issue of Chennai Super Kings' valuation, Thakur said that the matter needs to be clarified.