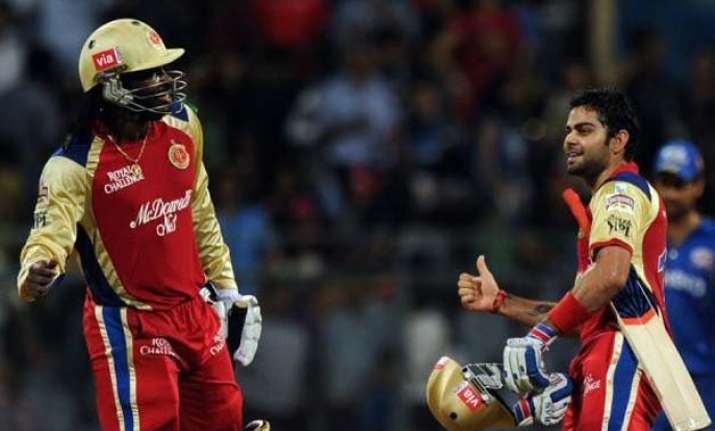 Mumbai: Captain Virat Kohli today said Royal Challengers Bangalore's star-studded batting line-up will be able to express itself better in IPL-8 with the arrival of players such as Darren Sammy and S Badrinath in the team.
Besides the Indian player and former West Indies captain, Dinesh Karthik was also being bought at the auction, and the 26-year old Kohli said that it has provided depth to their batting line-up.
"This season is pretty different for us because for the last three or maybe four years myself, Chris and AB have played under a lot of pressure because the batting revolved around the three of us.
"If you look at the few other teams, they have a lot of depth in their batting which meant the guys could go and express themselves and play freely that worked for them," Kohli said after the team's jersey launch here.
Things, this time around, could change for the better for RCB.
"We had to be cautious and at the same time look to score runs which sort of put us under pressure at times but this time around we have got Dinesh Karthik, Darren Sammy, Badrinath and youngsters like Mandeep Singh coming into the batting line-up.
"It is a very strong batting unit this time and we have got really good depth with great mixture of Indian youngsters and great bowlers from around the world and some good power hitters.
"This season the three of us can play the way we always wanted to play in T20 cricket like you see AB, playing the way he did in the World Cup. I am sure he will be feeling the same and he will be feeling relieved that he can start playing (his shots) from ball one, two or three. That is pretty exciting for us as a team," he said.
Kohli said they have a strong enough team to clinch the Indian Premier League trophy after featuring in two semi-finals and final earlier.
"We always aim to do well in the tournament. We have played the semi-finals twice, played the final once, played the Champions League finals once and it is time that we cross that hurdle and we have a team which can cross the hurdle.
"I am sure that the players we have retained and bought in the auction, we can create a good combination which gives us a good chance in the tournament. If 11 players believe that we can win then we will surely do well in the tournament.