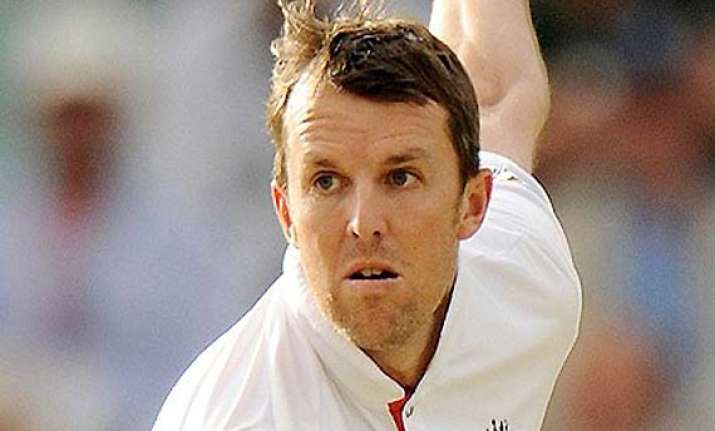 Mumbai, Nov 24: Off-spinner Graeme Swann, who today became only the 14th Englishman to claim 200 wickets in Test cricket, feels his team had a lot of tough work left to do before thinking about a win in the ongoing second Test against India here.
"I wouldn't say we are in a particularly strong position in the game. We are in a good position but we are not at that stage where we can say that we will win this one. We have got a lot of hard work ahead of us," said Swann, who accounted for four wickets, including three in 10 balls today.
Swann finished with fine figures of four for 70 to help England bowl out India for 327.
In reply England were 178 for two, 149 runs behind going into the third day of the game tomorrow.
"We are still 150 runs behind so we won't be talking about milestones and centuries and things like that. We know we have to build as big a lead as possible, so that we can have a crack and win this game," Swann said.
Swann said he enjoyed bowling with left-arm spinner Monty Panesar, who claimed five for 129, in India's first innings.
"Monty bowled magnificiently yesterday. It was great to see. I am a big advocate of playing with two spinners. I love playing with Monty. I grew up in North Hampton when he was first starting and I just love it when he takes a wicket.
"That face like a man possessed when he got Sachin Tendulkar out yesterday, I have never seen a man so wound up like this one. He is brilliant," he said.
Swann , who went past his countryman Jim Laker to become the first English off-spinner to complete 200 wickets, said he was extremely delighted with the milestone.
"No, five years ago I wouldn't have dreamt of taking 200 wickets. I am absolutely over the moon the way my career has panned out. The change at the top was just at the right time for me. It has been a great four years, and I have enjoyed every minute," he said.