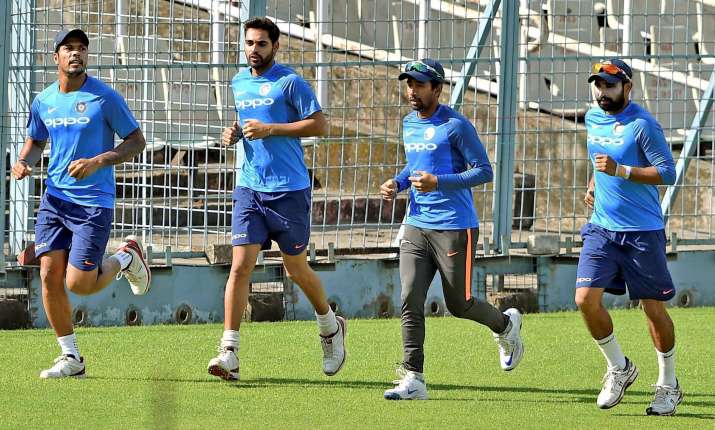 Ahead of his side's three-match Test series against Sri Lanka, wicketkeeper-batsman Wriddhiman Saha revealed the toughest Indian bowlers whom he kept to. Saha insisted that keeping to the likes of seamers Ishant Sharma and Mohammad Shami is far more difficult than other swing bowlers in the team. Saha has been the prominent name on the team list as wicket-keeper after MS Dhoni announced his retirement from Test cricket.
"Ishant Sharma and Mohammed Shami pose a bigger challenge to a wicketkeeper than swing. Their ball wobbles more than Umesh Yadav and Bhuvneshwar Kumar after it goes past the wicket. It becomes tough for the wicketkeepers to grab those balls. Seam bowlers pose a bigger challenge than swing," Saha told the reporters.
When the same question was raised about the spinners, the 33-year-old singled out the performance of Ravichandran Ashwin.
Saha insisted that Ashwin has got a lot more variations in his bowling than other spinners like Ravindra Jadeja and Kuldeep Yadav.
"Ashwin is ahead of others. He has got many variations, also the length varies, so it's tough against him. He has more variation than Jadeja and Yadav," he said following the team's first practice session ahead of the series.
Talking about the upcoming series against Lanka, Saha said that his side's immediate goal is to win the opening Test and then carry on the momentum in rest of series.
"We are yet to see the wicket. However the wicket be, our target will be to win the first Test and get momentum to win the series," Saha said.
Saha also reflected his views on the team's preparation for their tour to South Africa in January 2018.
He said, "Every match is important for us. There is nothing like we are preparing ourselves for South Africa by playing against Lanka. We will go one match at a time. We first need to focus on the games against Sri Lanka then we will think of the South Africa series."
After beating New Zealand in the ODI and the T20I series, India are now scheduled to take on Sri Lanka for a three-match Test series, beginning November 16.
(With ANI Inputs)