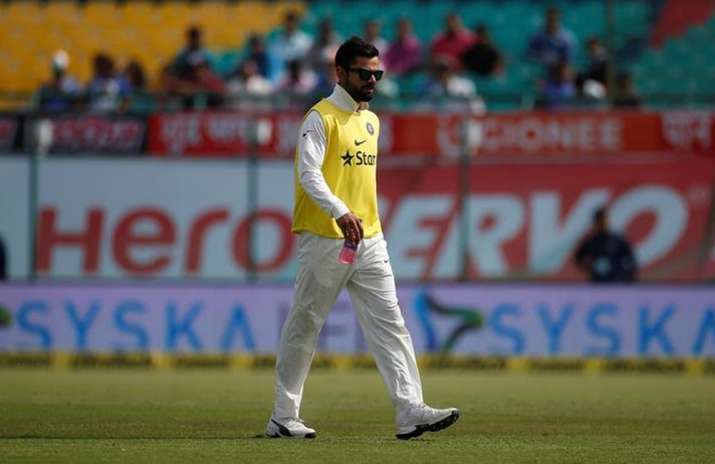 This morning, when Team India's assistant coach Sanjay Bangar Sanjay announced that injured skipped Virat Kohli would not play for in the fourth Test against Australia, there was an obvious disappointment visible among the cricketing fans waiting here.
However, during the drinks, Kohli couldn't stop himself from touching the ground. He himself walked out with the drinks for young boys and gave pep talk to captain Ajinkya Rahane and others.
The skipper invited a big round of applause from the stadium and the commentators went gaga.
"Look at who has got the 'paani' for everybody.12th man Virat Kohli," said former Indian batsman Sunil Gavaskar.
Former Australia pacer Brett Lee said, "This is fantastic. He must be the most expensive drinks man in the world!"
Kohli had suffered a shoulder injury while fielding in the Ranchi Test. Ajinkya Rahane is leading the team in the last match of the four-Test match series. He became India's 33rd Test captain after injured Kohli was ruled out of the deciding game.
Meanwhile, Kohli's this act caught the internet by storm with fans showering love on him on Twitter.
Wow! Virat Kohli Bringing Drinks For His Teammates. He Just Won 1.2 Billion Hearts, Again.#IndvAus pic.twitter.com/pRnt3vhPUV

— Troll Cricket (@TrollCricket3) March 25, 2017
Virat loving it out there #INDvAUS pic.twitter.com/qHe62jgqwf

— cricket.com.au (@cricketcomau) March 25, 2017
Love your work Virat Kohli. Running drinks out and talking to youngsters at fine leg. What great in the history of the game wld do that?

— Rodney Hogg (@RMHogg) March 25, 2017
Then Sachin Tendulkar was carrying drinks for his team mates in Bangalore Test v AUS. (in2004) (due to tennis elbow)

Today Virat Kohli ... pic.twitter.com/ewhOpfWpGd

— Captain Fearless 🔥 (@RoyalViratian) March 25, 2017