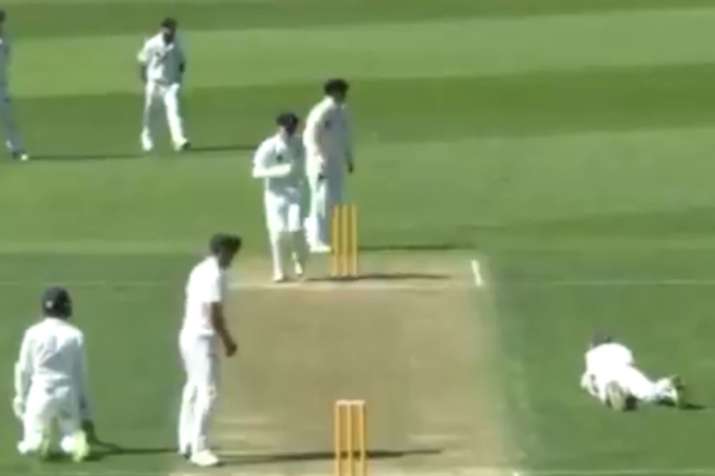 After the comical runout of Azhar Ali had Twitterati in splits yesterday, the New Zealand domestic circuit has thrown up another hilarious incident which is melting Twitter today. During a Plunkett Shield match between Wellington and Otago played in the former city, both the batsmen slipped while taking the second run and ended up lying flat on the ground while the opposition wicketkeeper collected the throw from the fielder and took the bails off.
The culprits during the incident were Otago all-rounder Nathan Smith and Michael Rippon. In the 47th over of the innings when Rippon played the ball to square leg the duo looked set for a routine double but as soon as Rippon tried to turn back for the second run he slipped and fell on the ground and while trying to get up he slipped again and fell flat on his face.
By this time Smith had completed two-thirds of the second run unaware of his partner's predicament. But as soon as he saw Rippon lying on the ground he tried to turn back sharply towards the striker's end, in the process slipping and falling himself. Just then the throw arrived at the same end and Wellington wicketkeeper Lachie Johns didn't waste any time in dislodging the bails.
#PAKvAUS: Hey look at this weird and hilarious run out!
Plunkett Shield: Hold my 🍺 pic.twitter.com/qyTGwQHig5

— Tareque Laskar (@tarequelaskar) October 19, 2018
The incident tops a comedy of errors committed by the experienced duo of Azhar Ali and Asad Shafiq during the ongoing 2nd Test against Australia in Abu Dhabi where the duo mistakenly believed that the ball had touched the boundary and started chatting mid-pitch. All this while Mitchell Starc chased the ball and threw it to the wicketkeeper Tim Paine who didn't have any trouble breaking the bails while the batsmen continued to chat a few feet away.
Have you ever seen anything like it? Azhar Ali was run out in the strangest of circumstances earlier today! 😲 #PAKvAUS pic.twitter.com/s2WbostY10

— ICC (@ICC) October 18, 2018