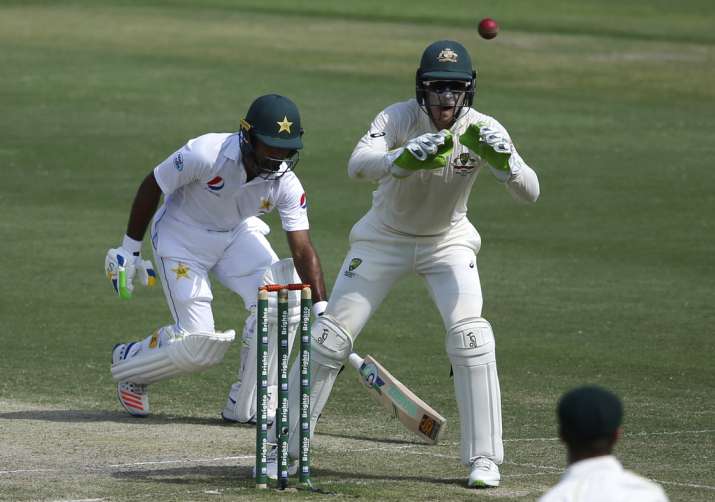 In one of the most comical run-outs in cricket, this particular incident can surely top the list. Middle-order batsman Azahar Ali was run-out in a bizarre and comical fashion on Day 3 of the 2nd Test against Australia at Abu Dhabi. 
In Siddle's delivery, Ali, who was on strike at 64, edged a delivery past gully on the drive and the ball ran towards the rope. However, it just fell short of the boundary line and Azhar assumed that it had gone down for a boundary and started a conversation with his partner Asad Shafiq in the middle of the pitch. 
Mitchell Starc collected the ball quickly threw the ball to wicket-keeper Paine at stumps and without any realisation, Azhar was dismissed while he was having a conversation in the middle of the pitch. Azhar did not even bother going back as he was totally unaware of what was happening around him. 
Azhar was left stunned and dumbfounded when Paine took the bails off the stumps and started celebrating. Take a look. 
VIDEO: Have you ever seen a more bizarre run out than this?#PAKvAUS pic.twitter.com/b5ycCBj4Pb

— SA Cricket magazine (@SACricketmag) October 18, 2018
It did not take long enough for Twitteratis to lose their calm and troll Azhar. 
Me: Labuschagne's runout is the worst I've seen.

Pakistan: Hold my beer#PAKvAUS #WhereIsInzamam pic.twitter.com/jOogx1MBNr

— Bill Peters (@westkiama) October 18, 2018
Surely one of The Funniest Runouts ever...

He stopped running in the middle of the pitch because he thought it was a boundary. 🤣 #PAKvAUS pic.twitter.com/3gqg8ekX02

— Abhijeet ♞ (@TheYorkerBall) October 18, 2018
THE BIGGEST JOKE IN THE WORLD
Azhar ali thought the ball has crossed boundary and started talking to each other and wicketkeeper RUN OUT azhar ali
😂😂😂😂😂😂 pic.twitter.com/tJGDjo64iV

— Taj yousofzai (@taj7222) October 18, 2018
Azhar Ali giving pure entertainment 😂 pic.twitter.com/q90QuApjD5 pic.twitter.com/5Ei4nWKIfh

— Naeem Rajpo0t♥ (@Njrajpoot) October 18, 2018
Ali, playing his 67th Test, and Shafiq, playing his 63rd, were dumbfounded while the Australians celebrated a little slice of luck.
That dropped Pakistan to 160-4 in its second innings, but Shafiq and Babar Azam batted confidently to lead their team to lunch on 232/4, and well in control of the test.
Shafiq was 42 not out and Azam was on a fluent 34 that included two sixes off Nathan Lyon. Both batsmen were dismissed without scoring in Pakistan's healthy first innings total of 282, and this time were involved in an unbroken 72-run stand for the fifth wicket.
Australia removed both overnight batsmen inside the first hour after Pakistan resumed on 144/2.