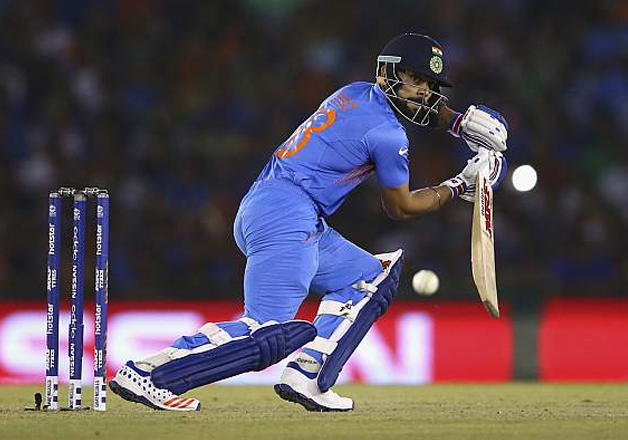 New Delhi: On Sunday, Virat Kohli won a crucial match for India single-handedly once again. It was a do-or-die contest for India when the 'Men in Blue' took on the 'Kangaroos' at the magnificent Mohali stadium in Punjab. It was a virtual quarter-final of ICC World T20 as the winning team was set to get the ticket for Semi-finals from Group 2.
Electing to bat first, Australia posed a competitive total of 160 in stipulated 20 overs and the Indian team, riding on Virat Kohli's meticulous 82 off 51 balls, achieved the target in 19.1 overs.
On paper, it was an emphatic 6-wicket win over Australia but those who watched the match would vouch that it was not that easy et al. In fact, it was the sheer brilliance of Virat Kohli which made the task easy for India otherwise things were looking tough after the openers Shikhar Dhawan and Rohit Sharma failed to give India a good start once again. Suresh Raina who bats at the crucial number 4 position disappointed once again.
A closer look at the recent performance of Indian batting line-up would reveal that Indian batting clicks only when Virat Kohli performs. When Virat Kohli fails, the famed batting line-up collapses like nine pins.  It was evident in Asia Cup and the same saga continues in the ongoing ICC World T20 tournament.
In the very first match of World T20 cup, India had to suffer a humiliating defeat against New Zealand. Chasing a modest victory target of 126 on a spinning Nagpur track, considered to be favourable to the hosts,  Indian batting line-up collapsed like a pack of cards and 'Men in Blue' were all out for a paltry 79 runs.
Once Virat Kohli got out cheaply after making 23 runs, Indian batters failed to offer  resistance and the team had to face an embarrassing defeat. As usual, both Rohit Sharma and Shikhar Dhawan failed to set the stage for India's victory once again. The defeat against New Zealand made things difficult for India to reach semi-final and had it not been for kohli's marvellous innings in almost all other league matches of this tournament, India would have been kicked out of this tournament by now.
Even in Asia Cup, it was Kohli who helped India surpass a paltry Pakistani total of 83 runs. As usual, the failure of openers put the entire burden on Kohli who once again proved to be the saviour for the team playing a valiant knock of 49 runs. Suresh Raina failed once again and was out after scoring just 1-run.  
 
The same story was repeated against Pakistan in the ongoing T20 World Cup.  Chasing a target of 119, India had slumped to 23/3 before Virat Kohli once again took the responsibility to sail India through and his unbeaten 56 guided India to a 6-wicket victory. The disastrous form of the two openers and Suresh Raina continued in this match as well.
The question is- for how long the team will continue to bear their failures? What if Virat Kohli fails in a crucial match? Will India face another humiliating defeat the way it happened against New Zealand?
 
Virat Kohli is arguably the best batsman of the world as on today but even the best ones can't deliver in each and every match. What if Virat fails in the semi-final match against West indies to be played in Mumbai on March 31?
Is it the not the time for India to look for batters who could replace the openers Shikhar Dhawan and Rohit Sharma besides Suresh Raina if their poor form continues? Why can't a talented Ajinkya Rahane be given a few matches to prove his mettle?  
It's not that Mahendra Singh Dhoni is not aware of the malaise. After beating Australia, Dhoni conceded that the Indian battling except for Virat Kohli was delivering only 60-65% and that they need to pull up their socks now.
"The others (batsmen) have to step up now. We can't keep relying on him. I think the others are contributing but we need to step up our game. Barring Virat, we have been 60-65 percent in terms ese of our batting," Dhoni said.
Honestly speaking, there is a clear lack of application visible on part of Dhawan, Rohit and Raina and everybody has noticed it. They are throwing away their wickets and their shot selection is erroneous and not up to the mark. It's time they rectify their mistakes, take their game seriously, shoulder their responsibility and don't let the team depend too much on anyone individual. After all, the game of cricket, essentially is a team work.
And if they fail to mend their ways, the team management must start looking at other options.