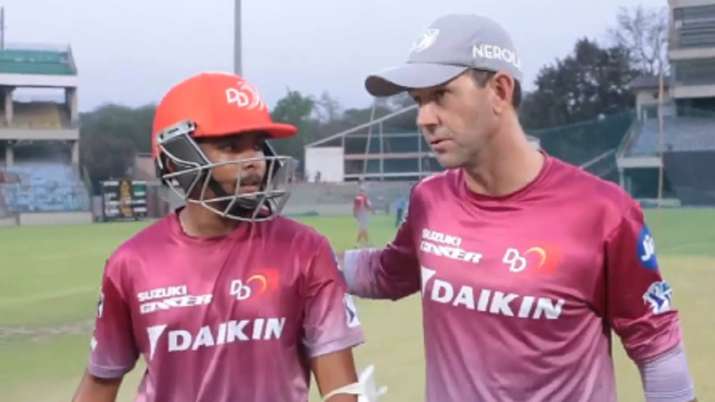 The 'big' comparison with Sachin Tendulkar and counselling from Ricky Ponting have motivated and toughened up the supremely talented Prithvi Shaw for anything top-flight cricket could throw.
Having reminded Mark Waugh of Tendulkar's technical proficiency, Shaw today said he would try to live up to the Australian batting great's words.
Mumbai boy Shaw, who led India to the U-19 World Cup triumph in New Zealand, has made a mark while turning out for Delhi Daredevils in the Indian Premier League.
"Obviously it feels good. I can't compare myself to Tendulkar, because he has already played and done with his 25 years of international career and scored 100 hundreds. So, it's not easy. I've not even stepped in international cricket. So, it's obviously a big thing for me. I hope to make his words come true and keep scoring runs," Shaw said.
Waugh had recently said, "His grip, his stance, he stays very still at the crease and plays all his shots around the wicket. He plays the ball quite late and is quite punchy in his stroke play and has an excellent base to play any shot from any bowler. He's just so much like Sachin Tendulkar," said Waugh, who played 128 Tests for Australia and scored 8,029 runs.
Shaw, who tallied 245 runs in nine matches in the IPL, heaped praise on the legendary Ponting.
"I really liked him. He was really ruling all of us, not in a literal sense, but in a good way. The advice that he gave us was to just enjoy your game. When I made my IPL debut, I was nervous because there were people around me, and the cameras focused on me.
"This wasn't my first time (playing in a match which was being telecast) but I was feeling the pressure. However, after hearing Ponting's positive words, I did well and enjoyed myself," Shaw said.
Playing in the IPL, alongside legends such as AB de Villiers, has been an enriching experience for Shaw.
"I think I've faced each and every difficult bowler over there (in the IPL). From now on it's no longer a worry. All those thoughts and processes are gone. The thought that I'm going to face such and such bowler won't come to my mind.
"All the positive things Ponting (Delhi Daredevils coach Ricky Ponting), Gauti bhai (Gautam Gambhir) and everyone has said will remain with me," the rookie batsman told reporters.
Playing in the cash-rich tournament after the U-19 World Cup, though, was not as easy task.
"It's totally different. When you play for Mumbai in the Ranji Trophy, you face the same bowler next year. But when you play in IPL, you face bowlers of different calibre.
"You face the likes of Mitchell Johnson, you see an international batsman like AB de Villiers. So, it was the best opportunity that I could have thought of. It was the best stage for everyone. To play in the IPL immediately after the U-19 World Cup wasn't easy for us." 
Shaw, who has been picked in the India A side for an England tour, said as he has been to that country previously, he was ready for the assignment.
"This will be the sixth or seventh time I'm going to England. I've experienced over there. How the wickets behave, how the conditions will be. So, I'm ready for it to be honest. Obviously, when we go there, the conditions are going to be different. It's not going to be easy.
"Even if I've played there for three-four years, it's going to be difficult now as well. But a little bit of adjustment is needed. The IPL is a different ball game. Going there and playing in England against England is a different thing. Of course, I need to plan for it.