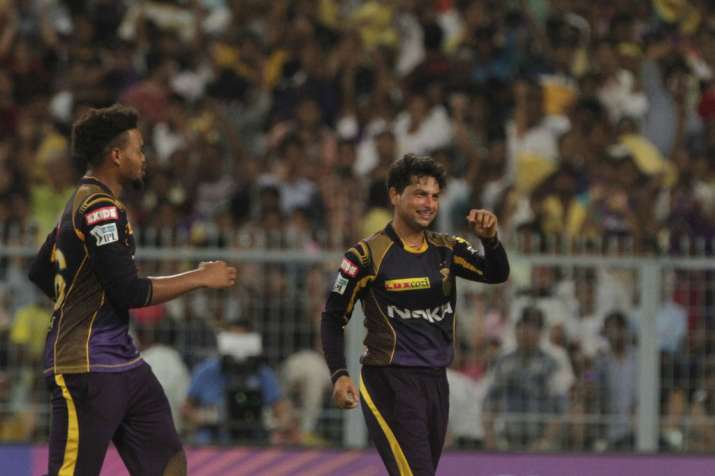 Bowling in front of his idol, Kolkata Knight Riders' spinner Kuldeep Yadav registered an Indian Premier League career-best performance as he dished out Rajasthan Royals batsmen in front of their owner and Australian great, Shane Warne. (IPL 2018 FULL COVERAGE)
In the presence of his idol, the Chinaman was highly motivated to produce his career-best performance as Kolkata Knight Riders thrashed Rajasthan Royals by 6 wickets.
Kuldeep was having a somewhat quiet time in the 11th edition of the IPL with just nine wickets from 12 outings at an economy rate of around 8.5.
But by his own admission, Kuldeep said he was determined to turn things around in front of the Australian spin legend, who is the mentor of Rajasthan Royals team.
"I'm always a big fan of him (Warne). He has been my idol. I always get a different kind of motivation when I play in front of him. I wanted to put up a good show in front of him," Kuldeep said at the post-match news conference.
Kuldeep grabbed 4-20 and earned Kolkata Knight Riders an important six-wicket victory over Rajasthan Royals. The chinaman cleaned up the top order with a wicket in each of his four overs to bowl out Rajasthan for 142 in 19 overs.
It was redemption time for Kuldeep last night as he first got Rajasthan skipper Ajinkya Rahane out bowled with a loopy googly, and then dismissed dangerman Jos Buttler.
In his next two overs, Kuldeep got Stuart Binny stumped with another googly before accounting for the wicket of Ben Stokes.
India's frontline spinner in limited overs formats, Kuldeep said Warne also gave him tips for the upcoming series in England.
"I discussed with him after the match. I have already started my planning for the upcoming England series. But it was a brief conversation. Maybe after the IPL, I will again get a chance to talk to him," Kuldeep said.
Kuldeep made a wonderful Test debut, against Australia in Dharamsala in March 2017, when he returned with figures of 4-68 in the Australian first innings but since then he has played just one more Test.
He has been named in the next month's one-off Test against Afghanistan in Bengaluru.
Insisting that he is a wicket-taking bowler, Kuldeep said his defensive mind set against Mumbai Indians in their previous game in Kolkata may have cost him dear.
"Maybe my mindset became a bit defensive and thought of restricting the flow of runs. But I'm not the kind of a bowler who stops the flow of runs. If I attack at the batsmen, most of the times I get wickets. My strength is to keep looking for wickets," he said.
Kuldeep said Buttler's wicket was special for him as it proved to be a turning point of the game.
"If he had played for 10 more overs, the score would have been 170-180. Everything went according to my plan. For me it was the best wicket," he said.
KKR will head to Hyderabad on Thursday to take on leaders Sunrisers Hyderabad in the last round-robin league match on May 19.
"We have to win the next match straightway. That's important for us, then only we stand a chance to qualify," he signed off.
(With PTI Inputs)