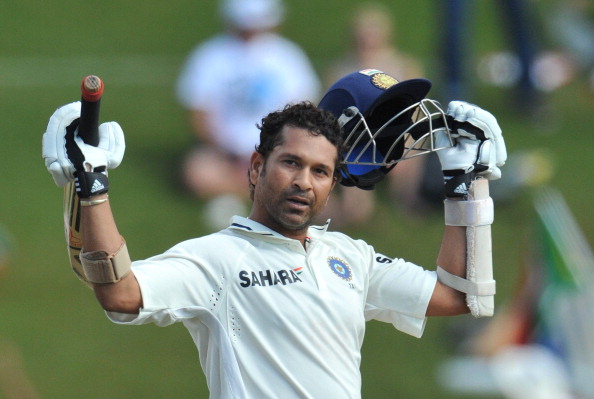 Indian batting legend Sachin Tendulkar on Sunday tweeted an image wishing Ramakant Archrekar, who was his childhood coach, on Guru Purnima. The image from the yesteryear brings back memories of Tendulkar as a young player being trained by his coach Archekar. Sachin tweeted:  "#HappyGuruPurnima to Archrekar sir and the other coaches who have helped me throughout my career. Your contributions have been priceless."
#HappyGuruPurnima to Achrekar sir and other coaches who have helped me through out my career. Your contributions have been priceless! pic.twitter.com/y0M0ojKyr2

— Sachin Tendulkar (@sachin_rt) July 9, 2017
Archrekar is an Indian cricket coach from Mumbai, who rose to fame training young cricketers at the Shivaji Park in Dadar, Mumbai. He had been a selector of young players for the Mumbai cricket team as well. As a child, Tendulkar looked up to his coaches for inspiration and acknowledges them for aspiring him to become what he his today.
Sachin started at a ripe age of 16 when he made his debut against Pakistan in Karachi and the rest is history that is known to the cricket fans. Tendulkar tweeting an image depicts a coach training a young cricketer in the making. Achrekar was honoured with the Dronacharya Award in 1990 and was conferred the Padma Shri in 2010 by then-President Pratibha Patil. A book has also been published on the distinguished coach 'Ramakant Archekar: Master Blaster's Master. 
Sachin fondly remembers stating in his own words that how he used to receive a tight slap from his sir which changed his entire outlook on life. Tendulkar even brought his coach Archekar to the screening of his Biography 'Sachin: A billion dreams'. Media reports suggested that how Archekar got emotional during the preview of the screening when he viewed the film alongside his family members. 
Sachin's childhood coach not only trained him but also transformed young players from the academy into well-known cricketers such as Vinod Kambli, Balwinder Singh Sandhu, Sanjay Bangar and Ajit Agarkar. 
A true inspiration as Sachin tweets an image wishing his coach on Guru Purnima.