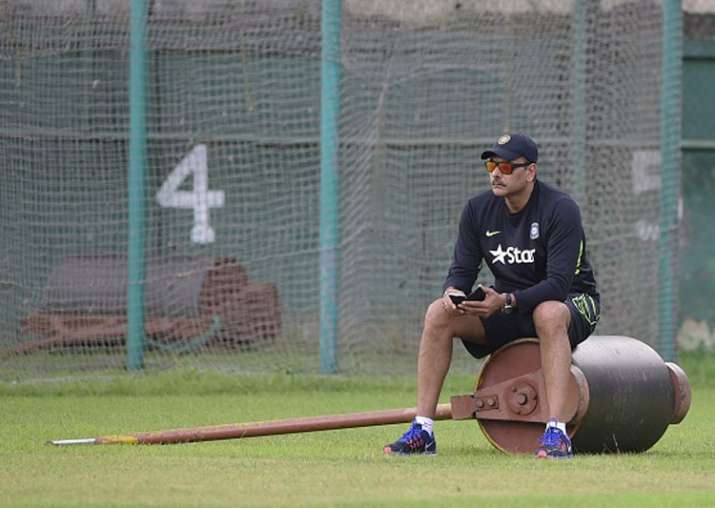 India's newly-appointed head coach, Ravi Shastri on Wednesday spilled the beans on the dramatic turn of events which eventually led to his appointment at the high-profile position. Shastri said the entire sequence of events which made him Anil Kumble's successor is a script worthy of a Bollywood potboiler. "If you see whatever happened during that one week, you can make a movie on this... a good Bollywood movie. You have to choose 10-15 actors here," Shastri said in an exclusive interview to India TV ahead of the team's departure for the Sri Lanka tour, which starts on July 26 at Galle.
The 55-year-old Shastri, who had previously served as the Team Director between 2014 and 2016, was selected after an interview process conducted by the Cricket Advisory Committee comprising Sourav Ganguly, Sachin Tendulkar and VVS Laxman. Shastri was selected from a pool of five shortlisted candidates who had applied for one of the most glamorous and high-profile jobs in world cricket. Along with Shastri, Virender Sehwag, Tom Moody, Richard Pybus and Lalchand Rajput were in the fray and appeared in the interview process.
It was a close fight between Shastri and Sehwag but it was due to captain Virat Kohli's strong recommendation about Shastri's earlier tenure that swung the deal in favour of the former all-rounder.
It will Shastri's third stint with the Indian team. He was earlier a cricket manager during 2007 tour of Bangladesh and then Team Director from 2014 August to 2016 June during which India won Test overseas series versus Sri Lanka, reached the semi-finals of 2015 World Cup and World T20 semi-finals in 2016.
Speaking on the upcoming tour of Sri Lanka, which includes three Tests, five ODIs and a T20I, Shastri said the primary aim of the team will be to win the series, regardless of the margin. In 2015, India made a great comeback after losing the first Test and went on to claim the three-match series 2-1. It was the team's first series victory on Sri Lankan soil after 22 years and became a highlight of Shastri and Kohli's careers.
"Winning is more important, even if we win by 1-0 margin. Our main aim is to win the series. We will get 6-7 days before the start of the series and I feel that's enough as the boys have good amount of Test cricket," Shastri said.
Shastri, who returns to the role a year after losing out to Kumble, who quit citing a breakdown in his relationship with Kohli, insisted that he has moved on from the past.
"I never come with any baggage. Whatever happened in the past should stay there. We live in the present," he said.
Shastri, whose tenure as coach will be until the end of the 2019 ODI World Cup, also defended the selection of the support staff. Bharat Arun was on Tuesday re-appointed the bowling coach on Shastri's recommendation. The board also retained fielding coach R Sridhar along with physiotherapist Patrick Farhat and strength and fitness coach Shankar Basu. Meanwhile, Sanjay Bangar, who was earlier serving as the batting consultant, was elevated to the post of assistant coach.
"This was the same support staff I had when I was the team director between 2014-2016. And if you see the performance of the team, it was very good. Credit should always go to the players. The role of the support staff is only to help the players remain focused on their jobs so that the players can go out there and express themselves. I think this support staff is very experienced," he said.
The former all-rounder also feels that Rahul Dravid and Zaheer Khan were shown any kind of disrespect. He also welcomed their inputs in future.  
"I have spoken to both Dravid and Zaheer. It is up to them now to see how many days they can give to the team. But their inputs will be invaluable. We have never disrespected them and we always welcome their contribution.
Shastri also said that he was open to having his bete noire Sourav Ganguly as consultant in the team.
"Anybody can come serve Indian cricket. They are most welcome. I haven't yet spoken to Sourav Ganguly but we will definitely meet and will talk," he concluded.