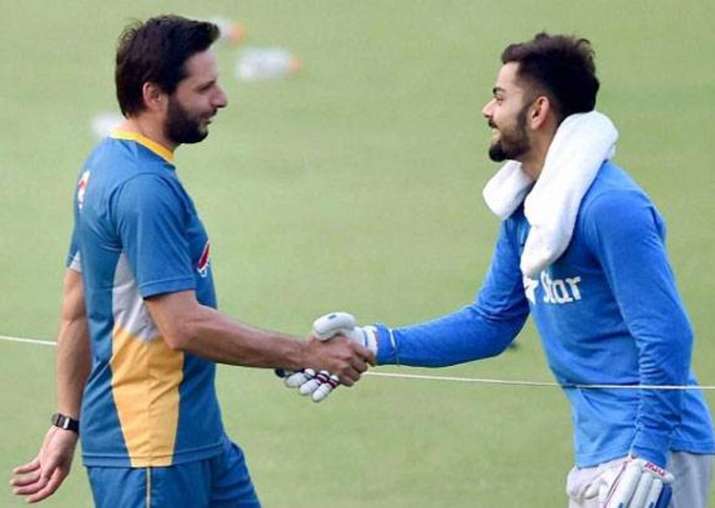 Former Pakistan captain Shahid Afridi has lauded Virat Kohli's leadership skills and said that his relationship with the 29-year-old Indian captain cannot be defined by the prevailing political situation. Cross-border tension may have restricted Indo-Pak bilateral cricketing ties but Afridi loves to put across a point firmly. "My relationship with Virat is not dictated by political situation. Virat is a fantastic human being and an ambassador of cricket for his country, just like I am for my country," Afridi said on the sidelines of the St Moritz Ice Cricket tournament.
"He (Kohli) has always shown a lot of respect and has even gone out of his way to present a signed jersey for my Foundation," he added.
Afridi's foundation has been working in providing clean and safe drinking water for the economically weaker sections of society. "There is a lot of warmth and fellow-feeling whenever I have spoken to Virat. It's not that we get a chance to speak a lot but from time to time, he would drop in a message and I would do the same. I congratulated him recently when I came to know the he was getting married.
"I believe as cricketers we can set examples of how relationship between individuals can be a template for relationship between countries. I think after Pakistan, the two countries where I have received most love and respect are India and Australia," said the former Pakistan captain.
Afridi loves Kohli's aggression and believes that supporting juniors in crisis situations has also helped him in earning respect from youngsters. "Virat is doing a brilliant job. I have no problem with aggression if it is a controlled one. And Virat's character is different from Mahendra Singh Dhoni, who was a composed individual.
"Now suddenly, you cannot change the inherent nature of a person. Virat's greatest asset is that he can take the team along," Afridi observed.
(With PTI Inputs)