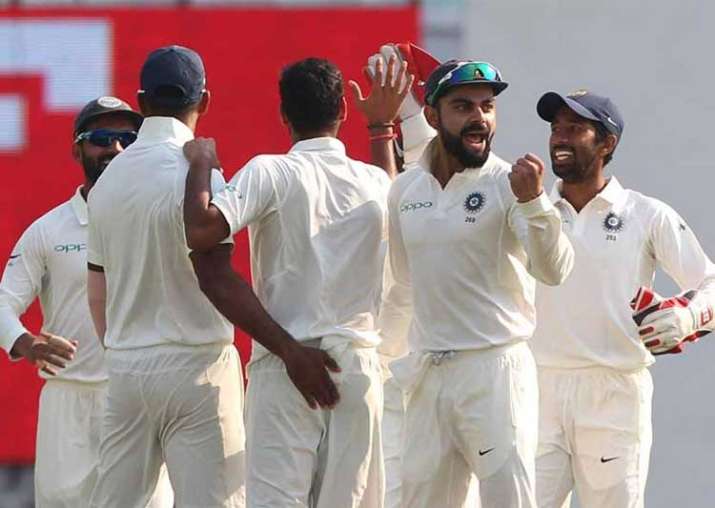 Hello and welcome to our Live Coverage of the fifth and final day of the first Test between India and Sri Lanka at the Eden Gardens in Kolkata. Virat Kohli posted his 18th Test century and then declared India's innings closed Monday, setting Sri Lanka a target of 231 runs for victory from 47 overs in a late push for a result in the rain-affected series-opener. Kohli scored an unbeaten 104 from 119 balls, including 12 boundaries and a pair of sixes, before declaring at 352-8. Sri Lanka lost openers Sadeera Samarawickrama (0) and Dimuth Karunaratne (1) within the first four overs and was 8-2 at the last interval, with Angelo Mathews on 5 not out and Lahiru Thirimanne unbeaten on 2. India resumed on day 5 at 171-1 aiming to score quickly to set up the match, but Suranga Lakmal (3-93) slowed the progress with three wickets in his morning spell. Lokesh Rahul (79) added only six runs to his overnight score before he was bowled by Lakmal in the fifth over. At the other end, Cheteshwar Pujara (22) became the third Indian player after ML Jaisimha and Ravi Shastri to bat on all five days of a Test. But he added only 11 runs with Kohli for the third wicket before Lakmal struck twice quickly. He had Pujara caught at gully as he failed to fend off a short ball and trapped Ajinkya Rahane (0) lbw four balls later, a close decision that stayed in the bowler's favor despite DRS review. Kohli added 20 runs with Ravichandran Ashwin (7) and 12 with Wriddhiman Saha (5). He reached his half-century off 80 balls and continued to look for partnerships. He found support from Bhuvneshwar Kumar, who contributed 8 in a 40-run stand before he was dismissed by Lahiru Gamage. Sri Lanka had 122-run first innings lead after scoring 294 in reply to India's 172. (MATCH SCORECARD)
HIGHLIGHTS FROM INDIA VS SRI LANKA, 1ST TEST, DAY 5 AT EDEN GARDENS
16.30 IST: The umpires get together once again. Signs look ominous for India, who have one foot on the win. The umpires have a chat with Kohli and the Sri Lankan batsmen post which the players are seen shaking hands. Yes, IT IS A DRAW, but an interesting one towards the end. India (172 and 352/8d) draw against Sri Lanka (294 and 75/7) at Eden Gardens. Bhuvneshwar 4/8, Shami 2/34 
16.22 IST: OUT! Bhuvneshwar removes Perera for duck. SL 294 & 75/7, need 156 runs to win vs IND (172 & 352/8d). Rangana Herath is seen walking out to the middle. Sri Lanka's dressing room looks concerned as the visibility seems to be a concern for them. However, they are in such a position that even if it would have been 12 noon, they'd have problems.
16.12 IST: OUT! Bhuvneshwar removes Dickwella for 27. LBW! The umpire's call stays! The Indians are pumped up as they have finally seen the back of Dickwella. Kumar comes round the wicket and bowls it on a length around off. Dickwella looks to flick but misses and wears it on the front pad. The Indians put in a celebratory appeal which is agreed by the umpire. Dickwella chooses for the DRS. It shows that the ball would have clipped the top of off stump. The on-field call stays though the Lankans retain their review. Sri Lanka 6 down. SL 294 & 69/6, need 162 runs to win vs IND (172 & 352/8d) 
15.56 IST: OUT! Shami removes Chandimal for 20. Timber! The Eden Garden erupts. Shami is ecstatic and why not! It is a peach of a delivery to end the 47-run stand that came in 53 balls. Shami hurls a fuller delivery around off, it swings in even before pitching and then goes on with the angle. Chandimal looks to flick it away but gets a faint inside edge owing to the movement. Ends up shattering the stumps. If I'm good at reading expressions, the Lankan skipper's look suggests as if his new car has been banged by another from nowhere. Half the Lankan side back in the hut. SL 294 & 69/5, need 162 runs to win vs IND (172 & 352/8d
15.45 IST: The war of words is getting to hard to handle right now. Both the umpires have assembled in the middle and have a long chat with both the skippers as well. In the end, Dickwella apologizes to Kohli, who fumingly walks to his position on the field. All this is unnecessary as this time pass will hurt India more.
15.11 IST: OUT! Umesh removes Mathews for 11. SL 294 & 22/4, need 209 runs to win vs IND (172 & 352/8d) 
14.59 IST: Interesting from Rahane. He walks over to Kohli and seems to be suggesting that he (Rahane) could be standing at fourth slip, somewhere closer to the batsman. This was what Joe Root was doing during the Eng-SA and Eng-WI series recently. Standing very close as compared to a conventional slip position.
14.55 IST: OUT! Edged and taken! 7 more needed from 38.5 overs remaining in the day. The length is perfect, between full and good but the line is not the most dangerous. It is well outside off and Thirimanne could have left it alone. But he pokes at it and ends up nicking to third slip where Ajinkya Rahane gulps it with ease. SL 294 & 16/3, need 215 runs to win vs IND (172 & 352/8d) 
14.29 IST: Sri Lanka 294 and 8/2 at tea, need 223 runs to win vs India (172 and 352/8d); Bhuvneshwar 1/0, Shami 1/8
14.12 IST: OUT! Shami castles Karunaratne for 1. Another one is played on! India have two, need 8 more in 43.3 overs, if light permits! Mirror image of Samarawickrama's dismissal. Landed outside off, Karunaratne shuffles across and looks to push away from the body. Mirrors don't lie. That is a bad shot and you need to pay for it. Off goes Karunaratne. Eden erupts. SL 294 & 2/2, need 229 runs to win vs IND (172 & 352/8d) 
14.05 IST: Some help needed. Repair work being done on the footmarks near the bowler's landing areas. To be put plainly, they are hammering the pitch.
14.00 IST: OUT! Bhuvneshwar removes Samarawickrama for duck. Chopped on! 1 down, 9 to go! Nerves...nerves... that is what these are. Sri Lanka have to see off around one and some sessions, that is why this shot. Landed wide outside off, could have been left alone but Samarawickrama chooses to feel for it and only drags it back onto the stumps. Sri Lanka 1 down and there will be some jitters in that dressing room... SL 294 & 0/1, need 231 runs to win vs IND (172 & 352/8d) 
13.56 IST: Sri Lankan openers are out in the middle! Bhuvneshwar Kumar starts the proceedings for India!
13.52 IST: Excellent batting by India but a little bit puzzling as well. They started off in grand fashion with Dhawan and Rahul counter-attacking and adding 166 for the opening wicket in 37.1 overs. But then, things started to go a little bit pear-shaped. The Indians started well today morning too but then seemed to lose track of proceedings. However, just when we felt like the match was heading to a draw, the Lankans started to pick up more wickets and at 281/7 with the lead reading 159, Sri Lanka would have sniffed a chance. But Virat Kohli then changed gears. From 58 to 93, he rocketed to 104 from 119, as if he was chasing a target of 350 in the ODIs.
13.51 IST: Most Test 100s for India:
51 S Tendulkar
36 R Dravid
34 S Gavaskar
23 V Sehwag
22 M Azharuddin
18* V Kohli
Most Test 100s as Indian skipper
11 V KOHLI (48 inngs)*
11 S Gavaskar (74)
9 M Azharuddin (68)
7 S Tendulkar (43)
13.50 IST: India set Sri Lanka a 231-run target to win!
13.46 IST: SIX! 50TH INTERNATIONAL HUNDRED FOR VIRAT KOHLI! He wanted this badly. The crowd is on its feet and so is the dressing room but Kohli is animated. This has not been his best ground in Test cricket and he wanted to prove his detractors wrong. Sashays down the track, gets to the pitch of the ball and lofts it over cover for a flat six. He then runs further down the pitch, getting to the other end, goes on one knee and pumps his fist in the air! That is called the 'Love for Eden'. Well played, sir. And... INDIA HAVE DECLARED. 
13.41 IST: FOUR! Shami hits Gamage for another boundary to end the over! IND 344/8, lead by 222 runs
13.40 IST: FOUR! What a shot from Shami! He hits Gamage to deep mid wicket for a boundary! Shami into the act now! A short ball around off, Shami pulls it in the air, miscues a bit but gets it into the gap, wide of the man at mid-wicket for a boundary!
13.35 IST: SIX! Kohli brings this straight out of T20 cricket! This one has sailed over wide cover boundary! Audacious Kohli! Boy, is Eden alive! Magnificent batting. Jumps down the track, gets to the pitch of the ball, converting the length one into a half volley and lofts it over extra cover for a biggie! Test mode converted into ODI mode and now a T20 one! Moves to 92.
13.32 IST: India's lead is now 300! All courtesy the aggressive batting from Kohli. 
13.29 IST: OUT! Gamage removes Bhuvneshwar for 8. The declaration batting has brought and end to Kumar's stay at the crease. Actually speaking, it is a needless shot as Kumar should just give the strike back to Kohli. Instead he takes the onus of scoring runs upon him. Sri Lanka realize the tactics and Gamage bowls it short. Kumar looks to pull it and gets a top edge. The ball flies high and comes down to Perera who moves a couple of steps to his left from second slip. India's lead remains on 199! IND 172 & 321/8, lead SL (294) by 199 runs 
13.20 IST: FOUR! This time it is Bhuvneshwar Kumar! He punches Lakmal for a boundary between cover and point. Sri Lanka would have been happy to have Kumar on strike till this point. There is no respite from the other end as well as Kumar punches this delivery off his back foot through covers for a boundary.
13.17 IST: FOUR! What a shot from Kohli! Great stuff from the Indian captain! Shanaka bowls it around off and middle, Virat makes use of his feet to get to the pitch of the ball and hits it through mid-wicket for another boundary. Declaration on the cards, clearly.
13.15 IST: FOUR! Kohli is on song! He wants to score quickly. The ODI Kohli is on show here. On middle and leg, Kohli clips it through backward square leg. The fine leg fielder gets to his left, dives but is unable to prevent the boundary.
13.12 IST: FOUR! Kohli hits Lakmal to long-on for a four! This straight drive from Kohli almost took the umpire with it. Fuller around off and middle, Virat drives it straight back. The umpire has to take evasive action as he jumps to his left. Narrowly misses the ball otherwise he would have ended helping Sri Lanka. Boundary it is. IND 301/7, lead by 179 runs
13.11 IST: KOHLI SURVIVES! The huge cheers reverberating on the ground signals the decision - NOT OUT! Yes, Kohli survives. Yes, an inside edge is the savior. Lakmal spears this full around off and middle, Kohli looks to flick but misses and gets rapped on the pads. Looks plumb to the naked eye. The Lankans' appeal is upheld. Virat goes for the DRS immediately and the Snicko shows a spike. To be fair to the ump, there was no sound as the ball passed the bat, so hard not to give that on the first go.
13.09 IST: FOUR! Another great shot from Kohli off Lakmal! Lakmal, in search of the swing, pitches it up to the batsman outside off. Kohli leans and just opens the face of the bat as he drives that. Gets it a bit squarer than the last boundary. Interesting to not that in spite of the new cherry, there's no swing available.
13.04 IST: FOUR! Beautiful cover drive from Kohli. Glorious, gracious, filled with goodness! Shanaka spears it full outside off, Kohli leans into it and drives it beautifully through covers for a boundary.
12.59 IST: New ball has been taken.
12.56 IST: OUT! Shanaka removes Saha for 5. After having a look at the numerous replays on offer, eventually the right decision has been made. Shanaka looks the unlikeliest of the seamers to trouble the batsmen but yet again he is among the wickets. Bowls a gentle length delivery outside off, Saha drives it without much footwork. Hits it to the left of the cover fielder where Samarawickrama dives low to his left to take a good low catch. So swift was the action sequence, no one was aware that it was a wicket. The umpire however wanted to have a look at the front foot. It was very, very close and the benefit of doubt is given to the bowler. End of Saha's short stay at the crease. India 7 down for 158, effectively. IND 172 & 281/7, lead SL (294) by 159 runs 
12.34 IST: OUT! Shanaka removes Ashwin for 7. Ashwin's woodwork is shattered! Lazy, absolutely lazy from Ashwin. He played a loose drive some while ago and got away, doesn't this time. Shanaka bowls a fullish delivery around off, it moved in a bit after pitching. Ashwin looks to drive through the line but fails to account for the movement. Ends up getting the furniture disturbed. He didn't get to the pitch of the ball, if he has to be faulted more. Also, the cracks reported during the pitch report seems to have played its part here. The movement was because of the ball landing on one of those spots. India 6 down, 147 is the lead. IND 172 & 269/6, lead SL (294) by 147 runs. Wriddhiman Saha is the next man walking in. He's the local lad and played a grafty knock in the first innings. How will he approach this one?
12.26 IST: FOUR! Kohli hits his 15th Test fifty. 15th Test fifty up for the Indian skipper. Raises his bat in acknowledgement and flashes a smile too. He has looked good so far and will look to up the tempo now. This one's full around off, Kohli gets across and flicks it towards fine leg. Nobody is there and a boundary is the outcome. IND 172 & 268/5, lead SL (294) by 146 runs 
12.23 IST: FOUR! Kohli hits Gamage for a boundary between slip and gully! This is Kohli's best score in Kolkata in Test cricket. A genuine edge but results in runs! Gamage hurls it full outside off, Kohli goes for the drive through covers. Gets a thick outside edge and the ball flies through the gap between gully and second slip to go to the fence. Lead swells to 140.
12.16 IST: FOUR! Ashwin hits Shanaka for a boundary! Ashwin gets going after 9 deliveries. Shanaka bowls it on a length outside off, Ashwin gets forward and opens the face of his bat. Guides the ball past gully where Perera puts in a lazy dive. The ball was away from him though and went to the fence. Hard to understand why isn't an agile fielder in that position. IND 256/5, lead by 134 runs
12.10 IST: Dasun Shanaka will bowl now. Gamage was off the field and hence the umpire has informed Chandimal that he cannot bowl for seven minutes more. Shanaka has the same field as Gamage would have.
11.33 IST: India 172 and 251/5 at lunch, lead Sri Lanka (294) by 129 runs; Kohli 41*, Rahul 79, Lakmal 3/50 Confused session for India, to say the truth. Most expected India to come all guns blazing in a bid to put quick runs on the board and dangle a carrot to Sri Lanka. But what the hosts have done is play out a session where they scored 80 runs in about 30 overs. Add to that they have lost 4 wickets too. The session saw Rahul miss out on yet another ton, something that has become a habit of sorts. Pujara looked solid before getting a snorter which he couldn't negotiate. Kohli has looked assured in his knock so far and his approach would be interesting to see on resumption. When Jadeja was promoted up, it seemed the sparse crowd would be entertained but he too fell after having a net session in a game situation. Lakmal yet again was the man who troubled the hosts. He picked up three of the four wickets to fall in this innings. He looked the only seamer who looked like troubling the batters. What's even more heartening is that on a largely-deemed-unresponsive track, he extracted purchase to be effective. That is something that all the other seamers need to have their eyes on. Dilruwan Perera did keep the batters in check before he was rewarded with Jadeja's wicket. With the spinner too getting some purchase, the proceedings in the next session should be keenly observed. If anything significant will be seen, Sri Lanka might just have to bat and that could be tricky. Although safe to assume a draw as the final outcome at this stage, a potentially-spicy session beckons. Join us at 1212 local time
11.19 IST: OUT! Perera removes Jadeja for 9. Perera has got this happy knack of picking up wickets in this game and he does so yet again. Jadeja is sent packing. Perera lands it just around off, Jadeja goes back to punch that. The extra bounce on that makes it difficult for Jaddu to execute that shot. Also, he is in no position to withdraw from that shot. Ends up getting a edge, that brushes the keeper's gloves and lobs in front of the slip fielder. Thirimanne goes back to catch that off the oringinal angle but adjusts well to dive forward and take it inches above the ground. Jadeja falls to Perera for the second time in this game. India effectively 127/5 here. IND 172 & 249/5, lead SL (294) by 127 runs. R Ashwin comes out to bat
11.12 IST: FOUR! Jadeja hits a boundary off Perera's last ball. Not the best of deliveries bowled by Perera in the game. Fires this one on the pads, Jadeja gets bat to that and helps it to the fine leg fence. The lead moves up to 125. IND 247/4, lead by 125 runs
11.05 IST: FOUR! Lovely shot from Kohli off Shanaka! There are many shots in this sport that evoke a sense of joy. The straight drive is one of them. How beautifully designed this shot is. And Kohli emulates it to perfection, even result wise. Bowled in line of the stumps, Kohli leans into it and hits it straight down the ground. The ball is in a hurry to have a meeting with the ropes. IND 240/4, lead by 118 runs
11.01 IST: FOUR! Great shot that from Kohli! Finally a good shot from Kohli yields him the desired result. Length delivery outside off, Kohli just slaps it through covers. The fielder at deep point hares to his right but is unable to prevent a boundary.
10.40 IST: FOUR! Superb cover drive from Vira Kohli. India's lead now crosses the 100-run mark. In the air but safe. It's the Kohli cover drive but there is a man there. So not the wisest of choices. Yet he gets the desired result. The fielder there, Samarawickrama, dives to his left but the ball is well away from him. A boundary it is.
10.29 IST: Brilliant from Lakmal - a maiden! IND 215/4, lead by 93 runs
10.19 IST: OUT! Lakmal removes Rahane for duck. LBW! The decision stays as it is! Umpire's call it is. A length ball outside off, comes back in a long way, Rahane looks to work it to the leg side but misses and is hit on the pads. Lakmal appeals, it looks good enough and umpire Wilson raises his finger! Rahane walks over to Kohli and has a long chat. Eventually he decides to review and Hawk Eye shows it to be clipping the top of the stumps, which means umpire's call. India do not lose a review but they do lose Rahane for a blob. The match is opening up. India are effectively 91/4! IND 172 & 213/4, lead SL (294) by 91 runs. Ravindra Jadeja walks out to bat
10.14 IST: OUT! Lakmal removes Pujara for 22. That is indeed a fantastic catch and Pujara has to go! Excellent delivery as well. Banged in short outside off, Pujara looks to fend but the ball keeps on rising. He tries to keep it out but the cherry hits the handle and lobs towards gully. Dilruwan Perera judges it to perfection and dives in front, taking the catches inches above the surface. Pujara does not want to go and the umpires get together. The soft signal is out and replays confirm the same. Brute of a ball and a terrific catch. IND 172 & 213/3, lead SL (294) by 92 runs. Ajinkya Rahane walks in next.
9.53 IST: India 200 up in 48 overs, now lead Sri Lanka by 78 runs
9.47 IST: FOUR! Why did not Dickwella dive? A good short ball from Lakmal, testing Kohli, landing it around middle and off. Kohli looks to tuck it but he ends up tucking it a bit too finer than his wish. The ball goes close to the wicket-keeper but for some reason Dickwella chooses not to dive. He could have out in the effort, whatever might have been the result. IND 199/2, lead by 77 runs
9.44 IST: Maiden over from Gamage. IND 192/2, lead by 70 runs
9.38 IST: OUT! Lakmal castles Rahul for 79. The middle stump takes a morning walk! Lakmal delivers the early break which Sri Lanka wanted this morning. Not the best of deliveries to be honest. Fuller length, around middle and off, Rahul looks to flick but is a bit too early into the shot. Misses the line and the ball hits the pads, deflecting onto the middle stump. Rahul shakes his head. He should have taken some time before playing his shots.  IND 172 & 192/2, lead SL (294) by 70 runs. Virat Kohli is the new batsman in. The crowd at Eden welcomes him with a loud cheer.
9.27 IST: FOUR! Back-to-back boundaries from Pujara off Gamage. Pujara seems to be in the mood today. Gamage overcompensates by bowling this full and the batsman capitalizes. Comes forward and drives it through the covers. Result is the same! The stand is now worth 22 from 28 balls. That is quick. IND 189/1, lead by 67 runs
9.25 IST: FOUR! Fine shot. Not all that short in length, outside off, Pujara goes back and punches it through the covers for a boundary. The lead is now 63. Pujara moves to 11 from 15 balls.
9.21 IST: FOUR! That's a superb shot from Pujara off Lakmal. First boundary of the day and it has taken just 7 balls. Half volley outside off, Pujara drives it straight past Lakmal's left leg. Dinesh Chandimal gives it a chase to his right from extra cover but is not in the mood to dive. Concedes a boundary. Well, that signals the state of the Lankans at the moment. IND 179/1, lead by 57 runs
9.17 IST: India's lead go past 50 runs.
9.14 IST: Former India spinner Murali Karthik rings the big bell at Eden as KL Rahul and Cheteshwar Pujara take stance. Dasun Shanaka to complete his over.
9.05 IST: Pitch Report - Simon Doull and Sunil Gavaskar say that the pitch looks pretty good, without any grass. Sunny says there are a couple of spots which are just opening up, around the middle and off stump. The pitch might move up and down, basically the odd ball might stay down or shoot, but not the entire day. In short, both commentators feel that today will be more of a batting practice for the teams.
9.00 IST: For India, it has become a nice selection headache with both Rahul and Dhawan getting amongst the runs. The former will do well if he can convert this start into a century. Hard to see Pujara scoring quickly - Rahul might have to don that role this morning. Meanwhile, a new milestone for Pujara - He becomes the third Indian to bat on all five days of a Test match after ML Jaisimha in 1960 and Ravi Shastri in 1984! Well, the rain did play its part in this Test but still, a record is a record!
8.55 IST: With the pitch seemingly getting better to bat, India's thoughts would be clear - Bat hard and get quick runs. Perhaps half a day and set a target of 200-250. Then back its bowlers to defend that and also pick up 10 wickets. Not too long ago, they had dismissed England in just one session. That too, was heading for a draw. As they say, cricket is a game of uncertainties. That too, in India, it is even more.
8.50 IST: Let us take you back some 16-odd years ago at this very venue. India were looking down and out till the fourth day, then bounced back to push themselves to safety. Then, when it seemed like it will be a draw, Australia collapsed and handed India a famous win. That was the mighty Aussie team. The second version of Bradman's invincibles. Sri Lanka are not exactly of that range. Can we expect something similar?
8.45 IST: Bright and sunny! Not a cloud in the sky. Wow. That is something refreshing, especially after seeing overcast skies on the first three days. Sri Lanka started well, continued to be on top but then India have replied strongly. The pitch began with a difference of a needle between the outfield and the surface. Now, we can identify the pitch from the outfield as the colour has become brown. The rain has pushed this Test to a likely-looking draw. But will we see some drama today? Hello and a warm welcome to the final day of this opening Test between India and Sri Lanka at the Eden Gardens, Kolkata.
Brief Day 4 Report: Earlier, Perera stirred up a hornet's nest by apparently looking towards the dressing room during a Review System (DRS) call in the 57th over of Lanka's innings.
Batting on duck after playing seven balls with the score on 208/7, Perera was seen to be walking back after he was given leg before wicket by umpire Nigel Llong off a Mohammed Shami delivery which caught him in front of off-stump.
But after seemingly looking towards the dressing room, he turned back to ask for a review which showed the impact of the ball being outside the line of off stump. 
According to the ICC's DRS Clause 3.2 (c): "In particular, signals from the dressing room must not be given."
Resuming the day on 165/4, the tourists lost four wickets for 79 runs before Herath (67 off 105; 9x4) stitched together a 46-run stand for the ninth wicket with Lakmal (16 off 37; 3x4) to steer Sri Lanka past the 100-run mark lead.
This is the 39-year's old third fifty in the longest format. 
Herath also joined hands with Perera (5) for a 43-run eighth wicket association before the latter got out. Sri Lanka were all out for 294.
Mohammed Shami (4/100) and Bhuvneshwar Kumar (4/88) were the pick of the bowlers, with Shami taking all four wickets on Sunday.
The Bengal pacer accounted for skipper Dinesh Chandimal (28 off 57; 3x4), Niroshan Dickwella 35 off 38; 5x4), Herath and Lakmal while Bhuvneshwar sent Dasun Shanaka packing for a duck.
Umesh Yadav took two wickets on the third day leaking 79 runs. R Ashwin and Ravindra Jadeja, who bowled just one over, returned wicketless.
Lakmal, who was Sri Lanka's best bowlers in the first essay taking four wickets, had to leave the field due to injury after bowling just two overs. He was back later in the session.
Shami's first spell of the day and fourth overall (7-0-19-2) was excellent.
Not only did he bag the wickets of the overnight batters, the fit-again fast bowler made the most of the early purchase from the wicket and used his skill to swing the ball away from the batsmen around the corridor of uncertainty. (Read Full Day 4 Report)