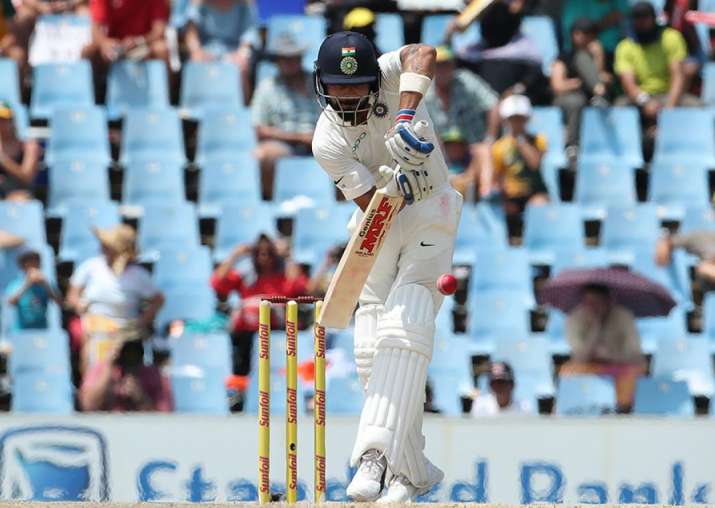 India vs South Africa Day 2, 2nd Test at Centurion
India were in a better position than what the scorecard shows right now. The start was sedate but the stand between
Murali Vijay
and skipper
Virat Kohli
, that was worth 79 runs stood as the backbone of this innings. The value of it was more as it came on the back of two-in-two wickets that the visitors lost. The 'Monk' missed out on his fifty as he played a cut shot too many but the Indian skipper didn't miss out.
Earlier, India knocked out the hosts pretty quickly - in just under a session. The credit should go to Ashwin and Ishant, who picked up 7 wickets among them. This helped their side keep South Africa to a total that doesn't look too humongous. In reply, Vijay and Rahul began steadily but then the tourists lost two-in-two, which stalled their momentum. Among those two was an uncharacteristic Pujara run out. The third day will pretty much show us which direction this series will head forward. The hosts would love to pack the tourists up quickly while the latter will aim to avert just that. There stands a human figure in the middle by the name of Virat Kohli, who seldom lets go of things without a fight. But not for nothing are the Proteas known to be fighters in the cricketing world. (MATCH SCORECARD)
HIGHLIGHTS: INDIA vs SOUTH AFRICA, 2ND TEST DAY 2 AT CENTURION
21.15 IST: An attritional session ends! The Proteas bowlers were trying to bore the batters out towards the end as they were bowling it too wide and full outside off. This pair has done well to not been drawn into that plan by ensuring that the visitors lose no more than the 5 wickets that they have. Kohli has looked very good in his unbeaten knock of 85 runs. Irrespective of the usual talks of who dominated the proceedings and who did not, it made for a compulsive viewing.
21.07 IST:
That's stumps on Day 2 of the 2nd Test with India 183/5 (Virat 85*, Pandya 11*), trail South Africa (335) by 152 runs.

More details here - https://t.co/BsnwXVbymC #SAvIND #FreedomSeries pic.twitter.com/pBMBiQMy1z

— BCCI (@BCCI) January 14, 2018
21.01 IST: Full and wide outside off, Kohli points his bat skywards as he lets it go. The umpire whips off the bails, signalling it is STUMPS, DAY 2! IND 183/5 in 61 overs, trail SA (335) by 152 runs.
20.57 IST: Interesting. Kohli is seen telling Pandya to not play across the line. His tone seems to be a stern one. Hardik retorts saying that the ball has been darkened a bit.
This should be the last over of the day. Morkel will bowl it. Also, Mike Haysman on air informs us that Kohli had a word between overs with the umpire Michael Gough. Perhaps it had something to do with the light as it has gone pretty dim there.
20.56 IST: This is outside off, VK doesn't put bat to that. That should be it from Vern for the day. 6 runs from the over. IND 182/5 in 60 overs, trail SA (335) by 153 runs
20.55 IST: FOUR! Edged but runs! Philander lands it on a length outside off, Kohli gets across and defends it with a straight bat. But the ball grabs the outside edge and goes through where a widish second slip would have stood. Goes away to the fence. IND 182/5 in 59.5 overs
Vernon Philander to have a bowl now. Looking at the time in hand, he might have a maximum of two overs to bowl. Meanwhile, Morkel's back leg was close to the sideline in the last ball of the previous over, when he bowled from round the wicket.
20.51 IST: Double bluff! Almost works! Morkel dishes this full on the pads, Pandya's weight in on the back foot as he flicks it. Just a single from the over. IND 176/5 in 59 overs
20.45 IST: FOUR! Better. Perhaps Pandya can't bear a quiet phase in the game. This boundary should settle him down for sometime. Gets a full delivery around off and middle, driven down the ground. The timing is very good and the ball goes away to the fence. IND 175/5 
20.40 IST: MAIDEN! That's it for now from Kohli and the-saga-of-leaving-balls as this one is left alone. Good battle here. IND 170/5 in 57 overs, trail SA (335) by 165 runs.
20.36 IST: Brilliant over from Ngidi, just a single off it. IND 170/5 in 56 overs
20.31 IST: FOUR! Authoritative, bossy, powerful... Use all the adjectives that you can on similar lines, that'll still not suffice. There was a longish chat between Pandya and Kohli perhaps warning the former about the delivery that could follow after the previous ball. Pandya is alert to the occasion of getting a short ball even with three slips and a fly slip in place. Gets a short ball and he pulls it with disdain over mid-wicket for a boundary. IND 169/5 in 55 overs
Morne Morkel to have a bowl. With a new man in, du Plessis seems to be going for the kill.
The next batter in is Hardik Pandya. Wise decision? A nightwatchman should have been in? Let's see.
20.22 IST: OUT! First Test wicket for Lungi Ngidi and he gets it off his 40th ball. What a time to strike for him! He continues round the wicket and bowls it on a length around off. Patel has to play at that due to the line and the angle. Does so and just gets a thick outside edge straight to de Kock who doesn't miss this. The joy on the Proteas' faces is there for all to see. Perhaps Patel could have left it based on the length but these aren't easy ones to let go. Half the Indian side back in the hut and they are still 177 runs behind. IND 164/5 in 53.4 overs, trail SA (335) by 171 runs
20.20 IST: FOUR! Back-to-back boundaries for the Indian wicketkeeper. Patel hit one on the last ball of the previous over and hits one off the first he faces in this one. Ngidi bowls this outside off from over the wicket Parthiv frees his arms. Goes through the covers and the ball races away to the fence. IND 164/4 in 53.2 overs
20.19 IST: FOUR! Much better and well in control is Parthiv on this occasion. Comes down the track and hits it with the turn over mid-wicket for a boundary. 9 runs off this one. IND 159/4 in 53 overs
20.17 IST: FOUR! Streaky yet effective! Tossed up ball well outside off, it spins in a touch. Patel comes down the track and looks to go over covers. Ends up getting a thick outside edge and the ball speeds away to the third man fence. IND 155/4 in 52.3 overs
20.15 IST: Beauty from Ngidi end the over. Bowled on a length around middle, it moves away after pitching. Patel is squared up and misses this one. Just a single from the over.  IND 150/4 in 52 overs
20.13 IST: Kohli is seen popping some pills there. Not sure what. Maybe some salt tablets to keep himself hydrated.
20.09 IST: IND 149/4 in 51 overs
20.06 IST: Lovely delivery! This battle is turning out to be an interesting watch here. Ngidi bowler hurls this on a length just outside off. Kohli can't resist from playing at it and he does so. Just misses edging that. IND 146/4
20.02 IST: An excellent decision from umpire Paul Reiffel as the decision stays NOT OUT! Ngidi spears this full around off, Kohli walks ahead and across and looks to work it away. Seems to have gone off the pads on first look. The South Africans keep on appealing as the ball rolls through square leg and the batters take three. The umpire doesn't signal a leg bye, meaning these are runs for the batter.  IND 142/4 in 42.1 overs
20.00 IST: Big moment in the game! The Proteas appeal desperately for LBW against Kohli which is turned down. On getting the denial, they opt to go upstairs.
Time for Lungi Ngidi to roll his arm over. His figures after the first spell read 4-2-6-0.
19.59 IST: Outside off from Maharaj, Kohli cuts it away square on the off side for one.  3 runs from this over. IND 139/4 in 49 overs
19.51: Kohli taps it towards cover-point for a quick run. 3 singles from Maharaj's over. IND 135/4 in 47 overs
19.48 IST: Parthiv Patel walks out to the middle. This is his first innings outside India since 2008.
DRINKS!
19.44 IST: OUT! Sharma falls into the trap! Rabada kept bowling outswingers to him and this time he gets it to shape back in sharply from outside off. Sharma is completely undone as he tries to drive it through the off side. He misses and the ball and it hits him on the back pad. The players appeal and the umpire raises his finger. Sharma walks up to Kohli and after a chat he decides to review. Time for the replays. There is no inside edge on that one but can height save him as the impact is a little high? No it can't! It is clipping the top of the stumps. It remains umpire's call, India don't lose a review but they do lose Rohit Sharma who bags another failure to his name as he is walking back. India, once again in trouble here as they trail by 203 runs and now only have 6 wickets in hand. India 132/4 in 45.5 overs, trail South Africa (335) by 203 runs. 
19.43 IST: Rohit is a goner! He has been adjudged LBW but he opts to review. Only an inside edge can save him there.
19.38 IST: FOUR! Enough, says Sharma. He dances down the track, gets to the pitch of the ball and flicks it up and over mid-on for a boundary. IND 129/3 in 45 overs
19.35 IST: Direct hit needed... Maharaj misses! Had he hit though it would have been an unbelievable run-out. A full ball on off, Kohli drives it through covers. The batsmen complete one and set off for a second. Maharaj in the deep picks the ball up and has a shy from the deep at the non-striker's end but misses. Sharma will surely breathe a sigh of a relief there as if that would have hit, Sharma was struggling. IND 124/3 om 44 overs
19.31 IST: Deft from Kohli! Flatter outside off, Kohli plays it very late, down towards the third man. Amla gives it a chase and saves a run for his side. IND 121/3 in 43 overs
19.27 IST: Another huge appeal! Rabada bowls it outside off and gets it to swing back into the batsman. Kohli is done in by that as he tries to defend. He misses and the ball hits him on the pads. The players appeal and the umpire shakes his head as the impact and height was an issue. Replays later on agree and show the ball to be bouncing over. In the meantime, the ball rolls towards third man and the batsman take two leg byes. IND 118/3 in 42 overs
19.23 IST: Sharma defends it off the front foot by the batsman presenting the full face of the bat. Just a single from the over. IND 115/3 in 41 overs
19.20 IST: Another ball outside off from Rabada. He has bowled three outswingers outside off, will this be an in-dipper? IND 114/3 in 40 overs, trail SA (335) by 221 runs
19.17 IST: FOUR! That is how you play the cut shot Vijay! Short and wide outside off, Sharma waits for it and then guides it past backward point for a boundary to get off the mark. IND 113/3 in 39 overs
19.14 IST: BEATEN! South Africa have their tails up here. Rabada comes running in and lands it on a length around off, it bounces a touch more, also straightens. Kohli pokes at it and gets beaten. IND 108/3 in 38 overs
19.09 IST: Rohit Sharma walks out to the middle.
19.08 IST: OUT! Maharaj removes Murali Vijay for 46. India 107/3, trail South Africa (335) by 228 runs
19.01 IST: Fifty for the Indian captain! What a time to score it, India were in trouble when he came in and he has led from the front. His 16th in Test, he would want to make it big though. He pulls the short ball on middle, towards deep mid-wicket for a couple to bring up the milestone. He raises his bat to acknowledge the applause from the dressing room.  IND 107/2 in 35.1 overs, trail SA by 228 runs
19.00 IST: FOUR! Plays the sweep to perfection! These two are playing Maharaj really well. He tosses it up on leg stump, Vijay goes down on one knee and hits it to the square leg fence. The Monk moves on to 46. IND 105/2 in 35 overs
18.56 IST: Short ball, looking at the field, Vijay may have expected it as he was in position early. He pulls it to deep square leg for a run. 4 short balls now, a surprise yorker to Kohli here? IND 101/2 in 34 overs
18.55 IST: Morkel is asking for a short leg and he gets it. Markram goes under the lid. More short stuff coming up!
18.52 IST: Maharaj floats it full outside off, Vijay drives it through covers for a run. 100 up for the Indians. The visitors now trail by 235 runs. IND 100/2 in 33 overs
18.49 IST: Delightful shot there! Morkel is guilty of bowling too full here. He pays the price as he is cover driven through covers for a couple. IND 98/2 in 32 overs, trail SA by 237 runs
18.41 IST: FOUR! Beautiful! This is arguably one of the hardest shots in the game to play and Virat does it with ease. A full ball on middle, Kohli plays the on drive past the diving mid on fielder for a boundary. 11 runs from the over.   IND 93/2 in 30 overs
18.38 IST:  FOUR! Right in the gap! A full ball, at 140 kph on middle, Vijay nonchalantly flicks it through the gap between mid on and short mid-wicket for a boundary. That was so nicely timed not a soul moved there. IND 86/2 in 29.1 overs
Morne Mokel will bowl from the other end.
18.35 IST: Maharaj bowls it a fraction short and just outside off, Kohli stays back and finds short extra cover with the punch. 2 runs from the over. IND 82/2 in 29 overs
We are back for the final session where 36 overs have to be bowled. Virat Kohli and Murali Vijay will hope to continue from where they left off. Keshav Maharaj will bowl the first over after the break. He has a slip in place. Here we go...
... Day 2, Session 3 ...
18.25 IST: The South African bowlers have not got a great deal of purchase out of the wicket. They have not caused a lot of for the current pair as yet. Keshav Maharaj might do the bulk of the bowling after the break as the hosts would expect him to make the most of the surface. India still trail by 255 runs and they would like this partnership to do the bulk of the scoring. The home side will want to chip away at the wickets after the break. Join us for the final session in a while.
18.20 IST: Another action-packed session! Wickets, runs and both the teams will be happy heading into the break. India started this session being 331 runs behind. Rahul and Vijay looked reasonably comfortable out there before the former fell prey to Morkel. The visitors were dealt with another blow when the ever-reliable Pujara was run out on the next ball. India seemed to be in all sorts of trouble at 28 for 2 but this unbeaten 52-run stand between Kohli and Vijay has brought India back into the game.
18.15 IST: 
18.13 IST: Another leave to a ball outside off. A maiden over and the players head back to the FOR TEA ON DAY 2! IND 80/2 in 28 overs, trail SA (335) by 255 runs
18.08 IST: FOUR! Bad ball and dispatched! Short and wide outside off, Kohli has all the time in the world to rock back and cut it through point for a boundary. 50-run stand between the two, a very, very important stand but they need to make it big, something the South Africans could not do. IND 80/2 in 26.3 overs
18.06 IST: Philander keeps it real tight, he's giving nothing away to the Indian batsmen. Another maiden from him. IND 76/2, trail SA (335) by 259 runs.
18.01 IST: Maharaj gives it air on off, Vijay drives to towards covers where the fielder misfields and concedes a run. 4 runs from the over. IND 76/2 in 25 overs
Finally! Keshav Maharaj is into the attack. He had been warming up for a quite a while and he now comes back.
17.56 IST: FOUR! Short outside off, width on offer. Vijay this time waits and cuts it late, behind point. The boundary is shorter on that side and even though there is a fielder in the deep he has no chance. IND 72/2 in 23.3 overs
17.55 IST: Wide outside off from Morkel, bowls the sucker ball. The Monk slashes at it and it goes down towards deep point for a run. IND 68/2 in 23 overs
Morne Morkel is back into the attack.
17.51 IST: On a length on middle from Philander, Kohli flicks it through square leg for a brace.  IND 67/2 in 22 overs
Vernon Philander is back on. Maybe Maharaj was just feeling a little stiff and hence he was rolling his arm over.
17.45 IST: FOUR! Kohli has come out with good intent and has also looked good. His feet are moving towards the ball and he is also ready to play his shots. Rabada dishes out a full ball outside off, Kohli leans into it and times it through covers for a boundary. IND 64/2 in 21 overs
17.41 IST: Length ball on off, shapes back in a touch. Kohli tries to defend but it goes off the inner half towards square leg for an easy run. IND 60/2 in 20 overs
17.32 IST: JUST SHORT! Even if de Villiers would have taken it, it would have been sensational! Ngidi persists with the line outside off, testing Vijay's patients. This time the Monk goes after it as he guides it uppishly but just short of gully where de Villiers dives to his right and makes a fine stop in the end. MAIDEN! IND 56/2 in 18 overs
17.28 IST: FOUR! Rabada gets too straight in an attempt to rap Kohli on the pads. Virat does not miss though as he flicks it through mid-wicket for a boundary. Morne Morkel does give it a chase but is not able to stop it from crossing the ropes. IND 56/2 in 17 overs
17.24 IST: Nicely played this time from Kohli! Ngidi bowls it shorter in length on middle, Virat jumps and flicks it through mid-wicket. He calls for three straightaway and gets it. IND 52/2 in 16 overs
17.20 IST: FOUR! Keep the good balls out and put the bad balls away! That is what Vijay is doing. He gets a half-volley outside off, leans into it and times it through covers for a boundary. SA 49/2 in 15 overs
Drinks are on the field now. South Africa seem to be like lions in a jungle, prowling around in search of a wicket and jumping at every opportunity presented so far. India seemed to be going well before Rahul and Pujara were sent back to the dressing room in immediate succession. In both those dismissals, the Protea fielding that always had the world in awe, was in display. Kohli is looking fluent so far and has the ever-calm Vijay for company. Their first step would be to see off the session. Will they be successful?
17.13 IST: MAIDEN for the debutant! This one took off from a length. Catches Kohli by surprise who does well to defend it with soft hands. SA 45/2 in 14 overs
Lungi Ngidi to have a bowl now. Would be interesting to have a first look at the debutant with the red ball.
17.08 IST: Rabada bowls a length ball angling in as Kohli nudges it to the man at the deep square leg for one. 7 runs from the over. IND 45/2 in 13 overs
17.06 IST: FOUR! Kohli has come out all guns blazing here. Perhaps he is looking to take a leaf out of his mate de Villiers' books. He is looking to take the attack to the opposition here. Gets a ball on a length outside off, Virat stays back and just opens the face of the bat. The ball goes through the gully region. Maharaj is in action yet again as he chases the ball but it just beats him to the fence. The Indian skipper moves to 14 off 8.  IND 42/2 in 12.2 overs
17.02 IST: FOUR! And this is delightful. The previous one was on the off side, this one is on the on-side, in fact straighter. Overpitched in line of the stumps, pushed down the ground for another boundary, consecutive ones. He moves to 9 from 5 balls. IND 37/2 in 11.2 overs
17.01 IST: FOUR! That Virat Kohli cover drive. Just a push this time with pristine timing there. Length ball outside off, Kohli plays this through covers. No stopping that. IND 33/2 in 11.1 overs
17.00 IST: Suddenly the Proteas are pumped up here. Length ball just outside off, Vijay feels for it. De Kock throws the ball up immediately after collecting it for an appeal. Nobody else seems to have heard anything there. IND 29/2 in 11 overs
Kagiso Rabada introduced into the attack now.
16.56 IST: Another ball outside off, left alone. Good over from Morne, a double-wicket maiden.
Hold on to your hats! The Indian captain Virat Kohli walks out to the center.
16.53 IST: OUT! Disastrous calling and even worse consequence. What was Pujara thinking there? Did he feel Usain Bolt's soul is in him? He taps this length ball towards mid-on and sets off for a run immediately. Vijay sees the fielder there and hesitates a bit before carrying on as his partner was running. The man there swoops on the ball and hits the bull's eye at the bowler's end. Who's the man? It's the newcomer Lungi Ngidi. Take a bow young man. That should settle his nerves and his confidence will be sky high. The third umpire is referred to. Another look at that signals Pujara's fate. India rocked early. IND 28/2 in 9.4 overs
One brings two, they say. Does it hold true here? Pujara is the man in question as there is a run out appeal that is referred upstairs.
16.52 IST: Cheteshwar Pujara, the new wall for India, walks out to bat at no.3. There's no question about his abilities, can he get a big score against his name here?
16.51 IST: OUT! The tall Morkel draws first blood. Is Shikhar Dhawan the right opener for India in South Africa? Is Rahul the better one in these conditions? Let these talks carry on as the latter has a failure against his name in his first outing in the Rainbow Nation. Morkel runs in from over the wicket and lands it on a good length around off. Rahul looks to drive it on the up by being rooted to the crease. Ends up chipping it back to Morne who gets down to his left and pouches it. The hosts pick up one quickly as the tourists are still 7 more than 300 behind. IND 28/1, trail South Africa (335) by 307 runs.
16.48 IST: Lands around the good length area nipping back just a touch. Vijay gets his bat down hurriedly to defend it towards mid off. A maiden from Vernon! IND 28/0 in 9 overs
16.43 IST: FOUR! Desired result but desired area? Not sure. Morkel bowls it short and outside off. Rahul sees enough width on that and looks to slash it over point. However, he ends up mistiming it over covers. The ball trickles away to the fence though. Careful, lad. Your side isn't ahead here. IND 28/0 in 8 overs
16.40 IST: FOUR! That's in Vijay's area and he collects runs. Fuller and on middle and leg, Vijay clips it nicely through mid-wicket. Maharaj gives it a valiant chase, slides but takes the ball with him to the boundary. He is gutted there. Full marks for the effort though. IND 23/0 in 7.2 overs
16.39 IST: Markram missed out on his century by a mere six runs and hence he knows the value of each run. Shows in the way he is going about with his fielding. Vijay drives this one nicely through covers, Aiden hares after it, leaps and dives to save a run for his team. 5 runs from the over. IND 19/0 in 7 overs
16.35 IST: Michael Holding and his views about bowling are too good to miss. The hosts were able to pick up quick wickets in both the innings of the previous Test whereas here, they don't have any yet. The legend opines that in the first game, there was some movement on offer. Hence the bowlers could afford to bowl on wider lines. Here though, he says, since there is no movement, the bowlers have to be within and close to the line of the stumps. Fair point.
16.34 IST: MAIDEN from MORKEL! IND 14/0 in 6 overs
16.30 IST: Excellent save, Markram! The goalkeepers in the Premier League would be happy with that save, reckons Graeme Smith on air. Length ball outside off, Vijay drives it nicely on the up through covers. Aiden takes a couple of steps to his left and dives full stretch to prevent the ball from passing through. 2 runs from the over. IND 14/0 in 5 overs
16.25 IST: Morne Morkel to Lokesh Rahul, No run. Length ball outside off, left alone.  IND 12/0 in 4 overs, trail SA by 323 runs.
16.20 IST: AB de Villiers is standing with his helmet on at third slip. He is very close in that position.
16.18 IST: The 25-year-old Karnataka batsman is playing in place of opener Shikhar Dhawan, who lost his wicket for 16 runs in successive innings at Newlands.
16.16 IST: Vernon Philander to bowl from the other end. He proved to be menacing for the visitors in the last game.
16.14 IST: FOUR! Rahul gets off the mark with a boundary. Is the festive season still on? In the last over before lunch, Vijay was offered a freebie to get going and now Morkel gifts Rahul. A full-length ball on the pads, Rahul just flicks it through the backward square leg to open his account. IND 8/0 in 1.3 overs.
16.12 IST: BACK IN ACTION! KL Rahul is on strike.
16.10 IST: Nice conditions for batting with the pitch quickened up a touch. How will India fare on it? Vijay and Rahul walk out once again. The latter will face the first ball in this session. Who will it be to begin with the ball? Morne Morkel. Three slips and a gully stand in anticipation.
15.37 IST: Earlier in the session, led by Ashwin's four-fer and Ishant's three-fer, the tourists bundled out the hosts for a decent total. By the looks of it, the score isn't a tall one. But if India's batting in the previous game is anything to go by, it suddenly becomes a tall one. But the conditions and the track is much different this time round and the Proteas would be mindful of the resistance that they might encounter. For now, we'll let you go to have a bite as we catch one. See you back on the other side.
15.35 IST: India manage to see off the one over that they had to, before the break. Du Plessis came up with the surprise move of handing Maharaj the ball first up and he could have almost dived into celebration if that last delivery would have resulted in a wicket. A sterner Test awaits the visitors in the following session.
15.32 IST: Flatter and straighter in line of the stumps, Vijay prods forward to defend but gets an inside edge. It flies just past Markram at short leg, who gets his hand up but doesn't find the ball there. South Africa just away from getting a perfect start. That's LUNCH, DAY 2! IND 4/0 in 1 over at Lunch on day 2.
15.29 IST: FOUR! Dream start for India. The openers would have walked out imagining to face a battery of quicks and they get the left arm spin of Keshav Maharaj. He doles up a full toss outside off, which is easy pickings for the batter. Vijay gets a stride out and drives it through covers to open his as well as his side's account with a boundary. IND 4/0 in 0.1 overs
15.28 IST: India will have to survive a tricky over before the break. Will be interesting to see if Vijay and Rahul go out unbeaten. Another thing eagerly watched will be how South Africa start with the new ball. Stay with us to find out what happens.
15.21 IST: We are hearing that India will have to survive one over before Lunch. The players in the South African dressing room also stood up and were confused about the way forward, before the confirmation came.
Innings Break! South Africa all out for 335 (Markram 94, Amla 82; Ashwin 4/113) #SAvIND #FreedomSeries pic.twitter.com/EGkzljOSBv

— BCCI (@BCCI) January 14, 2018
15.19 IST: OUT! That's it! Ashwin has four to his name. It is a matter of when, when a left-hander lower order batsman is at the crease against the off-spinner. Tossed up the ball around off, Morkel gets down and looks to go big. All he does is he manages to slice it high up in the air to deep covers where Vijay takes it easily. SA 335-all out in 113.5 overs
15.14 IST: Lungi Ngidi, the debutant, is the last man in for South Africa. How good is he with the bat? Entertainment time?
15.13 IST: OUT! Knocked him over! Brilliant sight for a fast bowler - the woodwork disturbed! Despair for Faf, delight for Ishant. Sharma runs in from over the wicket and angles it into du Plessis on a fuller length. On another day and any other situation, du Plessis would have defended this. But now, he looks to go with the drive on the up. Misses the ball as it sneaks in through the gap between bat and pad and disturbs the middle stump. Sharma shouts in delight as he picks up his third. Another batter fails to convert a fifty to a ton in this innings, as the Proteas skipper falls 36 short. SA 333/9 in 112.4 overs
15.10 IST: FOUR! This is the shot of the match, reckons Shaun Pollock on air. Yes, it is a nice one but not so much so that a tag such as this be attached to it. Sharma lands it on a length around middle and leg, Morkel hops up and flicks it through mid-wicket. Such is the timing on that the ball speeds away to the fence. SA 332/8 in 112.1 overs
15.07 IST: FOUR!  Intentions crystal clear! Ashwin tosses up this carrom ball from round the wicket in line of the stumps. Faf du Plessis gets down the track and slogs this wide of the player at long on. Gets a boundary for doing so. SA 328/8 in 111.2 overs
15.06 IST: WICKET MAIDEN! SA 324/8 in 111 overs
15.01 IST: OUT! Hardik Pandya makes amends to the earlier chance that he gave to Kagiso Rabada. A look at the way he has taken this one would make us feel that he has done more than well. Ishant Sharma bowls it short, Rabada goes for the pull irrespective of the fact that there is a man there. Pandya runs in and takes it with a dive forward. But he knows that Rabada shouldn't have stayed in the middle for as long as he did. Hence, he does not celebrate but only flings the ball away more in anger. Nevertheless, India just two wickets away from bowling out the opposition. SA 324/7 in 110.3 overs
 Ishant Sharma back for another spell. 20-3-41-1 are his current figures.
14.59 IST: FOUR! Poor ball, punished. Ashwin bowls a carrom ball outside off, it turns away a touch. But the length is short and that allows du Plessis ample time to go back and cut it through backward point for a boundary. SA 324/7 in 110 overs
14.55 IST: Hardik comes round the wicket and bowls it fuller on off, defended with a stride forward. 5 runs from the over. SA 318/7 in 109 overs
14.52 IST: FIFTY! The skipper is leading the battle for South Africa. Gets to his 17th Test fifty, his second in the series.  A nice harmless ball to get there as he gets a length ball on the pads. Works it away through square leg for a couple. Good grafting knock from Faf du Plessis. SA 315/7 in 108.1 overs
14.51 IST: Nice loop on that one and there is significant spin as well. Draws Rabada forward in defence and goes the other way to just tease the lower order bat. SA 313/7 in 108 overs
14.48 IST: FOUR! Rohit Sharma should have done better feels Pandya there. He delivers it on a fuller length around off, du Plessis looks to hit it with a straight bat. But the ball goes off the outer edge, passes Sharma at short point who dives but fails to stop that. Once that happens a boundary it is. SA 311/7 in 107 overs
14.46 IST: Edged but safe! On a length outside off, Rabada has a feel for that. The ball takes the outside edge but lands just short of Kohli's right at first slip and goes towards the third man fence. Two runs taken before Virat retrieves it. Perhaps, Patel could have gone for that catch as he had a better chance of reaching it and hence taking it. SA 306/7 in 106.3 overs
14.41 IST: FOUR! 300 up for the home side.  Du Plessis is intent to not let Ashwin settle. Sees this ball tossed up, gets down and takes out the sweep shot. Makes good connection as the ball races away to the square leg fence. There were fielders in the deep but it was near none of them. SA 302/7 in 105.2 overs
14.38 IST: FOUR! Much better. Length ball just outside off, du Plessis hangs back and punches this one. The ball goes through the vacant cover region and rolls away to the fence. SA 297/7 in 104.4 overs
14.33 IST: Time for Drinks!
14.32 IST: In the air... and dropped again! Ashwin might be tearing his hair out here. Rabada who has been struggling against the off spinner tries to take him on. He comes down the track and tries to go big but the ball turns away and takes the edge as it lobs towards cover-point. There are two fielders converging for it, one from point and the other from covers. There is no calling between the two and Pandya who gets to the ball first, gets two hands to it but does not hang on. Another reprieve for Rabada. Kohli is not a happy man here. SA 292/7 in 104 overs 
14.29 IST: EDGED AND DROPPED! The poor catching the slip cordon continues! The skipper is the man in fault here. Ashwin bowls a flighted delivery on off, it turns away. Rabada tries to defend gets an outside edge which goes low and to the right of Kohli. He sticks one hand out and tries to grab it but fails to do so and the ball goes down towards third man for a brace. SA 291/7 in 103.3 overs 
14.25 IST: FOUR! TOP CLASS! Not a very bad delivery but Faf has timed that too perfection. Shami bowls it a touch fuller, not that full though. Du Plessis drives it on the up, past the diving mid off fielder for a boundary. SA 287/7 in 102.1 overs
14.21 IST: Fuller in length on middle, Rabada drives it towards Ishant who misfields and concedes a run. Sloppy from the tall fast bowler, I think all that bowling and the heat might have taken a toll out of him as he was lazy in going down. SA 283/7 in 101 overs
14.17 IST: Du Plessis defended off the front foot by the batsman presenting the full face of the bat.  SA 282/7 in 100 overs
Ravichandran Ashwin is into the attack.
Kagiso Rabada comes into bat.
14.12 IST: OUT! GONE! 100th test wicket for Shami! He was poor yesterday but strikes in his first over today. Excellent delivery! Shami lands it on a length around off, it moves away ever so slightly, enough to take the edge as Maharaj tries to defend. Patel behind the stumps does the rest. The delivery was too good for a lower-order batsman to negotiate as it was on the fifth stump line which forces the batsman to play and Shami also got some extra bounce there. SA 282/7 in 98.5 overs
Mohammed Shami is into the attack.
14.08 IST: MAIDEN! A full toss outside off, he might be going for a yorker which he is known to bowl. He does not quite get it right. Maharaj tries to drive but does not connect. SA 281/6 in 98 overs
14.04 IST: That too is a quality shot but only for a run! Ishant bowls it on a length on off, Maharaj, on the up, drives it through covers for an easy run.  SA 281/6
14.01 IST: FOUR! Excellent shot! Ishant offers width outside off once again but this time bowls it a touch shorter. Maharaj slaps it through cover-point, there was a fielder in the deep but he had no chance. SA 280/6 96.3 overs
13.59 IST: MAIDEN! OUCH! That has hit Faf on the box. Bumrah once again lands it on a length around off, it jags back in. Du Plessis tries to defend but is done in by the inswing and the ball hits him on the box. He initially shows some pain but he is fine now. A tough lad! SA 276/6 in 96 overs
13.56 IST: Bouncer! The surprise delivery from the lanky pacer, Maharaj though is not surprised as he ducks under it. 2 runs from the over. SA 276/6 in 95 overs
13.51 IST: Once again the inswinging ball is creating problems for du Plessis! Bumrah bowls it on a length around off, it comes back in sharply. Faf gets an inside edge onto his pads as he tries to defend. SA 274/6
13.47 IST: NOT OUT! Yes, it is going over. India have lost both their reviews now. Bumrah comes running in and bowls it on off, he gets some inward movement. Faf is undone by it as he tries to flick. He misses and the ball hits him high on the pads. Bumrah appeals, he actually is pleading as he feels he has got his man. The umpire though stays put. After a long chat Kohli finally decides to review. Replays roll in and there is no bat involved but the ball is bouncing over the stumps. The on-field call stays. SA 272/6 in 93.1 overs
13.45 IST: A huge shout for LBW against Faf and the umpire shakes his head.  Virat Kohli, after taking his time opts to review. Height can be an issue here.
13.39 IST: Nicely bowled! He goes wide of the crease and angles it into the batsman. He gets it to shape away after pitching. Maharaj first thinks of playing at it but then pulls his bat away. Just a single from the over. SA 271/6 in 92 overs
Jasprit Bumrah will bowl from the other end.
13.35 IST: First runs of the day for South Africa! Ishant bowls it on a length around off, Faf defends it towards point for a quick run. He will keep strike in the next over. A good over by Ishant. He got some movement there which will encourage him. SA 270/6 in 91 overs
13.30 IST: Bright sunshine welcomes us in Centurion and we are all set for the action to begin. The Indian side is seen in a huddle and the players now make their way out to the middle. Faf du Plessis and Keshav Maharaj will resume from where they left off yesterday. Ishant Sharma will start the proceedings for India. He has two slips and a gully in place. Here we go...
13.25 IST: On the other hand, the home side has Faf du Plessis, its skipper, out in the middle. It would hope, he, along with the rest, can take it somewhere close to 400. There is, uneven bounce on the wicket but it is still a good surface to bat on. We had an enthralling day of cricket yesterday and we can hope for the same today. Stay tuned for all the action.
13.23 IST: PITCH REPORT - Shaun Pollock and Graeme Smith say there is no breeze and the sun is baking down. Opine the wicket is difficult to score if you land it on a length. Inform there is a grassy patch from which the bowlers can extract some bounce. Feel the area where the bowlers end their followthrough will start opening up in the days ahead which is an advantage to Ashwin. End by saying it is a hard wicket and there isn't much wear and tear on it.
13.20 IST: We head into day 2 of the first Test between South Africa and India with both the teams even stevens. A late fightback by India have seen the momentum shift towards them. They will look to carry the same forward today and try and bundle out the remaining South African batters as early as they can.
13.15 IST:
Four South African Test captains 👌Any idea what they could be talking about ahead of Day 2? #SAvIND #SunfoilFreedomSeries pic.twitter.com/wkfZaGGT2F

— Cricket South Africa (@OfficialCSA) January 14, 2018
13.07 IST:
It's time for Day ✌️ #TeamIndia #SAvIND pic.twitter.com/anccMsNWLQ

— BCCI (@BCCI) January 14, 2018
13.00 IST: Hello and welcome to our live coverage of the second day the second Test between India and South Africa at the Centurion. In about half an hour we will get underway as Faf du Plessis and Keshav Maharaj stay put at the crease.
Brief Preview: India were suddenly on top after toiling for two and a half sessions as South Africa threw away wickets at the end of Day 1 of the second Test on Saturday. Hashim Amla's run-out on 82 started the late slide as South Africa went from the comfort of 246/3 to 269/6 in the last 10 overs before stumps.Vernon Philander also ran himself out for 0. In between those two dismissals, Quinton de Kock was out first ball off-spinner Ravichandran Ashwin. (Read full preview here).