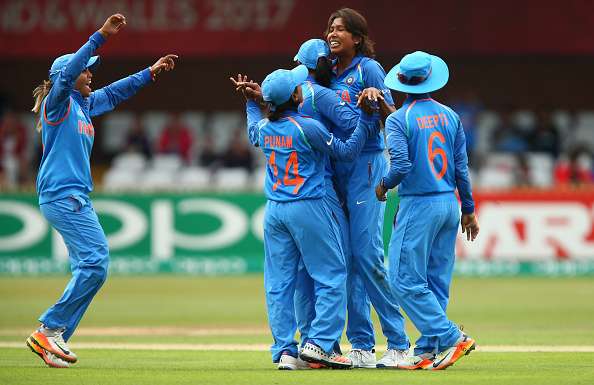 Led by a brilliant century from skipper Mithali Raj and a fifer from Rajeshwari Gayakwad, India beat New Zealand by 186 runs to reach the last four of the ICC Women's World Cup 2017 in County Ground, Derby. In a must-win encounter, New Zealand invited India to bat first on a tricky surface. After losing the openers cheaply, India skipper Mithali Raj (109) knitted crucial partnerships with Harmanpreet Kaur (60) and Veda Krishnamurthy (70) to take India to a solid total of 265/7 in 50 overs. Mithali continued her fine form and scored her 6th ODI hundred.
New Zealand chase got off to a poor start as India Pacers -  Goswami and Pandey remove their openers cheaply. India left no room for recovery from there on as they kept chipping away with important wickets. Spinners - Rajeshwari Gayakwad produced a special bowling performance as she picked up her first five-wicket haul. Deepti Sharma also picked up two crucial wickets in the middle. The woman in blue put up their best bowling performance in this tourney i na do-or-die clash. If they can continue this in the next two games, India will lift their maiden World Cup title at Lord's in London.
HIGHLIGHTS FROM INDIA VS NEW ZEALAND, ICC WOMEN'S WORLD CUP 2017 in DERBY
21.03 IST: OUT! Gayakwad completes her five-for! India qualifies for the semifinals of the ICC Women's World Cup 2017. NZ 79-all out in 25.3 overs. This was White Ferns' lowest score in a World Cup match.
21.01 IST: Back-to-back boundaries from Amelia Kerr. Good over for New Zealand as 11 came off it. NZ 78/9 in 25 overs
20.58 IST: OUT! Gayakwad picks her fourth, it is wrapping up fast here. NZ 67/9 in 23.5 overs
20. 54 IST: OUT! Poonam Yadav joins the party, she removes Maddy Green. NZ 63/8 in 23 overs
20.49 IST: OUT! Rajeshwari is having a ball against New Zeland in Derby, she struck again. NZ 62/7 in 22 overs
20.40 IST: OUT! Another one gone for New Zealand, Rajeshwari Gayakwad strikes again. NZ 57/6 in 19.4 overs
20.36 IST: BOWLED! New Zealand look in all sorts of trouble at the moment as Deepti Sharma strikes again. Katie Perkins has gone for 1. NZ 52/5 in 18.3 overs
20.29 IST: OUT! Rajeshwari Gayakwad removes Amy Satterthwaite for 26. NZ 51/4 in 17.1 overs
20.28 IST: Fifty comes up for New Zealand in the 17th over. NZ 51/3 in 17 overs
20.11 IST: FOUR! Boundary from Satterthwaite to end Deepti's over.  NZ 32/3 in 11 overs
20.06 IST: OUT! Deepti Sharma strikes in her first over. Katey Martin (12) departs.  NZ 27/3 in 10.3 overs
20:03 IST: After losing their openers cheaply, New Zealand batsmen are playing cautiously at the moment. NZ 26/2 in 10 overs. 
19:42 IST: FOUR! Amy Satterthwaite hits Shikha for a boundary. NZ 11/2 in 4 overs
19.37 IST: OUT! Brilliant start by Indian Pacers. Another one bites the dust as Jhulan Goswami removes Rachel Priest (5).  NZ 7/2 in 3 overs
19.32 IST: OUT! Shikha Pandey sends New Zealand skipper Suzie Bates (1) back to the pavilion. NZ 7/1 in 2 overs
New Zealand need 266 in 50 overs to book a semi-final berth in ICC Women's World Cup 2017
18.55 IST: OUT! Shikha Pandey has gone for a duck. INDIA finishes off with 265/7 in 50 overs
18.54 IST: OUT! Another blow for India, Veda Krishnamurthy departs after a cracking 70 off just 45 balls. IND 265/6 in 49.5 overs
18.52 IST: OUT! Mithali (109) departs, she miscues a slog at deep mid-wicket, IND 262/5 in 49.3 overs
18.51 IST: FOUR! Another boundary for the Indian captain, she's turning the heat on for India. IND 262/4 in 49.2 overs
18.44 IST: HUNDRED! Mithali Raj is on fire in this World Cup, she completes her century with a couple. This her 6th ODI hundred. Take a bow Captain! IND 249/4 in 48 overs
18.37 IST: SIX AND a FOUR! Krishnamurthy brings up her fifty in style for India. This is India's highest ODI score against New Zealand. IND 238/4 in 46.3 overs
18.36 IST: Two back-to-back boundaries for Veda Krishnamurthy. IND 224/4 in 46 overs
18.27 IST: 200 comes up for India. Mithali (91*) and Veda (29*). IND 203/4 in 44 overs
18.23 IST: 16 runs from the over! Veda Krishnamurthy hits Amelia Kerr all over the park. IND 199/4 in 43 overs
18.09 IST: 10 runs from Hannah Rowe's last over. IND 171/4 in 39 overs 
17.59 IST: OUT! India letting the momentum slip away as Deepti Sharma departs for nought. IND 154/4 in 37 overs. Veda Krishnamurthy comes to the crease.
17.50 IST: OUT! Harmanpreet Kaur out after a well made 60. Leigh Kasperek gets the wicket. IND 153/3 in 35.1 overs
17.46  IST: Harmanpreet scores her first Half Century in this World Cup. IND 143/2 in 34 overs.  
17.37 IST: 9 runs off the over as India's partnership builds on. IND 135/2 in 32 overs. 
17.23 IST: Another good over for the women in blue, 11 came off it including TWO FOURS. IND 113/2 in 29 overs
17.17 IST: FIFTY! 50th ODI half-century for the Indian skipper, she completes it in style with a boundary. IND 101/2 in 27.1 overs
17.05 IST: FOUR! Kaur comes down the track and clubbed it over mid-on. 6 runs from the over. IND 92/2 in 25 overs
16.58 IST:  Good over for India as 7 came off it. IND 81/2 in 23 overs 
16.51 IST: Indian captain Mithali Raj showing positive approach after the break, IND 72/2 in 21 overs
Players are back on the field as rain has stopped.
Heavy downpour stops play between India and New Zealand at Derby. Umpires call for the covers as players go back to the pavilion.
16.11 IST: FOUR!  Fine shot from Raj, IND 60/2 in 17.5 overs
15.58  IST: FOUR!. Harmanpreet Kaur hits it hard down on the offside. Kaur hits it hard down on the offside. IND 53/2 in 15.5 overs
15.58: IST: 50 runs come up for India. IND 53/2 in 15.5 overs.
15.54  IST: FOUR! Mithali keeps finding the gap offside with a beautiful cut for a boundary. IND 46/2 in 14 overs
15.49  IST: FOUR! MIthali Raj cuts a fine shot for a boundary. IND 42/2 in 13 overs 
15.42 IST: FOUR !  Mithali Raj cuts through the offside for a boundary. IND 37/2 in 10.4 overs
15.29 IST: OUT!  Mandhana gone for 13. Hannah Rowe strikes for NZ. IND 21/2 in 7.4 overs
15.14 IST: OUT! Last match's centurion Punam Raut departs, Tahuhu strikes for New Zealand. IND 11/1 in 4 overs
15.011 IST: Indian openers start cautiously, IND 6/0 in 3 overs
15.04 IST: New Zealand start with a Maiden! IND 0/0 in 1 over