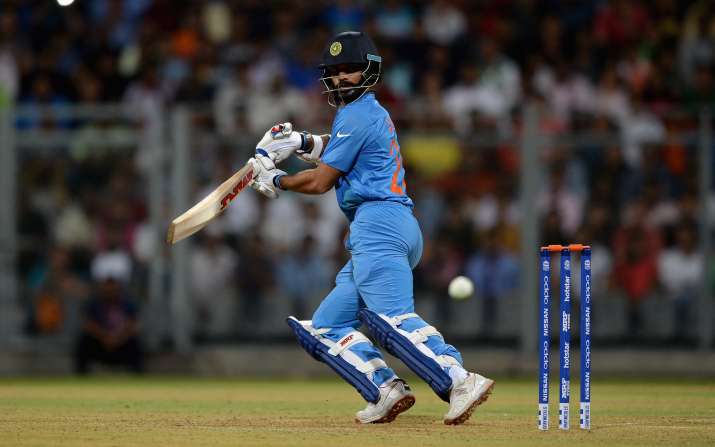 India registered their seventh consecutive win over Australia in the shorter format. The hosts beat Australia by 9 wickets in the first T20 international at JSCA International Stadium Complex, Ranchi. To be honest, it was all India after the first innings. Their run chase started in sublime fashion with a boundary and a maximum on the first deliveries of the first two overs. The wicket of Rohit Sharma by Coulter-Nile did give Australia some hope but Kohli came in and ensured there were no further hiccups and he along with Dhawan took India to victory. Earlier in the day - India won the toss and opted to bowl first. They had Australia on the mat at 118-8 with 8 balls left in their innings before rain intervened. After a long delay, they were given a target of 48 in six overs and they got there quite were given. India now take a 1-0 lead in the 3-match T20I series. 
HIGHLIGHTS, INDIA vs AUSTRALIA, 1st T20I at RANCHI
22.56 IST: Virat Kohli credits the bowlers first up by saying they were up to the mark. He feels the DLS method is tough to understand. Further, adds 48 in 6 overs can get tricky. Reckons it is a combined effort from the players. Mentions the management has done well by picking specialist for each format. Admits the bowling group is coming off nicely and he is happy with the group of players he has. Opines a cool head and god skills is what's required for the T20 format. Ends by saying Shikhar was unfortunate to miss out on so many games as he was in brilliant form. They need Dhawan to be in form and to play well.
22.55 IST: David Warner says, it is a poor result for them and they have to come back in the second game. He admits they did not deserve to win the game. Credits the bowlers for their effort. He mentions he has no reason for the collapse and it is their story for the last 12 months. Finishes off by saying Behredroff is a good talent for the future.
22.45 IST: 
#TeamIndia win the 1st T20I by 9 wickets (DLS) #INDvAUS pic.twitter.com/8kKnImCX0r

— BCCI (@BCCI) October 7, 2017
22.43 IST: India win their 7th in row against the Aussie. It was all India in this game. Their run chase started in sublime fashion with a boundary and a maximum on the first deliveries of the first two overs. The wicket of Rohit by Coulter-Nile did give Australia some hope but Kohli came in and ensured there were no further hiccups and he along Dhawan took India to victory.
22.41 IST: FOUR! Kohli finishes it off in style! INDIA WIN BY 9 WICKETS (DLS method)! Christian bowls it fuller in length on off, Kohli drives it through the gap between covers and mid off to seal it.
Daniel Christian to bowl the last over. They need 6 from 6. Can he win it for Australia?
22.38 IST: Slower through the air. Dhawan comes down the track and chips it towards long on for a run. Warner puts in an ambitious dive from mid-wicket but he was never going to get there. IND 42/1 in 5 overs
22.34 IST: FOUR! Starts off with a shorter in length delivery on leg stump. Kohli rocks back and whips it through square leg for a boundary. 8 needed now of 11 balls. IND 40/1 in 4.1 overs
Adam Zampa to bowl the penultimate over.
22.33 IST: Another good over for the Indians, nine runs from it. IND 36/1 in 4 overs
22.31 IST: FOUR! Shikhar looks in great touch! Short from Nathan, tries to tuck him up for room. The batsman times his pull to perfection and through backward point for a boundary. IND 32/1 in 3.2 overs
22.29 IST: Played to the point region by the batsman. The batsmen have run through for a single, 11 runs from the over. IND 27/1 in 3 overs
22.27 IST: FOUR! Too predictable! A slower ball again from Tye on the shorter side this time. Dhawan was waiting for it. he swivels inside the crease and pulls it through square leg for a boundary. IND 25/1 in 2.3 overs
22.25 IST: FOUR! Delightful! Kohli, what a shot! Tye bowls a knuckle ball on off, Kohli reads it early and comes down the track hits it over mid off for a boundary. That was a treat to the eye. IND 20/1 in 2.1 overs
Andrew Tye comes into the attack.
22.24 IST: DROPPED AND FOUR! A tough chance! Fullish length ball on middle, Dhawan walks down the track and drives it uppishly towards the bowler. Nathan gets a hand to it but cannot hang on to it. It has enough to beat mid on and race to the boundary.  IND 16/1 in 2 overs
Virat Kohli strides out to the middle.
22.21 IST: OUT! TIMBER! Coulter-Nile gets his revenge! A great sight for any bowler, the middle stump out of the ground. He bowls a full length ball, gets it to shape away late. Rohit Sharma tries to play across the line and misses as the ball takes the off pole. A big wicket for the Australians. Rohit was looking dangerous. They need wickets and they have got one. IND 11/1 in 1.2 overs
22.20 IST: SIX! Hitman hits it for a biggie! So easy! Coulter-Nile errs in line and bowls it on the pads. It's too easy for Sharma he waits for it and flicks it nonchalantly over fine leg for a maximum. IND 11/0 in 1.1 overs
22.19 IST: Brilliant end to the over from Jason, just 5 runs from it. IND 5/0 in 1 over
22.15 IST: FOUR! No sighters for Sharma! What timing! Welcome Behrendroff to International cricket. He bowls a fuller length ball on middle, swinging back in. Easy for Sharma! He flicks it through mid-wicket for a boundary. IND 4/0 in 0.1 overs
22.14 IST: We are back for the chase after a long delay. The men concerned walk out to the middle. Shikhar Dhawan and Rohit Sharma will open the batting for India. Warner is seen having a chat with the umpire don't know what it is about. Jason Behrendorff, the debutant, will open the bowling. He has a slip in place.
22.04 IST: GOOD NEWS! The Australian bowlers are warming up on the side wicket.  The official target and the overs will be announced shortly.
21.55 IST: There's quite a bit of water on the covers. Two super soppers are ready for action.
21.40 IST: Good news! The wait has finally payed off. The covers are coming off now! Inspection to be conducted at 22:05 local time.
21.15 IST: Update - India's innings should have begun at 20:40 IST, they've lost more than half-an-hour till now. The covers are firmly in place. The drizzle is still steady. The cut-off time for a 5-over game is 22.18 IST. Fingers crossed at the moment.
20.40 IST: Rain update from the ground - The rain is still steady in Ranchi.
20.32 IST: Rain update - The official scorers at the ground confirm that the Australian innings is complete.
20.20 IST: Bad news, folks! The players are walking back with just 8 deliveries left. The drizzle has gotten heavier and the covers are being brought on. It is not a very strong shower but enough for the players to walk off. Stay tuned for further updates. AUS 118/8 in 18.4 overs
Not much going Australia's way at the moment. AUS 8-118, 8 balls remaining. #INDvAUS pic.twitter.com/LqjGKDqKZs

— cricket.com.au (@cricketcomau) October 7, 2017
20.19 FOUR! STREAKY! Handy runs these for Australia! Kumar bowls it just ahead of a length on middle, Zampa tries to drive but gets an inside edge past the leg stump and down to the fine leg fence. AUS 118/8 in 18.4 overs
20.16 IST: OUT! Brilliant by Kohli! A run out now what Australia needed at the moment. Kumar bowls it fuller in length on off, Christian whips it towards wide long on. He runs one and goes for another. Kohli there is quick to the ball and scores a direct hit at the striker's end. The Indians appeal and the umpire goes upstairs. Replays show that Christian is short of his crease. Another big blow for Australia The dangerous Daniel Christian is walking back.  AUS 114/8 in 18.1 overs 
Andrew Tye walks out now.
20.14 IST: OUT! They are falling like a pack of cards! This is the fifth batsmen now who has been bowled! Australia are in deep trouble now. A Bumrah special. He bowls a fullpace yorker and Nathan Coulter-Nile has been cleaned up. Australia are losing their way now. AUS 113/7 in 17.4 overs
20.11 IST: OUT! This one has stayed very low and it has gotten the better of Paine! Bumrah comes steaming in and bowls it from wide of the crease and lands it on a length on middle. The ball skids of the surface and also keeps low. Paine is unable to get his bat down in time and the ball hits the base of middle. Four batsmen have been out bowled in this innings. Six down for Australia. AUS 111/6 in 17.1 overs
It has started to drizzle. There was a forecast for rain in the evening and as far as Australia are concerned, they will certainly hope so!
20.10 IST: SIX! How has that gone all the way? No idea. Slightly short, around off, Paine swivels to pull but is not in control. He goes through with his shot and somehow manages to clear square leg! AUS 111/5 in 17 overs
20.08 IST: FOUR! A rarity for Australia ever since the spinners have taken control. Bhuvi lands this a touch shorter than full and Paine drives it on the up through covers. The fielder dives to his right but in vain. Fine shot. AUS 104/5 in 16.3 overs
Bhuvneshwar Kumar is back into the attack.
20.06 IST: Brilliant over from Kuldeep, just 4 came off it. AUS 99/5 in 16 overs
20.02 IST: DROPPED AGAIN! Chahal has been very unlucky! Shorter in length on middle, Paine pulls it but straight to the man at deep mid-wicket who drops it. AUS 95/5 in 15 overs
19.59 IST: In the air... but dropped! A tough chance but it should have been taken! Maybe the luck Australia needed! Chahal slows it up on leg stump, turns away. Paine tries to flick but gets a leading edge which lobs to the left of the bowler. Chahal gets there, puts in a dive, gets two hands to it but drops it. A let off for Australia. AUS 92/5 in 14 overs
Tim Paine is the next batsman in.
19.56 IST: OUT! BOWLED 'EM! Pandya this time! Another one bites the dust! Pandya comes around the wicket and goes very wide of the crease. He bowls it on a length around off. Head tries to force it through the off side but gets an inside edge on the leg stump. Maybe the ball did not come onto the bat there, shades of the wicket getting slow? Nevertheless, Head is walking back and it's a big blow for the Aussies. just like in the one-dayers they are collapsing here as well. AUS 89/5 in 13.3 overs
19.53 IST: 2 runs and a wicket from Kuldeep's over, a good one for the hosts. AUS 88/4 in 13 overs
Daniel Christian walks out to the middle.
19.51 IST: OUT! Kuldeep gets another! He had a gala time with the ball in the one-dayers and he is continuing his form. Henriques comes down the track as he tries to dominate. Yadav sees him and slows it a touch and also drags his length back. Henriques swings but the ball stays low and he gets an inside edge on the stumps. Australia are in trouble now. they need a partnership here.. AUS 87/4 in 12.2 overs
19.45 IST: FOUR! Much-needed one for Australia! The Indians were managing to keep it tight. Pandya bowls it shorter in length on off, it was not that short but Henriques picks the length early and pulls it over mid-wicket for a boundary AUS 86/3 in 12 overs
Hardik Pandya comes into the attack.
19.45 IST: Quicker and fuller, Head drives it back to the bowler. 3 runs from the over a brilliant one. This is what a wicket does.  AUS 80/3 in 11 overs
Moises Henriques strides out to the middle.
19.42 IST: OUT! TIMBER! Kuldeep Yadav strikes! Both the spinners have one a piece and this time it's the big man Finch. Kuldeep gives it air on off, the ball turns back in. Finch was in two minds there as he first tries to sweep but then tries to flick. He eaves a gap between bat and pad in doing so. The ball sneaks through and hits the stumps. He was done in flight in maybe. Australia are three down now and in a little trouble. AUS 77/3 in 10 overs
19.37 IST: A slider on middle from Chahal, Finch rocks back and punches it down to long off for a run. 10 runs from the over. AUS 72/2 in 9 overs
19.35 IST: SIX! BANG! First for the match by Finch! Chahal tosses it up on off, right in the arc. Finch goes down on one knee and sweeps it over the mid-wicket fence for a maximum. Chahal won't be tossing it up again. AUS 68/2 in 8.2 overs
19.34 IST: Five runs from Yadav's over, a decent one for Australia. AUS 62/2 in 8 overs
Kuldeep Yadav is into the attack.
19.31 IST: Head flicks it with the spin through mid-wicket for a run. A successful over comes to an end. AUS 57/2 in 7 overs
Travis Head walks out to the middle.
19.28 IST: OUT! The big Show is walking back! Chahal gets the better of him again! That's 4 in 4 now between these two! A nothing delivery actually. Chahal bowls a long hop on the middle. Maxwell rocks back and pulls it hard but straight to Bumrah at short mid-wicket who takes a sharp catch. Glenn will be disappointed he did not put that away. The bowling change has done the trick for India. AUS 55/2 in 6.3 overs
19.27 IST: 50 comes up for Australia. FOUR! Edgy but Maxwell won't mind! Chahal drags his length back again outside off, gets it to turn away. Maxwell tries to cut but gets an outside edge past Dhoni's gloves and down to the third man fence. AUS 55/1 in 6.2 overs
Time for spin! Yuzvendra Chahal is into the attack.
19.25 IST: Maxwell makes room again and this time Pandya follows him. Glenn can only hit it down to mid off for a run. The Powerplay is done and dusted now. AUS 49/1 in 6 overs
19.23 IST: FOUR! BRUTE! Such is the power of this guy! Pandya bowls it fuller in length on off, Finch hits it hard with a straight bat past the mid off fielder for a boundary.  AUS 47/1 5.4 overs
19.21 IST: FOUR! Easy pickings! Pandya errs in line and bowls it on the pads of Maxwell. He is too good to miss out on those. he flicks it through backward square leg. Dhawan in the deep puts in a dive but fails to stop it. AUS 40/1 in 5.1 overs
19.20 IST: Fuller in length on the leg stump from Bumrah, Finch flicks it through backward square leg for a couple. AUS 36/1 in 5 overs 
Jasprit Bumrah replaces Hardik Pandya.
19.16 IST: CLOSE! Again Maxwell swings but connects with thin air! He is not watching the ball closely maybe! Fuller in length this time by Kumar, stays a touch low. Maxwell, moves his front leg out of the way and swings but misses. He is living dangerously here. Brilliant over from Bhuvi, just three runs come off it. AUS 28/1 in 4 overs
Change of ends for Bhuvneshwar Kumar.
19.12 IST: FOUR! He is dealing in boundaries here! Once again a touch short outside off, gives Finch the room he likes. Aaron cuts it through point for a boundary. AUS 25/1 in 3 overs
19.11 IST: FOUR! Up and over! Hardik bowls it fuller outside off this time. Finch lofts it over the infield through the point region for a boundary. AUS 21/1 in 2.5 overs
An early change, even after a wicket in the first over. Hardik Pandya comes into the attack. Also one over spells, now a days the reality of T20 cricket.
19.08 IST: Good length on off from Bumrah, Finch taps it towards point for a run. AUS 15/1 in 2 overs
19.06 IST: FOUR! Picks the gap to perfection! Bumrah bowls it shorter in length outside off, Finch seeing the width on offer slashes and slashes hard. The ball goes through the gap between covers and point for a boundary. AUS 12/1 in 1.3 overs
Glenn Maxwell is the man who walks out at no.3. Jasprit Bumrah will bowl from the other end.
19.04 IST: OUT! CHOPPED ON! Kumar gets his revenge! A huge wicket for India! The Australian skipper is walking back. Kumar bowls a length ball outside off, Warner tries to force it through the off side but gets an inside edge onto the off pole. Bhuvi is excited so are the Indians. Australia lose one early. AUS 8/1 in 1 over
19.02 IST: FOUR! Back-to-back boundaries for Warner. Similar length by Kumar but more width on offer this time. Warner cashes in on it and cuts it past the diving backward point fielder for a boundary. AUS 8/0 in 0.4 overs
19.01 IST: FOUR! SHOT! Australia are underway with a boundary. Kumar bowls it shorter in length outside off, right where Warner likes it. he punches it through the covers and the ball races to the fence. AUS 4/0 in 0.3 overs
18.59 IST: We are all set to get underway. The crowd is buzzing here in Ranchi and the men who matter have made their way out to the middle. David Warner, the Australian skipper and the dynamic, Aaron Finch, will open the batting for Australia. Bhuvneshwar Kumar who was excellent during the one-dayers will open the bowling for India. He has two slips in place for him. Here we go...
18.56 IST: The teams walk out for their respective national anthem. The Australian national anthem will be sung first, followed by India's.
18.45 IST: Playing XI's
Australia (Playing XI): David Warner(C), Aaron Finch, Glenn Maxwell, Travis Head, Moises Henriques, Daniel Christian, Tim Paine(wk), Nathan Coulter-Nile, Andrew Tye, Adam Zampa, Jason Behrendorff
India (Playing XI): Rohit Sharma, Shikhar Dhawan, Virat Kohli(C), Manish Pandey, MS Dhoni(w), Kedar Jadhav, Hardik Pandya, Bhuvneshwar Kumar, Kuldeep Yadav, Yuzvendra Chahal, Jasprit Bumrah
18.40 IST: Fast bowler Jason Behrendorff is making his debut for Australia, Brad Hogg's seen presenting him with the cap.
18.35 IST:  "Looking forward to this. Looks like a great wicket. I'm honoured to be the captain. I think the pitch is exactly like how it looked in the Test match. The ball will come on slowly towards the end."
Captain @imVkohli wins the toss. Elects to bowl first #INDvAUS pic.twitter.com/vmHusSPcI5

— BCCI (@BCCI) October 7, 2017
18.32 IST:  "We are gonna bowl first. There's a bit of weather around, so we would like to know where we are placed. I don't think the pitch will be much better in the second innings but the weather is a massive factor. T20 is a format where you can't take any team for granted, let alone Australia. The beginning is important, and one window here and there and Australia might pounce. From the last game, Axar is out and Kuldeep is in. Shikhar Dhawan replaces Ajinkya Rahane."
18.30 IST: TOSS -  India win toss, opt to bowl vs Australia in Ranchi.
Welcome to Dhoniland for the 1st T20I @msdhoni #INDvAUS pic.twitter.com/uLMdxvpaC2

— BCCI (@BCCI) October 7, 2017
18.20 IST: PITCH REPORT  - "This looks like a zooter of a pitch. New ball bowlers will get little bounce but the ball will keep a lot more low. Not easy for the batsmen to get under the ball. Because of the dew factor - at the moment there's none - the teams like to field first. Captains will be hoping to win the toss," says Sunil Gavaskar
18.15 IST: 
Changing the gear to T20s. Match day! #INDvsAUS #GameFace pic.twitter.com/D1HqjeUrqU

— K L Rahul (@klrahul11) October 7, 2017
18.10 IST: 
Welcome back @SDhawan25 #TeamIndia #INDvAUS pic.twitter.com/0qaqRNeHVH

— BCCI (@BCCI) October 6, 2017
18.00 IST: 
When rain forces you to move inside, you can still devise your own game using the space that is available #TeamIndia #INDvAUS pic.twitter.com/PIub7Hl8MC

— BCCI (@BCCI) October 6, 2017
Brief Preview: After thrashing Australia 4-1 in the five-match One-day International (ODI) series, a confident India will aim to extend their dominance over the Kangaroos in the three-match T20 International series starting in Ranchi on Saturday. With a staggering 9-4 head-to-head record in favour of the hosts and a 3-0 clean sweep in their previous meeting in Australia in January last year, India definitely look a formidable unit going into Saturday's encounter at the Jharkhand Cricket Association (JCA) International Stadium, Ranchi.
India will also be bolstered by the return of old warhorses like Ashish Nehra, Dinesh Karthik and opener Shikhar Dhawan against a side with whom they have lost only once out of the five series played so far. The rise of all-rounder Hardik Pandya and the guile of the wrist spin duo of Kuldeep Yadav and Yuzvendra Chahal have made life difficult for Australia in the one-day series.
The return of the 38-year-old Nehra will be a key factor for India as the left-arm pacer would add variety to the pace attack of Bhuvneshwar Kumar and Jasprit Bumrah. 
Dhawan, who had opted out of the five-match ODI series, is back after attending to his ill wife, while Lokesh Rahul's inclusion ahead of an in-form Ajinkya Rahane will also add to the stiff competition in the top order.
Australia, on the other hand, will aim to gain some confidence before heading back to play the Ashes series in a month's time. But their over-dependence on the duo of skipper Steve Smith and his deputy David Warner have proved fatal during the 50-over series. (READ FULL PREVIEW)