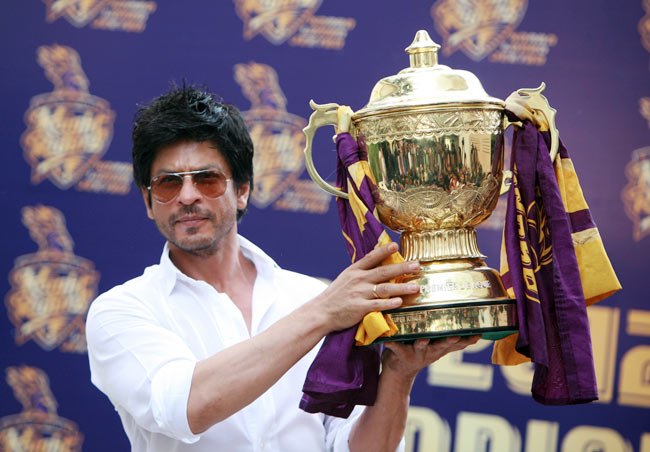 New Delhi: Since the inception of the cash-rich Indian Premier League, Shah Rukh Khan-owned Kolkata Knight Riders (KKR) has been consistent with its performance, not just on field but also in terms of generating revenues. 
Despite the fact that half of IPL 2014 was played in UAE due to Lok Sabha Elections, KKR posted the highest revenues among all IPL franchises, that involved 30 per cent growth in revenues and 54 per cent hike in profits. 
In the recent years, KKR has shown consistency in profits more than any other franchise. Even teams like Chennai Super Kings and Mumbai Indians, who have shown excellent on-field performance and have won the tournament twice each are running way behind KKR in terms of profits and revenue generation.
KKR posted a jump in the revenues from 128.81 crore in 2013-14 to 168.71 crore in 2014-15 when they won the IPL for the second time. KKR won the tournament for the first time in 2012.
Tofler, a business research platform that collected the data of IPL franchises from Registrar of Companies (RoC), stated that KKR registered a massive hike in profits, from Rs 9.19 crore in 2013-14 to Rs 14.15 crore in 2014-15. 
"Sponsors love that Shah Rukh Khan wears the shirt with their logos on it. That's a big draw. And if a team is doing well, it can negotiate better," Varun Gupta, managing director of American Appraisal, an advisory services firm for business, told Economic Times. 
Other than KKR, Kings XI Punjab turned out to be the only IPL franchise to make profits in 2014. The team, which suffered a loss of Rs 4.36 crore in 2013, earned a profit of Rs 12.76 crore in 2014. It also posted a hike of 26 per cent in terms of revenue generation, from Rs 103.21 crore in 2013-14 to Rs 130.06 crore in 2014-15. 
It is important to mention that in the past couple of years, the famed Indian Premier League has seen a steep downfall following the spot-fixing allegations that led to suspension of Chennai Super Kings and Rajasthan Royals for two years. 
Although Mumbai Indians, owned by Mukesh Ambani, has managed to increase its sponsorship revenues since 2011, it has failed to make any profits. Indiawin Sports Pvt Ltd, which runs MI, suffered a loss of Rs 5.04 crore in 2013 and Rs 3.87 crore in 2014. 
On the other hand, Royal Challengers Bangalore, the team replete with star players like Virat Kohli, Chris Gayle and AB de Villiers, has been suffering massive losses in the past few years, Rs 30.06 crore in 2014-15, Rs 99.04 crore in 2013-14 and Rs 7.86 crore in 2012-13.  
Sunrisers Hyderabad, that team which replaced Deccan Chargers in 2013, also reported loss of Rs 58.33 crore in the financial year 2014-15.