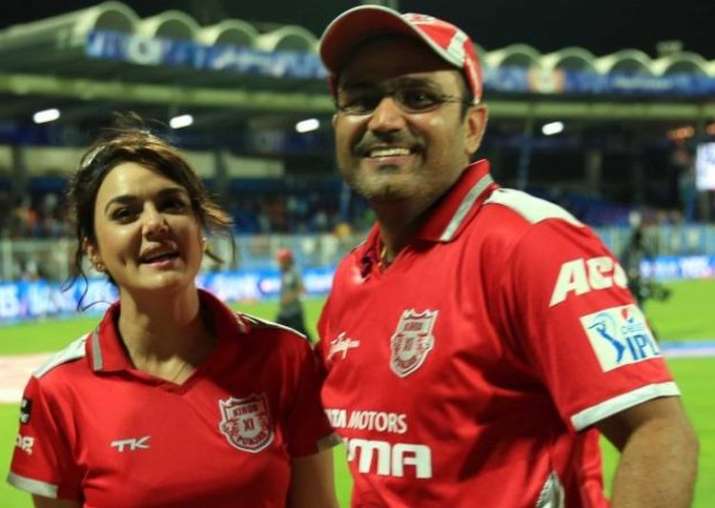 Former India opener Virender Sehwag, who mentors the Kings XI Punjab (KXIP) in the Indian Premier League (IPL), on Saturday, revealed the list of players who would on the radar of the franchise when they enter the IPL Auction, scheduled to be held in Bengaluru on January 27-28.
Naming India discards Harbhajan Singh and Yuvraj Singh on the top of Punjab's wishlist, Sehwag, told The Times of India, "I think the fans would want Punjab stars like Yuvraj and Harbhajan Singh in the Kings XI team."
According to the 39-year-old batsman, Yuvraj, who last played for India in June last year, has a lot of cricket left in him and thus, he will be a hot pick in the IPL Auction.
"He's not in the Indian team, but Yuvraj is still an amazing player. His talent is intact. Even a current India player can lose form. I don't think we'll get a player like him again. If his form is good, he's a match-winner," he said.
Earlier on Friday, Sehwag opined that not being part of Team India can bring a cricketer's prices down in IPL". He pointed out that whenever a player gets dropped from the Indian team, it affects his price in the T20 League.
"The moment you get dropped from India (the national squad), prices drop which we have seen in a lot of players. Yuvraj Singh, Gautam Gambhir, Harbhajan Singh (since) they are not playing for India, they did not get (Rs) 10 or 12 crore," Sehwag said as quoted by PTI. (Read Full Story)
On his comeback to the national squad, Sehwag believes he can return to the national camp following the footsteps of warhorse pacer Ashish Nehra, who made a national comeback at 36.
"That (his selection) is up to the selectors. If he performs in domestic cricket or passes (yoyo), then why not? If Ashish Nehra can make a comeback at 36, why not Yuvi," he commented.
After completing ten years of T20 extravaganza, IPL will roll into a fresh season with every team bidding for players to form a new squad. Prior to the auction, every team was asked to retain up to three players but KXIP retained only one player in Axar Patel.
Sehwag said the franchise feared that if the left-arm spinner goes into the auction, they may have to pay much more to buy him since he's an India all-rounder. 
"When we bought him, he was an uncapped player. Now he's such a capable player, that he's overtaken Ravindra Jadeja to be a part of the Indian One-day and T20 sides," he added.
Eyeing to retain KXIP's star hitters using Right to Match card, Sehwag said: "We can use the 'Right to Match' card to retain Glenn Maxwell and David Miller."