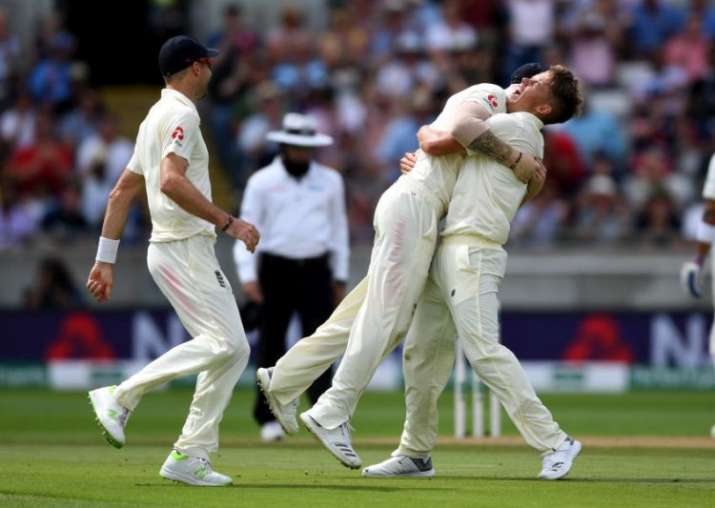 Following a 31-run win in the first Test at Edgbaston, Birmingham, England captain Joe Root was full of praises for his team, adding that with young all-rounder Sam Curran in the team, he felt like having two Ben Stokes.
Curran, the youngest ever England player to win a Man-of-the-match award, claimed five wickets and scored 87 runs, which include a 63-run knock in the second innings that helped the hosts reach a respectable total in their second innings.
"Sam Curran has a great amount of skill; great having him in our side and very exciting and promising cricketer. He just didn't seem to feel any sort of pressure with the bat and we just love having him in our side, quite like having two Ben Stokes in the side," Root said at the post-match presentation.
The 20-year-old left-arm bowler from Northampton has played just two Tests so far but already has seven wickets to his name. "He is only in his second Test and it is easy to get carried away, but a great prospect for us," the England skipper added.
When asked about the team changes for the second Test, to be played at Lord's from August 9, Root said: "It is easy to make an emotional decision right now (for the next Test), but we need to sit outside with the team management and decide for Lord's depending on the surface."
It was virtually Virat Kohli versus England and when the Indian captain was trapped LBW off Stokes in the 47th over, the absorbing game was only heading the home team's way. Resuming on overnight 110 for five, India folded up for 162 in 54.2 overs despite Kohli's combative 51 off 93 balls and Hardik Pandya's 31.
"I am thrilled to bits. It has been a fantastic team performance despite the ups and downs the credit must go to the bowling unit more than anything. The easy thing to do is to criticize the batters, but it isn't easy taking 20 wickets on a pitch like this.
"Coming into today, it was going to be stiff challenge and we knew that if we stayed calm throughout, we would give ourselves the best chance to win. I felt quite calm, might not have appeared to be but it is something I need to work on," Root continued.
All-rounder Stokes (4/40) came to the party on the morning of day four by removing Kohli and Mohammad Shami in the same over. James Anderson (2/50) and Stuart Broad (2/43) took a brace each as England drew first blood in what promises to be an engrossing five-match series.