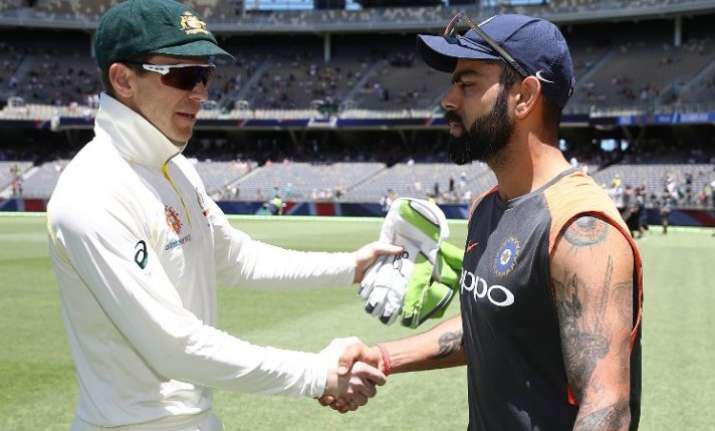 Normal service resumed at Perth on the last day of the 2nd Test when Australia thrashed India by 146 runs gaining parity in the four-match series. While the match was highlighted by a scintillating century from the visiting skipper Virat Kohli and Nathan Lyon's eight wickets, the biggest talking point has been the interesting verbal spat that went on between the former and host captain Tim Paine.
Though both teams maintained that there was no crossing the line in the heated duel, post-match handshakes revealed a different story altogether. In a video that has emerged after the match ended, the customary handshake between Kohli and Paine seems to reveal that not everything is fine between the opposing leaders.
While Paine shook a dejected Kohli's hand, the latter can be seen to carry a stern look and staying silent while the former says something to him. The Indian captain can be seen ignoring whatever was said and moving forward.
❄️❄️❄️

It was frosty between Tim Paine and Virat Kohli at the end! https://t.co/Xmn2akfpAT pic.twitter.com/ka1NR5QoEP

— Fox Cricket (@FoxCricket) December 18, 2018
The images show that at least on Kohli's part there is still some animosity left towards his counterpart. One can't help but think that it would have been better for everyone involved to leave the altercations on the field and have mutual respect and admiration for the opposition off it.
Just how this affects the rest of the tour is anyone's guess. But if the two matches are anything to go by, one thing is for certain: the teams won't stop short of confrontation in an increasingly competitive series. Entertainment guaranteed for the spectators too, just as long as the fight doesn't turn ugly. Even Australia wouldn't want that as they are on their road to recovery from the ball-tampering scandal.