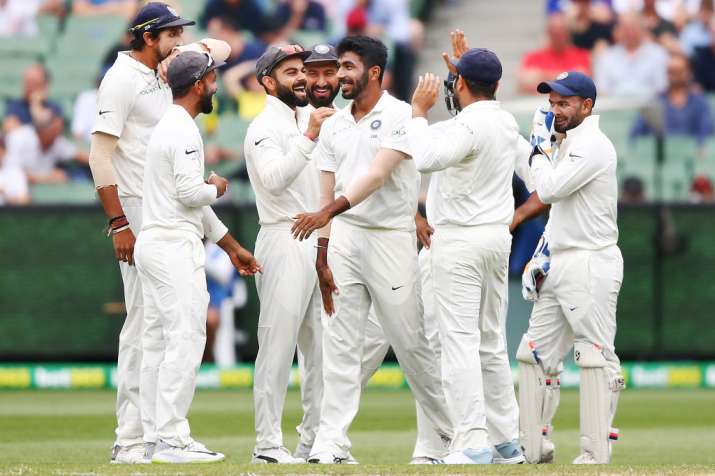 India beat Australia by 137 runs: The Indian team registered a historic boxing day Test victory against Australia to lead the series 2-1. The visitors won the match by 137 runs to pick up their second victory in Virat Kohli leadership, with this he equals the tally of Bishan Singh Bedi to win most number of matches by an Indian skipper at Australian soil.The game on day 5 started late due to rain but when it stopped, Indian bowlers didn't waste much time to thrash the Kangaroos at their soil.
(IND vs AUS 3rd Test Match SCORECARD | Read in Hindi)
Highlights, India vs Australia, 3rd Test, Day 5 from Melbourne:
Man of the Match- Jasprit Bumrah-  "To play Test cricket is a great feeling: be it Boxing Day or any other day. I made my India debut in Australia, so great feeling. I always focus on consistency. When you have so many options, you may get confused. Someday you get wickets, someday another mate will, but we don't think about those. Bowled a lot, but I don't mind, because this is why we train. We bowl a lot in Ranji-Trophy cricket, and it pays off. When I made my ODI debut, I always just wanted to play Test cricket."
Virat Kohli in the post-match presentation: "We are not going to stop here. This has given us more confidence to play more positive cricket in Sydney. We've done well in all three departments, which is why we've retained the trophy. But we want to continue. This is how we played in South Africa too, and we're not ready for the final game. It's a good thing I don't read any comments or opinions (on not enforcing the follow on). I wanted us to bat more, and add some more runs, because batting would be difficult on day four and five. We knew that it would be tough for Australia, but credit to our bowlers, especially Jasprit. The three fast bowlers have broken the record for most wickets by pacers in a calendar year for a team, which is brilliant. I certainly feel proud as a captain when they bowl in partnerships. No one is looking to out-bowl each other. Our first-class cricket is amazing, which is why we won. Credit must go to first-class set-up in India, which challenges our fast bowlers in India, and that helps them abroad. Agarwal showed great character on Boxing Day. And Pujara has always been composed, so we just wanted a big partnership. And the fact that Vihari batted so long in the first innings, it allowed us to bat more confidently. And Rohit's 60-odd as well. (Can you be the first Indian captain to win a Test series?) Honestly I cannot answer that. Nothing can distract us from trying to win that final Test, because we've never been in a position to win a series. Thank you."
Tim Paine in the post-match presentation: It's a bit disappointing. With inexperience batting line-up you are bound to have an innings like we did in the first innings. The guys are working really hard and we have a huge challenge ahead of us in Sydney. The conditions will be different in Sydney. The pitch was very good. After watching the wicket for 2 days I knew pitch will crumble. Pat has been superb all series. We all know what quality he has. He has been fantastic for us. We want more guys to perform like him. It's been an interesting year, a difficult t year. In the next few months, some World Class players will be available. We have to work really hard to win the new year Test.
* It was a collective performance from the Indians and that's the thing which will please them the most. Debutant Mayank Agarwal and Hanuma Vihari, who replaced Vijay and Rahul at the top of the order, did a fine job with Mayank scoring a confident 76. It set the platform for Pujara and Kohli who largely took the game away from the Aussies by really digging in there. Rohit later came in with a fifty of their own which enabled India to post 443 on the board.
* The start of the day was marred by rain, but after a stop-start and a relative long-ish break, play began and it took the visitors less than 5 overs to wrap things up. Bumrah got the set Cummins first and then soon after, Sharma got Lyon to get his side over the line. It wasn't easy by any means though, India were made to work hard. India should have won the game on Day 4 itself after running through the Australian batting line-up, but Cummins and Lyon stood firm and took the game into the final day. Rain did threaten, but eventually, it couldn't save the hosts.
* A handsome victory for the Indians. They retain the Border-Gavaskar Trophy with this win. It's also their 150th win in Test cricket. Smiles all around as the away side celebrates. Kohli is pumped, his teammates are pumped and his team's supporters in the crowd give out a loud cheer. The decision from the skipper and the management to not enforce the follow-on did eventually pay off, but not without a few nails being bitten for sure.
* A handsome victory for the Indians. The start of the day was marred by rain, but after a stop-start and a relative long-ish break, play began and it took the visitors less than 5 overs to wrap things up.
07.48 IST: OUT! THAT IS IT! Ishant just made me eat my words. He does not have the pace of Bumrah to hurry the batsman but he has bounced Lyon out here. He bangs it short and on middle, Lyon goes for the pull but the bounce gets big on him, it takes the top edge and goes towards Pant who takes it above his head. India won by 137 runs
* Josh Hazlewood is the last man in.
07.42 IST: OUT! EDGED AND TAKEN! No. 9 goes down and it is that of the well-set Cummins. Excellent delivery. Gets it around the off stump, in that corridor of uncertainty. It straightens a touch. Cummins plays inside the line, the ball takes the outside edge and goes low towards Pujara who takes a decent catch at first slip. End of a fighting knock by Cummins. India now just a wicket away from taking a 2-1 lead. AUS 261/9
07.40 IST: Another maiden and Australia tail are giving a tough fight.
07.36 IST: Sharma hurls it on a fullish length outside off, Lyon plays away from his body and gets beaten due to the extra bounce. AUS 261/8
07.35 IST: Excellent maiden over from Bumrah and Cummins was a bit uncomfortable as there is a bit of swing in the pitch. AUS 261/8  
* Jasprit Bumrah to bowl from other end
07.31 IST: Two runs from the over India will be looking to finish this game as soon as possible. AUS 261/8
* The groundsmen were coming out on the ground, but then were sent back. Maybe some sawdust was required. Okay, he's come back out with it now. Ishant wants some sprinkled around the landing area of his run up.
* Ishant Sharma to bowl the first over
*We are ready to begin now. Finally! The Indian team spread across the field and it will want to wrap things up ASAP, before the rain intervenes again. Pat Cummins and Nathan Lyon take their places in the middle, with the former on strike. Ishant Sharma will take the new ball first up. Here we go...
06.40 IST: EARLY LUNCH WILL BE TAKEN AT 1215 LOCAL. The forecast is said to clear up around 1300 local time, let's hope the radar is a reliable one. The rain has stopped, so play should resume at 1255 local if there are no further interruptions. And if that is the case, then we will lose 11 overs. Add the 8 bowled on Day 4 in the extra time taken and we will have a minimum of 71 overs in the day.
05.34 IST: Frustration for everyone as the rain has really picked up now. It's coming down quite heavily. The wait continues...
05.26 IST: Scratch the last update. The covers are back on as there's a slight drizzle. Doesn't look as bad though.
05.20 IST: The rain has stopped and the covers are coming off. Play will begin at 1100 local. The players are warming up. Guess we'll have some action soon.
04.56 IST: The covers are on and the start to the final day will be a bit delayed. Should just be a passing shower, hopefully. Quite dark out there right now on account of the misty clouds, the floodlights are already on.
04.49 IST: There is another factor today, the rain. There is a forecast of some rain today and this will bring a smile on the faces of the Australian supporters. So far, slight rain has been there and the pitch had been covered. The covers are off now though and nothing alarming as yet. Play should begin on time provided there's no further rain. The action awaits, let's keep our fingers crossed.
The covers are off at the MCG but there is a few more showers on the radar ... #AUSvIND pic.twitter.com/ng4htJNnC9

— cricket.com.au (@cricketcomau) December 29, 2018
04.47 IST:  Welcome to the last day of the Third Test in the Border-Gavaskar Trophy. India are on the brink of victory, needing just two wickets but there is a certain Pat Cummins in between them and the win. He has been nothing less of a warrior in this game. Can he do the unthinkable and take the Aussies to an improbable win? Or will India nip off the last two in quick time?
04.45 IST: Fifth Day, Morning Session ...
Brief Day 4 Report: India are just two wickets away from victory with one day's play remaining in the third Test against Australia at Melbourne Cricket Ground. Chasing an unlikely victory target of 399, Australia will resume on Sunday's fifth day at 258/8. No.8 batsman Pat Cummins, who has also taken nine wickets in the match, played some glorious cover drives in his career-best 61 not out off 103 balls including five fours and one six. The tailender has top-scored in Australia's second innings, defending and attacking strongly against the second new ball just before stumps on Saturday with Nathan Lyon (6*). Spinner Ravindra Jadeja has taken 3-82 for India, which appears set to claim a 2-1 lead in the four-match series which is tied at 1-all. Australia requires another 141 runs for an unlikely victory. (Read Full Report)