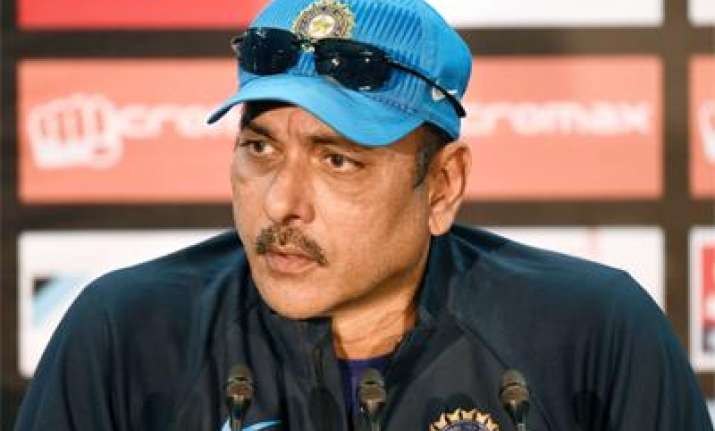 Kolkata: India are in the middle of a phenomenal run in the shortest format of the game, and Team Director Ravi Shastri today said that he expects his side to maintain consistency and make winning a habit to clinch a big tournaments like the World T20.
Shastri said that India have got the right balance in the team and most of the big players are in form at the right time ahead of the ICC event. "We have got into a good habit of winning games. You might get the odd hiccup on the way. But it's important to maintain a level of consistency and treat every game as an important game. Every game is important from here on," he told a news conference.
"To win a big tournament you need seven-eight individuals performing consistently. We are not a team of individuals. We are the Indian cricket team. Virat (Kohli) is in outstanding form, and so is Rohit (Sharma)... MS (Dhoni) has done well lower down the order. Yuvraj (Singh) has struck form. Shikhar (Dhawan) has had his moments," Shastri said ahead of the World T20 warm-up game against the West Indies.
Champions of the inaugural 2007 edition, India take on the West Indies here tomorrow in the warm-up game and Shastri feels that the recent dream run has given a huge boost to the hosts' title aspiration. "Asia Cup was a very good preparation.
The condition was not easy initially but it got better. The ball was swinging and seaming initially," said the former all-rounder. India have won 10 of their last 11 T20 International matches, including the series win in Australia and against Sri Lanka at home, before emerging champions in the just-concluded Asia Cup in Bangladesh.
Shastri said that India team has got a right blend of youth and experience. "Any good side needs balance between youth and experience. If you look at history, the No. 1 Test team would always have experience and youth. The youngsters bring energy to the table and keep the seniors on their toes, they want to emulate the seniors. They are young and they work harder to get better," he said. PTI TAP PDS CM PDS 03091741 NNNN