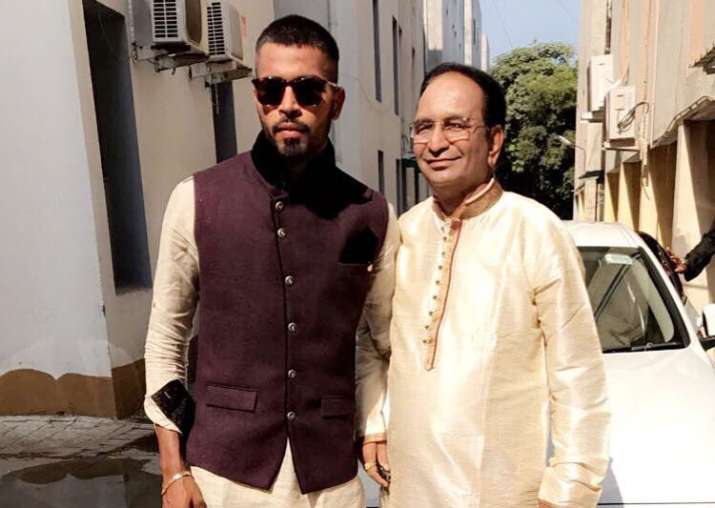 India all-rounder Hardik Pandya is enjoying the time of his life. Pandya's success in the recently-concluded Test series against Sri Lanka, which India won by a 3-0 margin, has left many stunned and euphoric at the same time. 
Now to celebrate his success, Pandya has surprised his dad by gifting a brand new Jeep SUV car.
Pandya's father, Himanshu Pandya was at a Jeep showroom and liked one of its red-coloured SUV's. He got the pleasant surprise when the showroom's manager came to him and told him "This is your car. You are owner", leaving him speechless and teary-eyed.
Hardik's dad then took the phone and said "I love you" to his son, who was on video call from Sri Lanka.
The young cricketer then took to Twitter and explained the entire event in a series of tweets. He also posted a video of the same on Instagram.
"So glad to see his face lit up like that. So yes this is the guy who should get all the happiness in life and deserves all the credit, my dad. He was the one who left everything what he had for me and Krunal and which takes a lot of courage to do."
"Only for our careers and I can't thank him enough for all he has done. So that's a small surprise for him which made me cry. Family is life and special mention to my brother @vibsnasir and my mother @pandyanalini3 for getting this done when I was not around. Love to all," he wrote.
The 23-year-old Pandya - who made his Test debut in the first Test at Galle - amassed 178 runs with an average of 59.33, including his maiden hundred and a fifty, in the series. The Baroda youngster, who plays for Mumbai Indians in the Indian Premier League, also bagged 4 wickets in the series.
Pandya's efforts earned him high praises from skipper Virat Kohli, who termed the 23-year-old as the biggest positive from the series.
India will now play Sri Lanka in a five-match ODI series and a lone T20I starting August 20 in Dambulla.