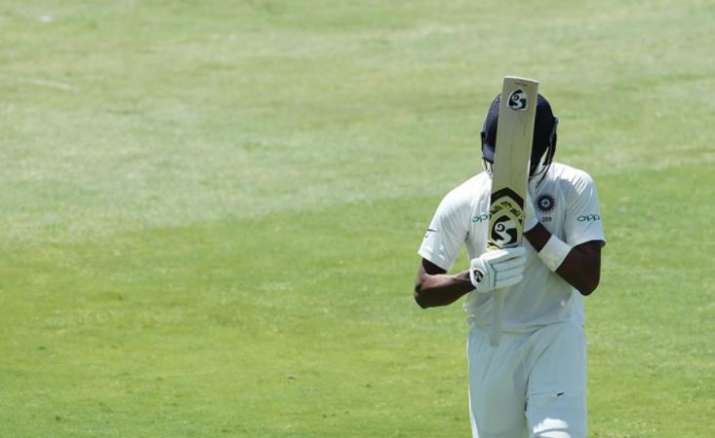 India all-rounder Hardik Pandya soon came under the radar after gifting his wicket to South Africa on the third day of the second Test at Centurion. It was just after Indian skipper Virat Kohli lifted his bat to celebrate his 21st Test century, the young all-rounder made an error which would not even be considered a rookie mistake. 
It was before lunch on day three when Pandya taps Philander's full ball towards mid and wanted a run immediately. Kohli who was at the non-striker's end shouted a huge 'NO' and was adamant with the decision. The all-rounder turns around and runs towards the wicket and isn't aware of the fact that a throw can come in and reaches the crease just as Philander is given the ball and knocks down the stumps at the striker's end. De Kock made an appeal and the review was taken upstairs. Shockingly Pandya was Ariel in the crease where neither his bat or his foot were on the ground. 
The Proteas could not believe their luck as the all-rounder walks back gutted after giving his wicket away cheaply. 
Former Indian cricketer Sunil Gavaskar who was sitting in the commentary box at the time described Pandya's run-out as 'unforgivable'. Sanjar Manjrekar who was present at the other side stated that Pandya's attitude was 'arrogant'. 
Early lesson for Hardik Pandya that this game will come to bite you back if you let confidence become arrogance.

— Sanjay Manjrekar (@sanjaymanjrekar) January 15, 2018
Schoolboy Error.....could possibly cost India the match. Inexplicable. #SAvIND

— Aakash Chopra (@cricketaakash) January 15, 2018
The fans took to Twitter to troll the Indian all-rounder and the results are hilarious. 
Today Hardik Pandya proved he is more dumber than Alia Bhatt. #SAvIND pic.twitter.com/xcpjuHDKDA

— Waѕiyullah Budye (@WasiyullahB) January 15, 2018
Mondays are hard. pic.twitter.com/uWVVQ0Mf7B

— Trendulkar (@Trendulkar) January 15, 2018
Ravi Shastri & Hardik Pandya in the Dressing Room#SAvIND pic.twitter.com/Wd1GjGGrad

— Hariharan Durairaj (@hari_durairaj) January 15, 2018
Now Hardik pandya does not have Jadeja to blame for the Run Out. #SAvIND

— Glen Coelho 🇮🇳 (@whatmankalia) January 15, 2018
Hardik Pandya neend poori nahi hui thi kya? Itni susti?
Don't you know the value of your wicket?? This isn't what we expect from our best all rounder. Extremely disappointed with this Run Out. @hardikpandya7 #SAvIND

— Rishabh Datta (@rishabhdatt) January 15, 2018
 
Kohli made his 150 against South Africa on the third day and becomes the third Indian after Sachin Tendulkar and Cheteshwar Pujara to go past 150 in a Test in South Africa. India lost the first Test match at Newlands, Cape Town by 72 runs and will look to come back stronger after Kohli's brilliant knock could have acted as a motivational method for the rest of the players.