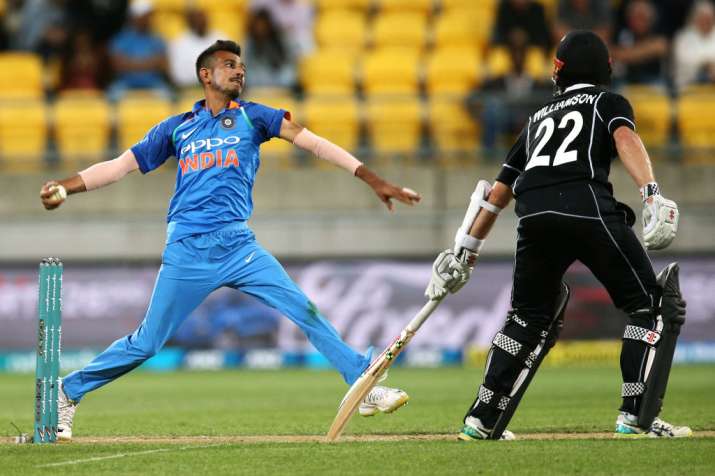 The Indian team departed for England on Tuesday night for the World Cup, which begins on May 30. Yuzvendra Chahal, who forms the backbone of India's spin-attack alongside Kuldeep Yadav, gave an exclusive interview to India TV, in which he talked in detail about India's preparations for the tournament.
Chahal stated that the side has the quality to bring the World Cup home, adding that the players are full of confidence.
"I'm happy to be a part of the squad, this will be my first World Cup and according to me we have one of the best teams," Chahal told India TV during the launch of lifestyle brand "CheQmate".
"The guys are highly confident since the IPL and on 14 July, we will bring the World Cup."
Talking about the influence of players like Virat Kohli and MS Dhoni, Chahal insisted that their combination comes across as "powerful" for the side. The spinner also insisted that Dhoni is helpful from behind the stumps.
"I enjoy playing with Virat bhai and Mahi bhai together, their experience counts a lot and both of their styles are different, which is useful for the team and when the two meet, its powerful.
"Mahi bhai also helps us a lot with the bowling. We have an idea about how the wicket will play and we have in mind how we're going to bowl."
Chahal added that he enjoys bowling alongside Kuldeep Yadav. "We enjoy playing with each other, we have a good friendship both on and off field, we trust each other," the leg-spinner said.
On social media, Chahal is seen having light-hearted conversations with Rohit Sharma. Talking about his relationship with the Indian opener, Chahal said that he sees Rohit as his "big brother".
"Rohit is like a big brother. He always backs me and I share my stuff with him and it's fun to banter with him," the spinner said.
India will begin their World Cup campaign on June 5 when the side takes on South Africa.
Meanwhile, "CheQmate" is Chahal's maiden entrepreneurial venture launched in association with High Times Solutions (HTS).
Piyush Sachdeva, MD and CEO, HTS said: "I am very excited to make this collaboration a success and wholeheartedly invite others to be a part of this exciting and rewarding initiative."
(As told to IndiaTV sports correspondent Vaibhav Bhola)