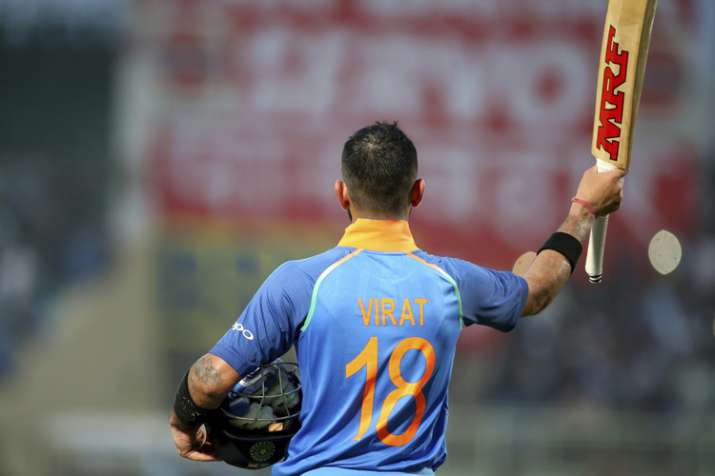 Indian skipper Virat Kohli breached the 10,000 runs barrier in ODIs en route to his scintillating 157* against West Indies in Vizag on October 25. Thus he joined Indian icons Sachin Tendulkar, Sourav Ganguly, Rahul Dravid and MS Dhoni in the exclusive club. Overall he became the 13th player to the landmark and with the kind of form that he finds himself in at the moment, the day is not far when he owns all the ODI batting records.
In this article we take a look at the slew of records that Kohli created in Vizag when he crossed the landmark:
1) Fastest to 10k
Tendulkar entered the 10k club in his 259th innings and in his 266th match, while it took Kohli only 205 innings and 213 matches to canter to 10,000 runs.
2) Second youngest to 10k
While Kohli completed his 10,000th run at 29 years and 353 days old, Sachin had done it at just 27 years and 341 days making him the second-youngest to the landmark.
3) Best Strike-Rate and Most Centuries
Kohli's Strike rate of 92.85 and his 37 centuries are the highest amongst all players when they crossed the 10,000 mark.
5) 1000 runs in just 11 innings
The Indian captain has been in such a phenomenal form that he went from 9,000 to 10,000 runs in just 11 innings.
6) Indians on top
Kohli's feat meant that India now have the most number of cricketers in the 10k club ahead of Sri Lanka's four - Kumar Sangakkara, Mahela Jayawardene, TM Dilshan and Sanath Jayasuriya. No other team has more than one player in this club.
7) Best Average
Boasting an unbelievable career average of 59.62, Kohli stands tall amongst all the 10k members with MS Dhoni's 51.30 being the next highest.
8) Fastest captain to 10k
Kohli also bettered former Australian captain Ricky Ponting's record by becoming the fastest skipper to 8000 runs in ODIs.