Follow us on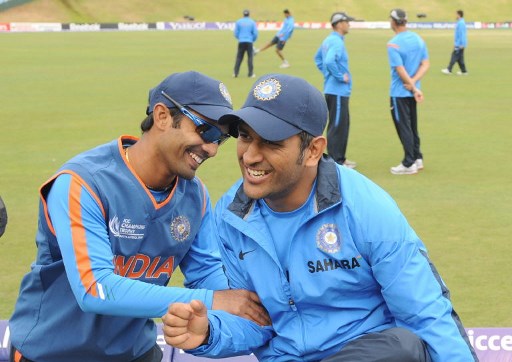 Dinesh Karthik or 'DK' has been the name that is currently been echoed all over India after his scintillating performance against Bangladesh where he led Team India to lift the Nidahas Trophy in dramatic ending as his 28 for 8 balls helped the Rohit Sharma led Team India travel back home with the silverware, however, DK feels that the comparison between him and Mahendra Singh Dhoni is unnecessary.
"When it comes to Dhoni -- I am studying in a university where he is the topper. He is one of the guys I have always looked up to. It is unfair to compare me with him," said Karthik.
A lesser fact known -  Karthik made his international debut for Team India in September 2004 during Champions Trophy in England, three months before the former skipper's debut against Bangladesh in a bilateral series in December.
Over the next 14 years it was Dhoni who took over matters and became India's most successful captain and one of their greatest limited overs exponent while Karthik struggled in the fringes, waiting for his chances.
"His (Dhoni) journey has been totally different and my journey is a different one. He is a terrific guy. He is somebody who used to be reserved, shy. Today, he is a person, who is really vocal in helping the youngsters. I feel these comparisons are very unfair. As I said, he is probably a topper in a university, where I am studying. I am just happy in the space I am in," Karthik said.
Having been around for a decade and a half, Karthik is finally enjoying his time under the spotlight, something he has so richly deserved. He attributes it to his good karma and divine intervention.
"It feels good that all the attention is on me. All the good karma and good things I have done over the years helped me hit that six. It is just that the shot went for a six... probably the two mm extra that it went for it became a six." 
The responsibility hasn't yet been lifted of DK's shoulders as he has been the named captain of Kolkata Knight Riders for the 11th editon of the Indian Premier League and he would like to grow in stature after the platform that Nidahas Trophy has provided him.
"(The forthcoming) IPL is extremely important. It is a fabulous tournament. Indian cricket is where it is because of the IPL. We get to rub shoulders with the best. On a personal note, it is very important tournament for me," Karthik said.
The feisty Karthik is excited about his new role and wants to live up to the legacy left behind by Gautam Gambhir.
"I am very excited about the captaincy role. Maybe, it is time for me to embrace captaincy. The team has a very good bowling attack. I have to sit down with the coaches and see where I need to bat," he added.
About the return of CSK and Rajasthan Royals, he said it will be a totally different dynamics to the tournament.
"CSK and Rajasthan Royals bring a totally different dynamics to the game. I am sure it is going to be a fabulous tournament," Karthik concluded.
(With PTI Inputs)