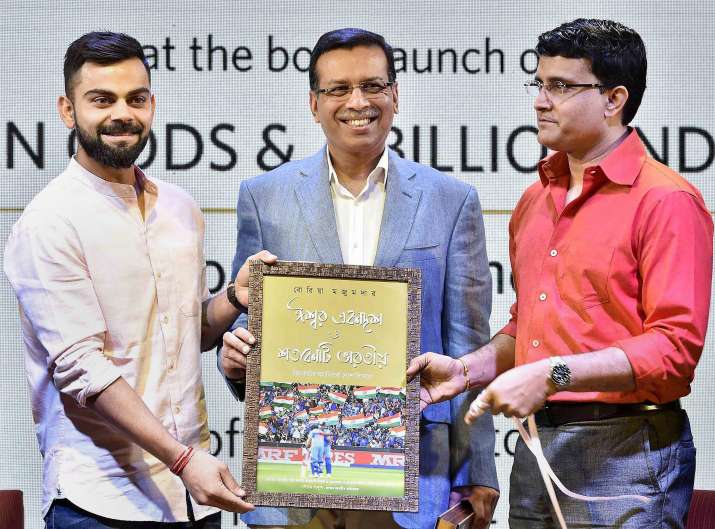 Known for wearing his heart on the sleeve with an aggressive body language that doesn't fit the purists' narrative, Virat Kohli is least bothered about pandering to public perceptions since he doesn't want to act like a "robot" in intense match situations. "You cannot be a robot operating for the sake of what people are going to write or say about you," Kohli, who's known for his aggressive brand of leadership said during the launch of cricket historian Boria Majumdar's latest book 'Eleven Gods and A Billion Indians'.
India were down and out during their last big series in South Africa facing a possible whitewash before there was remarkable turnaround winning the final Test followed by emphatic twin series win in the limited overs format.
"The most important is self-belief. You need to have the ability to look at things in a very different way than anyone else. We kept looking at things from the other perspective like winning the toss and batting, despite opposition from all quarters." 
"Decision to bat first on a green top was criticised by many but it turned out to be a masterstroke in the end with the pitch slowly deteriorating."
"The team believed it's the best decision for us and we backed it. In cricket with technique and everything, there's no one way of doing something. There's always your way and if you believe in your way, you can make things happen." 
Chasing 241, South Africa collapsed from 124 for one to 177 all out, leaving India winner by 63 runs as they secured only their third win in the South African soil.
"We went to the Test doing all the right things. Our intention was only to win. We were not dishonest to the game we were not scared at any stage. We were brave. We played the game the right way. we were moving ahead at all times." 
"It's been a start, a turnaround after two Tests. But the mindset was only one - we want to win, at any cost. That belief got us back after two Tests when no one believed in us," he said.
Kohli once again spoke about Sachin Tendulkar's role in his career and remembered touching his feet on the day of his retirement at the Wankhede in the Test against West Indies.
"I don't have too many people who are very close to me. That is just the way life has gone for so many years, because naturally when someone has been stuck by me during tough times, I value that person a lot. I continue that." 
"The impact that he (Tendulkar) has had on me as a cricketer growing up. I understand the importance of it. It's very difficult to explain it," Kohli's answer was laced with emotion.