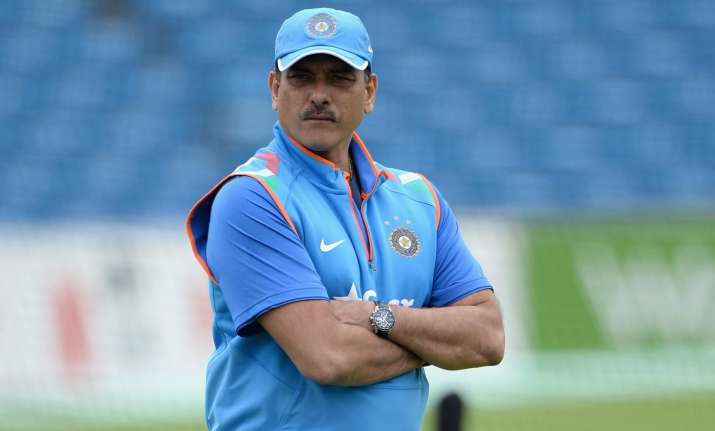 Putting all the speculations to rest, the Board of Control for Cricket in India (BCCI) on Tuesday appointed Bharat Arun as the bowling coach of the Indian cricket team. The cricket board also said that Sanjay Bangar, who earlier served as the batting coach, has been promoted as the assistant coach while R Sreedhar, Patrick Farhat and Shankar Basu will remain at their respective positions. 
R Sreedhar is the team's fielding coach, Farhat is the physiotherapist and Basu is serving as the strength and fitness coach. 
BCCI acting secretary Amitabh Choudhury said all the appointments have been made on a two-year contract commencing today and will last until the closure of the next ODI World Cup in 2019.
The latest announcement from the BCCI comes amidst the controversy surrounding the appointment of Rahul Dravid and Zaheer Khan as the team's batting and bowling consultants, respectively. 
When asked about Dravid and Zaheer's appointment, Shastri said: "I have spoken to both the individuals three or four days ago. They are two fantastic cricketers and their inputs will be invaluable. They will be on board once they have spoken to the authorities concerned. No issues on that.
"It all depends on the individuals... how many number of days they want to give. But their inputs will be invaluable and they are most welcome. 
Shastri further mentioned that he was always clear on who he wanted in his set of support staff. 
"I was very clear in my mind what my core team would be and what you just heard is my core team," he said.
Shastri also thanked the CAC members for his appointment as the head coach. " I would like to thank the CAC. It is my privilege an honour to be the coach of the Indian team. I thank them for thinking that I am worthy enough."
It is worth mentioning here that the Cricket Advisory Committee (CAC) comprising Sourav Ganguly, Sachin Tendulkar and VVS Laxman on July 11 named Shastri as the new head coach replacing Anil Kumble who decided to step down citing a breakdown in his relationship with captain Virat Kohli as the reason behing his exit. Along with Shastri, the CAC also named Dravid and Zaheer as consultants for specific overseas tours.
However, soon after the announcement was made, it was reported that Shastri wasn't too happy with the support staff and instead wanted his own set of men on board. Shastri was batting for the inclusion of Arun as he was looking for a full-time bowling coach and not a consultant. But Arun's candidature was reportedly opposed by Ganguly.
Shastri, who was in England watching Wimbledon, was keen on meeting the BCCI's Committee of Administrators on his return to India and put forward his demands as he believed that it was the coach's prerogative to appoint his own support staff. The CoA members reportedly held a meeting and decided to give Shastri his own set of coaching staff.
Arun had replaced Joe Dawes in 2014 and was there with the Indian team till 2016 when Shastri was dumped. He didn't have a distinguished playing career but has always been regarded as a great academy coach with a sound grip on the theories related to fast bowling.
Arun and Shastri go back a long way having been buddies since their U-19 days back in early 80's. It was on Shastri's recommendation that erstwhile BCCI president N Srinivasan gave a go-ahead to Arun's appointment with the senior team when he was the bowling consultant at the NCA.
Meanwhile, Chaudhary, on his part, said there was never any confusion on Dravid and Zaheer despite the obvious flip-flops by the BCCI.
"At the first place I am absolutely clear that it is not a fiasco, once we appointed the head coach, obviously he had to think of his responsibility which come with that appointment, and it is very clear he wanted his core team. The other two (Zaheer and Dravid) are consultants," he said.
The BCCI's handling of Zaheer and Dravid's appointment has come in for severe criticism with former CoA member Ramachandra Guha calling it "public humiliation" of the two stalwarts of Indian cricket.
Neither Zaheer, nor Dravid have yet spoken about the lack of clarity regarding their positions.
The first assignent for the new coaching setup will be the upcoming tour of Sri Lanka. India will travel to the Island nation to play three Tests, five ODIs and a lone T20I. The first Test starts from July 26 at Galle.