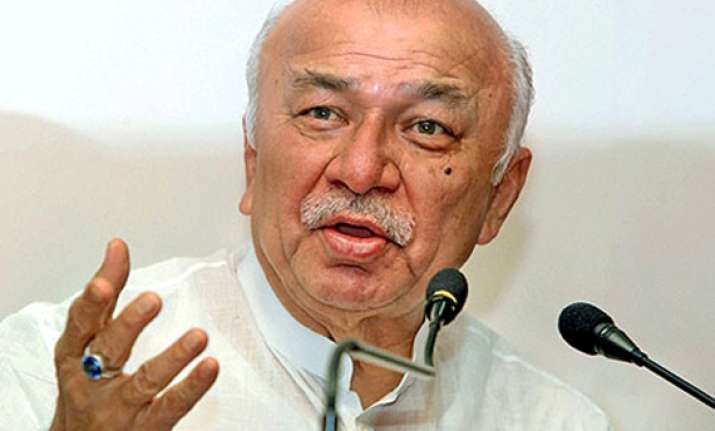 New Delhi, Dec 25: The government is not opposed to people holding peaceful protests, but staging a march to the presidential house is not right, Home Minister Sushilkumar Shinde said Monday.
Shinde said he has been meeting student representatives since the day protests started in the capital against the gang-rape of a young woman Dec 16.
"I accept that calm and quiet protestors can demonstrate, and there is no problem (with that) as it is the right of the public," he told a TV channel.
"But gathering at Vijay Chowk, trying to breach barricades and marching to Rashtrapati Bhavan is not right. Rashtrapati Bhavan is prestigious for the country."
According to Shinde: "Hooligans have now joined the protestors."
He said the home ministry was daily briefing the prime minister on the issue.
"One of my constables was critically injured, and 18 policeman are injured. The hooligans can't be identified in 3,000 people," the home minister said.
Downplaying criticism over his inability to meet and calm the young protestors, Shinde said: "It is easy to ask the home minister to go to India Gate and talk. Tomorrow, if some other party holds demonstrations, why should not the home minister go there? Tomorrow, BJP could demonstrate, tomorrow Maoists will come here to demonstrate with weapons," he said.
"You should understand the government's role. The government should not go anywhere. Why should the government go anywhere," Shinde said.
Shinde ruled out sacking Delhi police chief Neeraj Kumar, as some people have demanded. He said that once the situation had calmed, a review would be conducted.
"I will take action and I will not spare anyone. I have information that senior police officers will also be coming under suspension. On the night of the incident, on that route, out of five CCTVs, three were not working. In one of them, they got footage that was sent to the forensic laboratory, and from that, they nabbed the accused the next morning," he said.
Shinde said the government had announced several measures to ensure the safety of women in the capital.
"The government is very serious about these issues. The accused were immediately arrested, and we have said that the case would be taken on a fast-track basis. We are following proceedings in court on a day-to-day basis," he said.
Shinde said the government would press for day-to-day hearings in such cases and ask the Lt. Governor and chief minister to activate committees of Home Guards and civil defence personnel attached to every police station.
"I've convened a meeting on Jan 4 of all chief secretaries and directors-general of police to take account of the situation in their states about rape cases, and the action taken. It takes time and it just does not happen," he said.