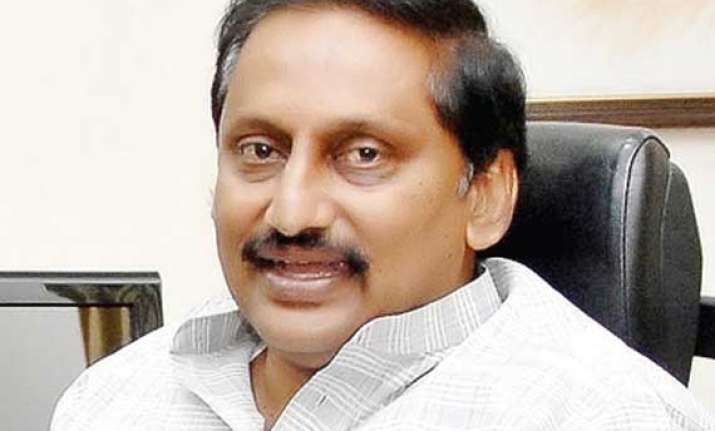 Srikakulam: Comparing the bifurcation of Andhra Pradesh to "cyclone", Chief Minister N Kiran Kumar Reddy yesterday said he would make efforts to thwart it.
"We cannot stop the (natural) cyclone. But, we will definitely try to stop this cyclone that would damage the state. We need your help and cooperation," he said, speaking at a meeting in Srikakulam district in coastal Andhra which was hit by Cyclone Phailin earlier this month.
Reddy's open opposition to the division is in defiance of the stand of Congress High Command which has backed the creation of state of Telangana.
Reddy also conducted an aerial survey of the cyclone-hit areas of the district and interacted with fishermen and farmers who were affected by Phailin.
Two people were killed in the district during the cyclone and crops were damaged extensively.
Referring to the state government's efforts to contain the impact, Reddy said loss of human life was prevented to a great extent due to these efforts. As many as 1.35 lakh people were shifted to safer places after the government employees who were on strike in protest against the bifurcation joined back, he said, appreciating the agitating employees' role.
Reddy announced that welfare programs will be undertaken for the fishermen community in Srikakulam district.
Announcing several measures for coconut farmers, he said Rs 5,000 per acre will be given for planting the trees under NREGS, and more compensation would be paid to those farmers who suffered due to the cyclone.
During his visit to Srikakulam, Reddy said a special package of Rs 40 crore would be given to fishermen.
Noting that electricity supply was hit badly in Srikakulam district due to the cyclone, he said the supply has almost been restored in the district and efforts are underway to restore connectivity to remaining villages.
The chief minister said proposals would be sent to the Centre soon on the damages for coconut, cashew and banana farmers and that every eligible person would be provided assistance.
He has directed officials to meticulously prepare reports on the damages.