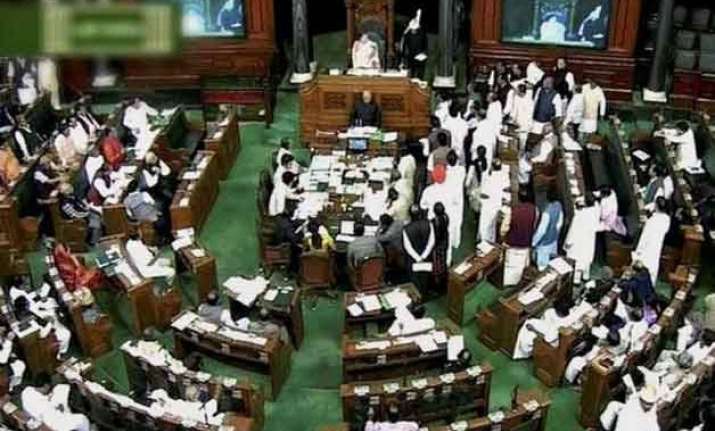 New Delhi: Opposition parties led by the Congress today raised issue of crimes against minorities, especially the recent attack on a church in Hisar and gang-rape of a nun in West Bengal, in the Lok Sabha.
Raising the issue, Congress member Gaurav Gogoi said: "Persons holding constitutional posts are making remarks which are deliberately wounding people. In Hissar, a religious place has been attacked and the chief minister has said the religious place lacked valid papers."
"This does not seem to be an isolated incident. Such kind of statements are being made again and again," he added.
ALSO READ: Police detains two persons in Hisar church attack case
He was referring to a statement made by senior BJP leader Subramanian Swamy in Assam. He had said that mosques and churches are mere buildings to offer prayers and therefore there was no problem in demolishing them.
"Incidents in West Bengal and Assam are very threatening. A large population of the country is living in fear," he said, adding that a former police commissioner of Mumbai has expressed fear for minorities.
"Is this right? It is the responsibility of the home ministry to ensure peace," he added.
P Venugopal of the AIADMK said: "Our party stands for upholding communal harmony. India is a secular country. People should stop glorifying one religion."
ALSO READ: PM expresses concern over nun gangrape, church vandalisation; seeks report
Another Congress member, Adhir Ranjan Chowdhary, raised the issue of the alleged gang rape of a 71-year-old nun in West Bengal.
CPI-M's Mohammed Salim said despite assurances given by the state administration in West Bengal, no arrests have been made even 72 hours after the nun's gang rape.
Trinamool Congress member Saugata Roy said though he condemned the incidents, it was the 'present communal atmosphere of the country which is leading to such attacks'.
The opposition tried to raise the matter during question hour also, but the Speaker disallowed it.
In Haryana, an under construction church in Kaimri village in Hisar district was vandalised by miscreants some ten days back (and reported on Sunday) and the idol of Hindu deity Hanuman was placed inside the premises.
A few days later, a septuagenarian nun was gang raped in West Bengal.
Adhir Ranjan Choudhury of Congress hit out at the BJP accusing it of 'creating a communal situation in the country'.
Immediately, the BJP's SS Ahluwalia who represents West Bengal's Darjeeling constituency, jumped to his feet at this point and addressed the house in Bengali.
Union Parliamentary Affairs Minister M. Venkaiah Naidu, then intervened and dissociate his government from the communal episodes in Haryana and West Bengal including remark made by Swamy.
Chaos in Rajya Sabha
The Upper House also witnessed uproar over comments by Swamy.
Congress leader Pramod Tiwari raised the issue. He said, "Secularism is the biggest strength of a democracy. If there is no secular character, there will be no democracy."
Tiwari was joined by several Opposition members.
Minister of State for Parliamentary Affairs Mukhtar Abbas Naqvi then said that members could discuss the issue.
The House was later adjourned for ten minutes.