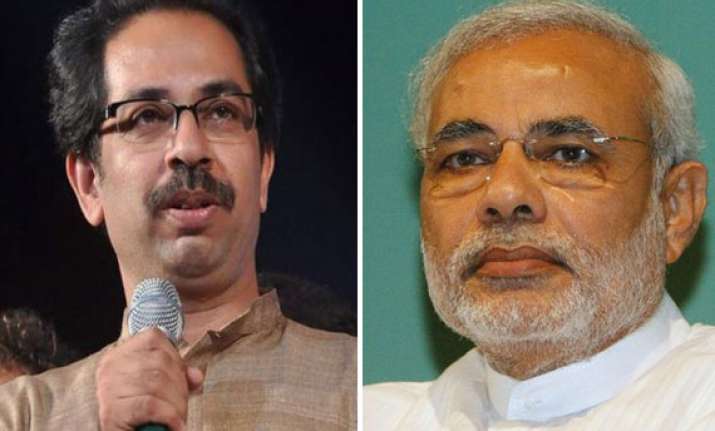 Mumbai, Jun 25: Shiv Sena president Uddhav Thackeray lauded Maharashtra chief minister Prithviraj Chavan and blasted Gujarat chief minister Narendra Modi for their respective roles in the ongoing rescue operations in disaster-hit Uttarakhand.
In an editorial in party mouthpiece "Saamana" on Tuesday, Thackeray heaped praise on Chavan for adopting a broad-minded approach, and ridiculed Modi for his parochial attitude in dealing with the fallout of the disaster.
"Chavan has shown Maharashtra's large-heartedness and magnanimity in the face of such a massive disaster, not only for the people of this state stranded in Uttarakhand, but for victims from across the country," Thackeray said.
He pointed out how Chavan declared, while dispatching a planeload of relief material with a large team of officials, that though the aid was intended for people from the state stranded in Uttarakhand, other victims would not be ignored.
Maharashtra has placed two helicopters at the disposal of the Uttarakhand government and extended aid of Rs 10 crore, and is among the first states in the country to react quickly to the disaster.
"This is Maharashtrian generosity and the right approach. Though Shiv Sena has been accused of parochialism, even my party members have dedicated themselves to the rescue and relief work there. When we are faced with such a major national calamity, the political party, state or religion do not matter, we are all united," Thackeray said.
Targeting the Gujarat chief minister, the Shiv Sena president said as Modi has now been given a national role to play by the Bharatiya Janata Party, he should not speak in narrow terms for Gujaratis only.
"Most of the rescue work is being carried out by the Indian Army and the Indo-Tibetan Border Police. They don't discriminate on the basis of the victims' state of origin or religion, but rescue them as human beings," Thackeray pointed out.
Thackeray said that besides Chavan and Modi, even other state governments have contributed to helping the victims of the natural disaster. "Nobody is doing any favour, it's their duty in the face of calamity," he said.
Thackeray lashed out at the Gujarat chief minister's propaganda machinery for claiming that 15,000 people from Gujarat were rescued on the day of Modi's visit.
"It would be better if Modi's propagandists exercise restraint in future," Thackeray said.