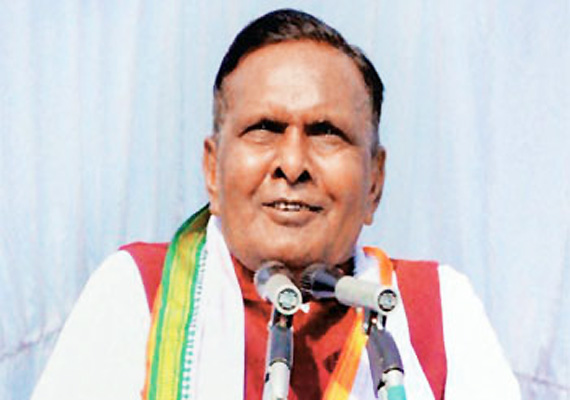 New Delhi, Feb 16: Alleging a "political conspiracy" and an "attempt to befool Muslims" behind Congress ministers' statements on sub-quota for backward minorities, UPA ally Trinamool Congress today demanded that Union Minister Beni Prasad Verma be debarred from campaigning in Uttar Pradesh.

In an indication that the relations between the two coalition partners has touched a further low, TMC leader Sultan Ahmed also rejected Congress contention that the Model Code of Coduct does not have a statutory status.

"It becomes a Code of Conduct when the matter concerns other parties but not when it is related to the ruling party.  It is surprising. First it was Salman Khurshid, who said that 9 percent reservation would be given to Muslims even as there was no such decision at the level of the government.", Ahmed told reporters.

"Now it is Beni Prasad. They think that Muslims would bite this bait. This is not going to happen. If the government is serious about giving any such thing to Muslims, it should announce it at the level of government," Ahmed told reporters. 

His reaction came after Verma while addressing a poll rally last night in the presence of Congress general secretary Digvijay Singh and Union Law Minister Salman Khurshid, said, "reservation for Muslims will be increased and if the EC wants, it can now issue notice to me."

Asked whether he is demanding debarring of Verma from election campaign in UP, he said, "off course. EC can debar such leaders. He (Beni) should be debarred from campaigning in the state. EC should take serious cognizance. Salman and Beni have violated the model code of conduct". 

Ahmed, who is a Minister of State for Tourism also asked Prime Minister Manmohan Singh to clear the air on the issue of Muslim reservations.

"Since the government is of Manmohan Singh, he should tell what the government is thinking on the issue of reservation for Muslims. The government is silent while its ministers are speaking," he said.

However, when asked whether he was making the same demand for Khurshid, Ahmed replied in the negative aruging that the Law Minister has "already sought an apology from the EC."

Nevertheless, he stressed that leaders like Beni Prasad Verma and Salman Khurshid are "not paying heed to the Election Commission. EC has to be serious about it"

"They are talking rubbish. They are befooling people. If the government is serious. It already has reports of Rangnath Mishra Commission and Sachar Committee. Why does it not implement their recommendations," Ahmed said. 

The Election Commission has already begun examining whether Union Steel Minister Beni Prasad Verma's remarks on the minorities sub-quota daring the poll body during a rally in Farrukhabad last night were a violation of the model code of conduct.

It has also sought for the tapes of Verma's remarks from a private news channel.

Verma in his speech had also supported Khurshid, saying he was "honestly fighting for the Muslims".

He said if Congress comes to power, then they would work for more reservation.

Khurshid had last week triggered a controversy by stating that he would continue to speak on nine per cent sub-quota for minorities even if the Election Commission "hanged" him.

The EC had yesterday put a lid on the standoff with Khurshid after he expressed regrets over his "defiance" of the poll body over his remarks on sub-quota for minorities. 

The latest salvo fired by Sultan Ahmed is another link in the chain of Trinamool-Congress spat spanning over the last few months over a number of issues giving rise to speculation that all is not well between the two UPA partners and that West Bengal might chart out a differnt path altogether in near future.

Trinamool Congress is contesting the UP elections without a tie-up with Congress.