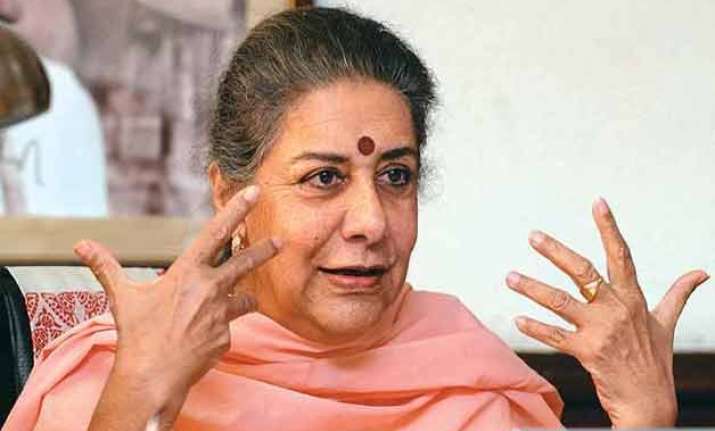 Pithoragarh: Asking party workers to unite against forces ignoring the contribution of Nehru and Gandhi to the freedom movement, AICC General Secretary Ambika Soni has said a Congressman whose blood "does not boil" at the statements of those dreaming of a Congress-free India is not a true partyman.
"A Congress worker whose blood does not boil after hearing statements of those who have vowed to make India Congress-free is not a true Congress man," Soni told reporters after the conclusion of the party's two-day 'Chintan Shivir' at Haldwani yesterday.
Those indulging in an oust-Congress campaign are neglecting the history of freedom movement and ignoring the priceless contribution of leaders like Gandhi and Nehru to the building of modern India, she said.
Soni said that the people who talk of Congress-free India are those who have neither taken part in country's freedom movement nor have any contribution in advancing the country economically and technically in the last 65 years.
"These people even don't know that had Congress not fought for freedom of this country and Pt Nehru not shaped the country into a democratic one, they would not have come into power today," said the state congress in charge.
Answering a query from the media Soni said that such contemplation camps are being organized by the party in every state and after getting feedback from these camps, an action plan would be charted out by AICC.
"Congress party has started campaign to take stock of party condition from the Congress workers active at bottom level through these 'Chintan Shivirs', the finding of which would be channelized through action plan formed by the party high command later," said Soni.
Uttarakhand Congress Chief Kishor Upadhyay informed the media that as follow up programs of the contemplation camp, the party will in future organize besides two Sewa Dal camps each in Kumaon and Garhwal, conferences of freedom fighters and SC/ST community and ex-servicemen.
The party at state level has also decided to have Padayatras ranging from two to ten Kms in the state from next month to publicize the gains of state Government and failure of Government at the Center, Said Upadhyaaya.
The two days contemplation camp of Congress discussed the present party condition at bottom level and ways and means to improve it and action plan for future by forming 13 groups comprising 50 district level Congress workers in each group.