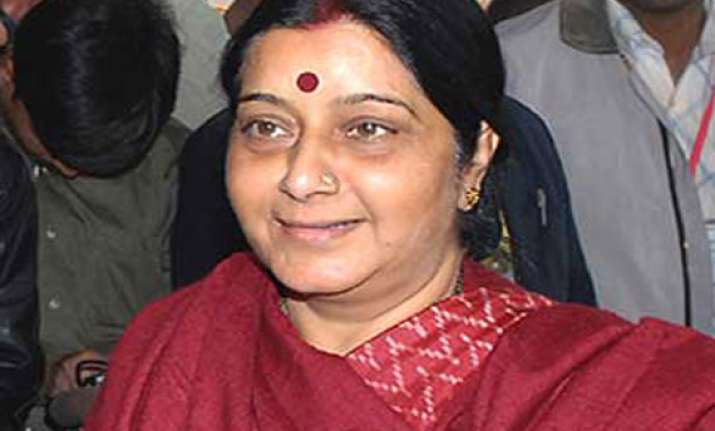 New Delhi: Fissures appears in the central BJP leadership today after Leader of Opposition Sushma Swaraj expressed her unhappiness over the proposed merger of Karnataka mining barons' BSR Congress party with BJP.
Sushma Swaraj also objected to the induction of Jessica Lal murder case convict Manu Sharma's father Venod Sharma's induction into Haryana Janhit Congress, a BJP ally.  
Venod Sharma resigned from Congress to join Bhajan Lal's son Kuldeep Bishnoi's party.
Sushma Swaraj said on Twitter that she has written to party chief Rajanth Singh expressing her disagreement over the two alliance proposals.
Sushma Swaraj tweeted : "I am opposed to the BSR alliance or merger with BJP in Karnataka. I have conveyed to Shri Raj Nath Singhji in writing that BJP must not permit this."
The BSR Congress was floated by  mining barons, the Reddy brothers — Janardhana, Karunakara and Somashekara — who have been charged in Karnataka mining scams in Bellary.
The Reddy brothers had floated BSR Congress under the leadership of former Karnataka minister B Sreeramulu in 2012. The BSR Congress won four seats in the 2013 assembly elections in Karnataka.
In her letter to Rajnath Singh, Sushma Swaraj has also opposed the induction of Venod Sharma into Haryana Janhit Congress.  
"I am strongly opposed to this. I have conveyed my views to Shri Kuldeep Bishnoi," she said on Twitter.