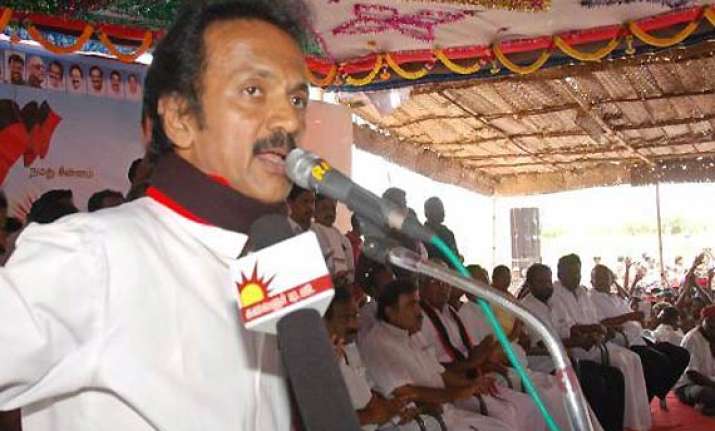 Chennai, Dec 2: Undeterred by the slapping of a criminal intimidation case against him, DMK leader M K Stalin today dismissed it as a means to 'settle political scores' by the Jayalalithaa Government and dared police to arrest him. 

'I will face the case legally. Let them arrest me first as an FIR has been filed against me', he told reporters here after submitting a petition to the state Director General of Police, terming the complaint as 'baseless'. 

In the petition, Stalin, son of DMK chief M Karunanidhi, alleged police machinery was being "misused and abused" by persons in power in order to settle political scores.

"The present case is registered with malafide intention." He also charged the police with acting as a "tool of the ruling AIADMK dispensation."

The Central Crime Branch of Chennai Police yesterday registered an FIR against Stalin, his son Udhayanidhi and four others for allegedly threatening a person to sell his property in a prime locality here at a lesser price. 

Seeking to turn the tables, Stalin also filed a counter complaint of land grabbing against Chief Minister Jayalalithaa, accusing her of usurping lands in Kodanadu in Nilgiris District and Siruthavur in Kancheepuram district. 

In his complaint lodged with the DGP, Stalin demanded that an FIR be filed against Jayalalithaa in both the cases.  He alleged police was prompt in registering cases against DMK men on land grabbing complaints, but allowed AIADMK men scot free, whenever such complaints were filed against them.

Taking a dig at the filing of spate of land grabbing cases against his party leaders and workers, the former deputy chief minister said FIR always meant first information report but had become 'fraud information report' under AIADMK regime. 

On the case against him, Stalin said he had "absolutely no connection with the case in whatsoever manner". There was nothing wrong in the transaction as it was only a rental agreement entered by his son with the present owner of the property through his film company for business purpose. 

"The complaint is only to tarnish my image and reputation in the eyes of the general public," Stalin claimed.