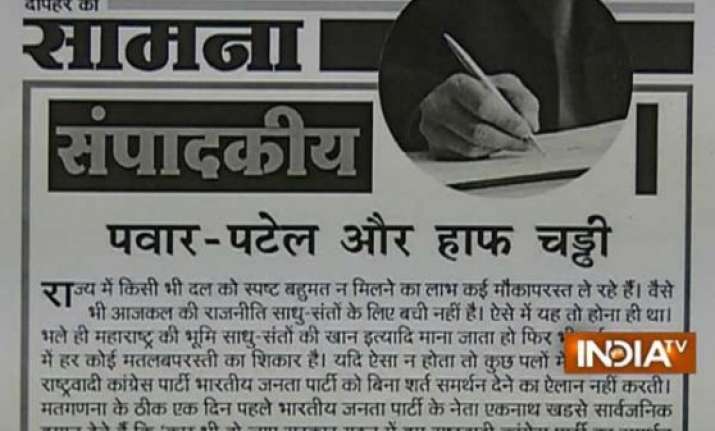 Mumbai: The Shiv Sena on Tuesday hit out at the Nationalist Congress Party (NCP) for extending 'unconditional outside support' to the Bharatiya Janata Party (BJP) in Maharashtra to form a 'stable' government.
The Party, through its mouthpiece Saamana, said, the NCP is an opportunist for extending support to the BJP.
The NCP is taking advantage of the fact that no party has got majority, it said.
It further raised question on the beliefs of the NCP which had once describe the BJP a party of 'chaddiwala'.
"Until yesterday, the BJP was a communal force and was mocked to be a party full of half pant wearing individuals by the NCP. They insulted Hindutva by mocking the Sangh's diktat of wearing half pants. Are they now really concerned about providing stability to Maharashtra? They only want to ensure that their corruption is not brought out in front of people," the Sena said.
NCP doesn't even qualify to have an opposition leader, it added.
"PM (Narendra) Modi had campaigned extensively against the NCP and called it a 'naturally corrupt' party that has looted Maharashtra. Vinod Tawde (BJP leader) had even threatened to unearth the scams of the Congress-NCP and send corrupt leaders to jail. And so, a party which does not even qualify to have an Opposition leader is resorting to such opportunism," the mouthpiece said.
Reminding the BJP of Sena's firm commitment towards a unified Maharashtra, it said that a massive mandate for the BJP in Vidarbha does not mean that people in that region have voted for a separate statehood.
"BJP has got a huge mandate in the Vidarbha region which has increased their tally substantially. But we cannot believe that this mandate is for a separate statehood for Vidarbha. BJP may have MLAs there but the Sena has MPs from the region who are committed to having a unified Maharashtra. Their stand remains firm and will never change," the Sena said.
The NCP has announced to offer unconditional support to the BJP to form government in the state.
The BJP emerged as the single largest party of the state with 122 seats. Shiv Sena obtained 63 seats while the Congress and NCP, which had ruled the state for 15 years, slipped to third and fourth position with 42 and 41 seats, respectively. Raj Thackeray's Maharashtra Navnirman Sena (MNS) managed to win only one seat.