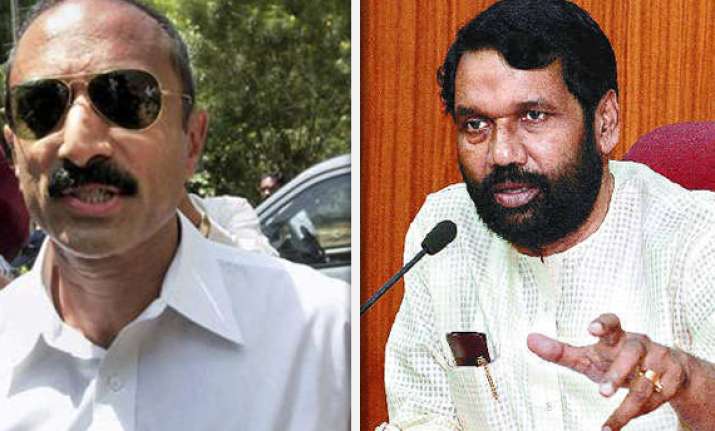 Ahmedabad, Oct 20: Sanjiv Bhatt was the one who exposed Narendra Modi for his role in 2002 riots, and that was why he was being victimised, Lok Janshakti Party (LJP) chief Ramvilas Paswan said here on Wednesday. Paswan met Bhatt at his residence in Memnagar here.

"Those who believe in democracy and those who want the rule of law to prevail will be proud of Bhatt," Paswan said, after a 20-minute meeting with the IPS officer. "He (Bhatt) is the one who has exposed Modi, the real culprit behind the 2002 riots."

Paswan alleged that Bhatt's arrest was a result of direct orders of Modi, and the aim was to create fear. "It is not the government which is behind Bhatt's arrest, it is Modi himself," Paswan said.

But, this time the Gujarat Chief Minister had encountered "a real man of calibre and character", he said.  "I was the first minister who had asked the then Prime Minister, Atal Bihari Vajpayee, to dismiss Modi. But he did not do it, and therefore I resigned as minister from Vajpayee government," Paswan reminded.

When somebody is too proud, his destruction is imminent, Paswan said of Modi.

Bhatt had been arrested in connection with the FIR filed by police constable K D Pant, accusing Bhatt of threatening him and making him sign a false affidavit about the IPS officer's presence at the February 27, 2002 meeting called by Modi, after the Godhra train burning incident.

Paswan said that his party would contest from all the 182 constituencies in the coming Gujarat assembly elections.

In Uttar Pradesh too, LJP would be contesting from all the 403 constituencies, he said, adding that 'in-charge' persons for all the constituencies had been finalised.

As for Gujarat, Paswan said he would be coming again in December, to finalise LJP in-charge persons for the seats.