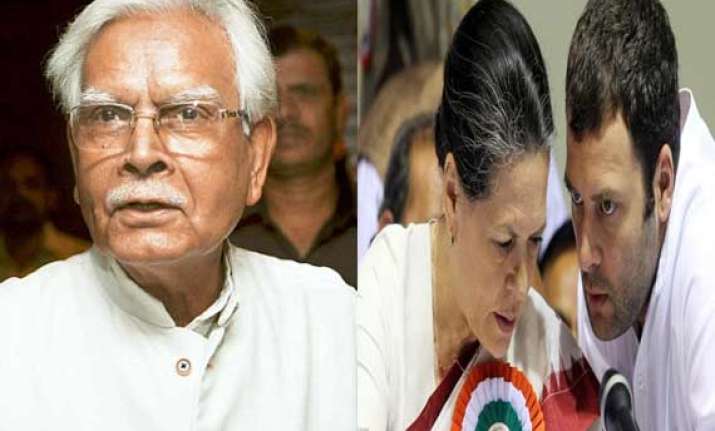 New Delhi: Congress president Sonia Gandhi did not become prime minister in May 2004 because her son Rahul Gandhi did not want her to take up the responsibility as he was afraid that she would be killed like his father Rajiv Gandhi, claims former union minister Natwar Singh.
Natwar Singh's assertion in an interview on Headlines Today news channel over his forthcoming book "One Life is not enough: An autobiography" appears in direct contrast to Sonia Gandhi citing her "inner voice" as the reason for declining the post.
The Congress, however, dismissed Natwar Singh's assertion as sensationalism, aimed at "ensuring better sales and free publicity" for the book.
Natwar Singh, who was external affairs minister in United Progressive Alliance-I, said that Manmohan Singh and Gandhi family friend Suman Dubey were present at May 18, 2004 meeting when Priyanka Gandhi revealed that her brother did not want their mother to be the prime minister.
Rahul Gandhi feared that "she would be killed like his father (Rajiv Gandhi) and grandmother (Indira Gandhi)", he said. Both served as prime ministers and were assassinated.
Asked if Rahul Gandhi had set a 24 hour deadline for her mother, Natwar Singh said: "He was very adamant."
"Rahul Gandhi was not in the room. Priyanka conveyed this," he said.
In her address to Congress Parliamentary Party in May 2004 after the party-led UPA won the general elections, Sonia Gandhi had said that post of prime minister was not her aim and her "inner voice" tells her that she "must humbly decline this post".
The 83-year-old Natwar Singh, who spent long years in Congress after retiring from the Indian Foreign Service, resigned as minister in the fallout of the Volcker report on the oil-for-food scam in Iraq in 2005. He later quit the Congress.
He said that Sonia Gandhi and Priyanka called on him at his house May 7 this year to suggest that this story about Rahul Gandhi's insistence on her not becoming prime minister should be kept out of the book.
Natwar Singh said that at this meeting, Sonia Gandhi embraced him, said "sorry" on listening to travails he had gone through and noted that he was her closest friend to whom she had confided things she has never told either of her children.
He said he told her he refused to believe her claim that she was not aware of the troubles he had faced as "nothing happens in Congress without your knowledge, without your approval".
Natwar Singh also said in the interview that former president Shankar Dayal Sharma was Sonia Gandhi's first choice to become prime minister when the Congress came to power in 1991. After Sharma refused citing his age and health, P.V. Narasimha Rao was chosen to take up the mantle.
He also claimed that she had access to government files and these were taken to her by bureaucrat Pulok Chatterji. His claim is similar to the claim made by Manmohan Singh's former media advisor Sanjaya Baru in his book "The Accidental Prime Minister".
Singh, whose son is a Bharatiya Janata Party legislator from Rajasthan, rejected the charge that there might be bitterness and revenge in him.
He said he never spoke a word against Sonia Gandhi in public and it is important to tell facts as one knows them.
"She is a public figure. She is a historic figure," he said and noted that such figures have no privacy.
"I am a student of history... I am an honest person," said Natwar Singh, who has many books to his credit.
Asked if his claim about Rahul Gandhi's opposition being the reason behind her decision to not become the prime minister could be denied, Natwar Singh said his words could have been denied if Sonia and Priyanka had not come to meet him.
"They did not come to have coffee with me," he said.
Congress general secretary Ajay Maken termed Natwar Singh's interview as an attempt at sensationalisation.
"It is ridiculous. These days it has become fashionable to sensationalize the contents of a book with the sole aim of ensuring better sales and free publicity. This is yet another such exercise. Any comment on it will be a futile exercise," he said.