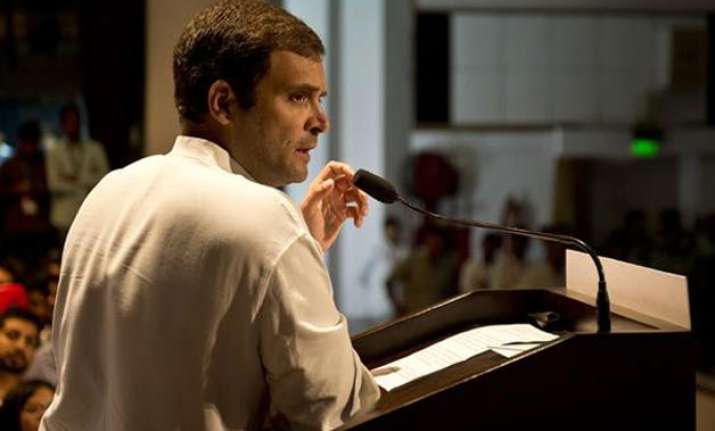 New Delhi: Stepping up the offensive, Rahul Gandhi on Thursday hit out at BJP's ideological mentor RSS saying its belief was "murdering" individuality and that thought process is now running the country in which only one man knows everything from farmers to clothes.
In a brief but sharp speech at the national convention of NSUI, the Congress Vice President also took a dig at the Prime Minister saying after his predecessor Manmohan Singh criticised the health of economy in the morning yesterday, Narendra Modi took "pathshaala" (lessons) from him in the evening.
Gandhi, who had to wait at the dais for some time as the enthusiastic supporters cheered him, said that it took him 10 years to understand that this "disorder" is in the DNA and strength of Congress family and contrasted it with "order and discipline" at RSS shakhas which kills individual thinking.
"You see the shakhas of RSS. There is a straight queue in shakhas. If any one makes a noise there, he will be hit with a baton. Have you talked to any RSS and BJP leader? Discipline is just an excuse for them to murder individuality. And this is the thought process, which is running the country.
"One person knows everything. Whether it is about farmers' issues or education or even clothes, only one person knows everything. We say let everyone come, sit together and speak on issues. A solution will emerge. They (RSS and BJP) say you come and sit here silently... Only one person will speak," he said.
Gandhi, who has launched a series of attacks on the Modi government ever since his return last month after nearly a two month break, also alleged that the government was trying to stifle the "internal dialogue" of the country.
"RSS does not allow debate or dialogue. Discipline is used as an excuse to murder individuality and an excuse to silence lakhs of people. They raise their arms like they did in Germany. I won't even do that," he said.
Noting that the people of the country have a mind of their own, he said, "We are not alone... Those belonging to the shakhas do not understand this. The entire country is like this. Every person has knowledge, and knows what is good for him. All persons of all religion, caste know it.
"There are internal dialogues inside Congress party. On that side (BJP), they have stopped internal dialogue. They are trying to stop the internal dialogue of the entire country." Asking the party's student wing cadres to fight
RSS in educational institutions wherever RSS is imposing its ideology, Gandhi said, "Wherever RSS tries to impose its thought process, you stand and stop them. Wherever they want to bring the order of shakha, take the Congress party's disorder there."
Suggesting that BJP functions the same way as RSS, Gandhi said, "If you have talked to any BJP leader, they have the same opinion. The entire world runs like this. There is nothing else. It has been running for the last thousand years like this and will remain so."
Attacking the Prime Minister on his promises, he said Modi asserted that he wanted to help the poor but is yet to visit the house of any farmer or poor even as he has toured a number of countries.
"He has completed the tour of France, US, Japan and even went as far as Mongolia and China but did not visit the house of a farmer or a labourer. He had said he would bring back black money in 100 days. Now they are celebrating one year of government. 100 days are over long time back but black money has not returned," he said.
Recalling that Modi had said that education was empowerment, the Congress Vice President rued that the NDA government on the contrary "slashed" the budget.
Alleging interference of RSS in education in the backdrop of the controversy over appointments in some key institutions, he said, "RSS has its total influence (poora haath) on the education ministry.
"Earlier eminent scientists used to give their suggestions to IITs and IIMs. Now they don't want to give their suggestions. They want to withdraw. Because a certain ideology is being imposed."
Though Gandhi did not take any name, the reference was obviously to nuclear scientist Anil Kakodakar, who resigned as chairman of the board of governors of IT-Bombay in March following differences with the HRD ministry headed by Smriti Irani.
Asking youth leaders to fight this out, he said that universities and educational institutions are the future of the country be it IITs, IIMs or schools.
Taking potshots at the Prime Minister's pet 'Make in India' scheme, Gandhi said a "zero" will come out of it.
"Nothing is going to come out of 'Make in India'. It's a big zero. It is going to yield a zero. For 'Make in India', you have to give power to common man. For 'Make in India', you have to give confidence to poor people. They think that they will empower two or three big industrialists and 'Make in India' will happen.
"It will not happen. See after five years but why five years? Just see the one year of their government. Has anybody got employment," he asked.
Hailing NSUI cadres for winning elections in states in which the Congress is in Opposition, he said that there is a "big opportunity" for them in Congress party now as the NDA government is committing one mistake after another.
"Now is the time of opposition. You may or may not agree with me but I see it happening very easily. Our government is committing one mistake after another be it about the farmers, 'Make in India' or his foreign visits," he said.
He also took a jibe at Modi over his meeting with Manmohan Singh yesterday after the former Prime Minister had attacked the NDA government.
"Manmohan Singh said economy is going down. After that the Prime Minister took classes (paathshaala) from Manmohan Singh for one hour. He tried to understand how economy is run as he is not being able to understand it. Maybe Manmohan Singh made him understand it. I will ask him," he said.
Gandhi repeatedly attacked the RSS saying that the most "hilarious" thing about those who come out of shakha is that they do not have to answer.
"They just come there in a queue and told not to argue," he said contrasting it with the work culture in Congress.
"Whenever we hold any meeting in Congress party, different voices come out...I earlier thought, why is there not an order in this party? It took me 10 years to understand it.
We cannot bring order because our organisation wants to listen to everybody... this is in its DNA.
"Outside people think there is confusion inside. They think there should be discipline in these kind of meetings.
But in reality, this is the strength of the party. After 10 years, slowly I have come to understand this," Gandhi said as he referred to the practice of finding solution to the complexity in the country and the different opinions by taking all voices along.
Modi was under attack in the meeting from other Congress leaders including Youth Congress chief Amarinder Singh Raja Brar and NSUI chief Roji John as well at the two-day convention of the NSUI called Drishtikon.
Gandhi also launched a mobile application of NSUI on the occasion.
There was also a minor row when one NSUI worker talked about "media being paid" to cover news events. However, the organisers were quick to apologise as media persons strongly objected to it.